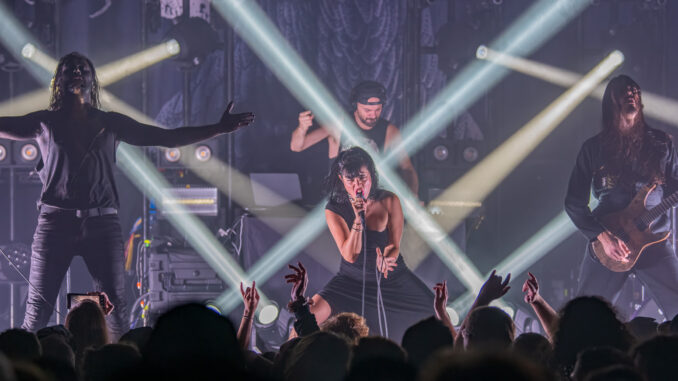 Do you want to see a bat shit crazy performance? This band will seriously bring it.
Frankly, after seeing the amount of hard rock and metal bands I see during the year, it can get rather exhausting.  Most times I am getting to a show at 7pm and there is 4 bands to process before I see the main act.   It can get rather monotonous seeing the same genre doing the same thing, writing the same, singing the same with the same chuggy riffs.  It's inexplicably becoming more and more rare somebody stands out from the rest.   In saying this I really needed a reboot of sorts, and would love to see somebody do something completely out of the norm and demolish how music is constructed.   Make me go "wow" and wonder what did I just see as I walk out of the venue.
So, as I read a tour schedule from a PR company I subscribe to, I see this band from France called Igorrr on it and I am intrigued.   Next, I get on Youtube and start my investigation.   Wow, this is cool stuff.  A dude with death metal like vocals mixed with a opera singer, with industrial/experimental programming and heavy as hell guitar?  I am in!  I reached out to the PR company and they got me through the door and I am excited to see what sort of chaos I will see tonight at the Rickshaw Theatre in Vancouver.
The Rickshaw is sold-out, packed to the gills, for headliners Igorrr who are receiving support from noise punk rockers Melt-Banana and breakcore artist Otto von Schirach. So If I was asking for different tonight, I definitely got it.  How does everyone know about Igorrr except me I wondered?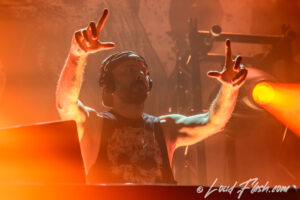 Igorrr's mastermind and founder is French musician Gautier Serre who sees music as more of a kaleidoscope of different sounds and feelings.   Serre's music pretty much smashes modern music with a intense bionic wrecking ball that pushes the limits of extremities.
The rest of the touring band members, are his action figures when combined make this incredible recipe for chaos.  They are Sylvain Bouvier (drums), Martyn Clement (guitar),  Marthe Alexandre with mezzo soprano vocals as well as JB Le Bail with unclean death or black metal like vocals .   Serre basically quarterbacks the entire performance with a playbook of synth sounds and keyboard work.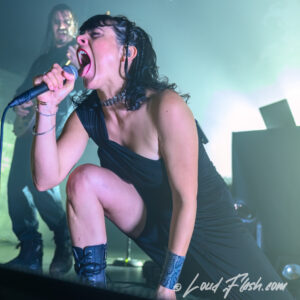 They have 4 studio albums in the discography from 2010.  Tonight, the setlist is focused from the last 2 albums Savage Sinusoid from 2017, and Spirituality and Distortion from 2020 both from the Metal Blade label.
Serre starts off on the keyboards with "Paranoid Bulldozer Italiano" from Spirituality and Distortion.   The song is just like that of the title too, as  JB starts in total death metal vocals and the drum beats and guitar spanks you hard then stops for the operatic vocals from Marthe.   She is absolutely amazing as her vocals reverberate throughout the Rickshaw Theatre, especially with "Hollow Tree", where she is incredibly haunting.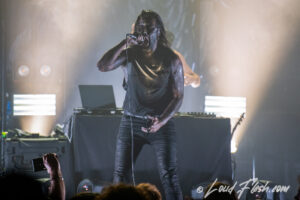 This music is not for the audience that hopes for the predictable.  Case in point would be song 4 with Nervous Waltz from Spirituality and Distortion.  I actually felt like I was at a carnival freak show with all the different acts.  You can actually waltz to the first part of it and mosh to the next part.  You better believe I saw that too in the mosh pit.
Song 5 with "Downgrade Desert" has Arabic flavor to it at the start, with some super heavy guitar kicking in thereafter.   Both Marthe and JB are not afraid to headbang either and neither is the audience on this one.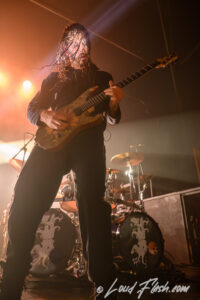 Loved the instrumental of "Camel Dancefloor" from Spirituality and Distortion at song 6 which keeps that Mideast feeling from "Downgrade Desert", where the high gain guitar kicks in at the end of it and blend.  It totally slaps.
Song 7 with "ieud" from Savage Sinusoid, blends JB's intense screams with Marthe's beautiful operatic singing.  This is one beast of a song where just about every vocal and instrument is tested to the extreme.  They pull it off live so wonderfully, yet also artistically.
Did I mention the light show that comes with this performance?   I don't think I have ever seen such a well balanced and yet insane light show like this in a very long time that fits the music so well.  Kudos to whomever thought of this one, it was dazzling.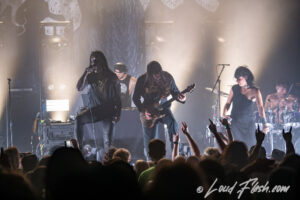 "Parpaing" at song 8 highlights Serre's work on the sound FX experimentation, as he blends JB's blackened death metal vocals with Sega Genesis-like video game fills.     This song is as heavy as anything in Metal Blades catalog, with the integration of synth and blackened death vocals is brilliant.
The lighting in song 9 with "Polyphonic Rust" where the light wraps around Marthe when she first appears in the song was stunning to watch.  Here we notice Serre on guitar as well playing from his keyboard area.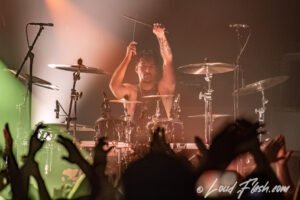 You see where I am going with this so far in this review?  I will skip ahead abit in the set with next "Overweight Posey", "Viande" with song 12 being "Opus Brain".  I really dig "Opus Brain", it really feels like a summary of what we heard over the previous 11 songs.   It is an astounding piece of work with synths, guitar, operatic vocals, blackened death vocals, high gain guitar, it's over 5 minutes of cra cra.
Then we get some encore songs with the accordion track of "Cheval" with some scream for JB and killer drumming from Sylvain and of course an operatic ending with Marthe.  Song 14 with the ridiculously heavy "Apopathodiaphulatophobie".   Serre end some a couple instrumentals with the trap like drumming on "Robert" and as well as "Very Noise" which ends with 16 songs in the set.
Well, wow, this is exactly what the doctor ordered if I was looking for something extremely different and out of the norm to anything else you will see.   Everything was just out of this world amazing and I was extremely entertained by everything Igorrr had to offer for the entire set. I am always looking for a performance that I will never forget, this is definitely going to be one of them.  Bravo Igorrr, Bravo.