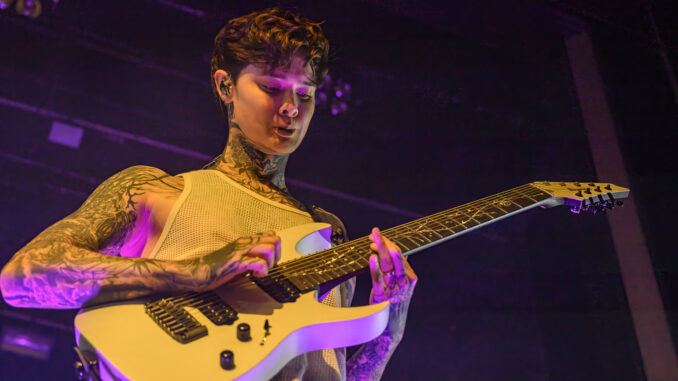 Are you wondering who are the next guitar heroes will be in the future? We might of saw a couple tonight.
I had a tough decision to make this lovely fall day in October. Do I cover hard rocker legends Godsmack or do I cover the young dudes in Polyphia? We have covered Godsmack on Loudflash.com before but I have never had the opportunity to see what all the fuss is about this sensational Plano Texas band called Polyphia.
Tonight at the sold-out Vogue Theatre in Vancouver Canada, courtesy of MRG Events, Polyphia are headlining this show with support from Grammy nominated jazz duo, DOMi & JD BECK.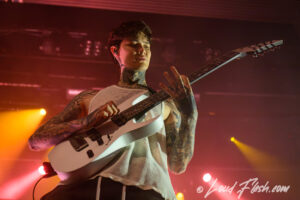 Polyphia are a four piece band which has no vocalist and play guitar very melodically focused instrumentals. The band has not changed members since their inception back in 2010 with Clay Aeschliman on drums, Clay Gober on bass, Scott LePage on guitar as well as Tim Henson on guitar. They have risen sharply in popularity over the years as they have released 4 albums since 2014, with the latest being once called Remember That You Will Die in 2022. They play a very progressive rock or pop sound direction, interweaved with jazz, blues, Spanish and classical guitar grooves.
At approximately 9:15 pm Polyphia make their way to the stage with the fog machine on full tilt pumping around the drumset riser. They start off with "Loud" from The Most Hated EP (2017) that starts off with both Scott and Tim on stage risers playing in duet fashion with some softer melodies that gets a lot louder towards the end of it. The fanbase was pretty excited as the song has builds both drama and feel to it from start to finish.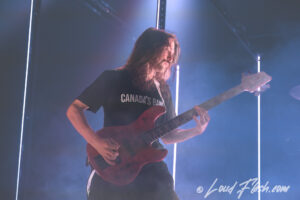 Clay Gober really shines on his bass playing in song 2 with "Reverie" from the latest release. His bass just seemed to smack and reverberate in the vogue theatre on this one, as well as the next with "The Audacity". All 4 players in this band are very accomplished.
Song 5 "40oz" just made me dizzy watching Tim Henson's journey up and down the fret board. He has so much precision with his clean sounding finger tapping, it's pretty jaw dropping to watch. The played 5 songs from The Most Hated EP tonight
Just looking at the stage setup tonight for Polyphia they have some sort of lighting trellis over the drum set covered with LED lights. I don't recall seeing such a light setup in all the shows i have been to, its certainly different and provides a lot of color and pizzazz to the show.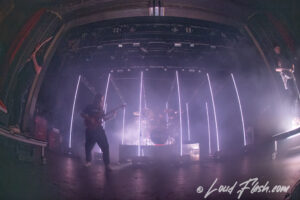 These guys don't move around a significantly on the stage, as each has their own spot with pedal boards. I am pretty impressed that they use pedals unlike some bands will just have a person doing that work for them backstage. Also I noticed their amps not pointed towards the stage but off to the sides to give the stage a clean look. There are no microphones either, so no talking from anyone of them at all or between songs. Might be nice to have them speak and make that connection to the audience but likely prefer their music do all the talking.
Song 6 with "Chimera" and Tim has an acoustic with clean playing on a stand juxtaposed to Scott playing a 8 string and making djent style riffs with a tone that makes most guitar players salivate.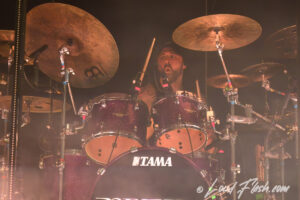 At song 9 "Champagne" the lone song that was played from their first opus called "Muse", had Scott get the involved with some coordinated cheering to start with. That Stratocaster style (I think an Ibanez?) guitar of his sounds absolutely delicious with those high gain Stevie Ray Vaughan type riffs. I know Tim Henson gets a lot of the focal point in this band but Scott LePage is no slouch either keeping up to Tim.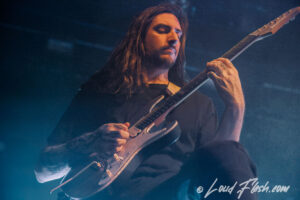 Song 14 "Neurotica" takes us to the bands latest more groovy, yet pop sounding stuff. Really hooky riffs for the most part, anchor most of progressive sounding songs. Henson's finger play is absolutely lighting fast and dead on. Especially that opening riff on song 15's "ABC", which features backing track from Sofia Black who is featured on the recorded song. It's not hard to see why this guy is getting a tonne of sponsors and signature guitars, he is an amazing player.
For the encore, we got "Genesis", and further insanely ultra tight acoustic playing with "Playing God" both from Remember That You Will Die which we hear a total of 8 songs from. Then lastly, "G.O.A.T.", and that sweet picking he does on that opening riff which is absolutely off the hook. They don't use of gobs of distortion to hide behind and frankly their best stuff is the exquisitely intricate rapid fire clean songs that come off really good live too.
I really enjoyed this performance overall. I saw a lot of their young hardcore audience air guitar-ing and jumping around through much of the show. They definitely convinced me a purely instrumental band doesn't need vocals to reach out to the audience as their infectious grooves are all they need. After 19 songs, the audience selfishly begged for "one more song" at the end of tonight, but no worries, we will see these guys plenty in the future, the talent is just so eye watering.