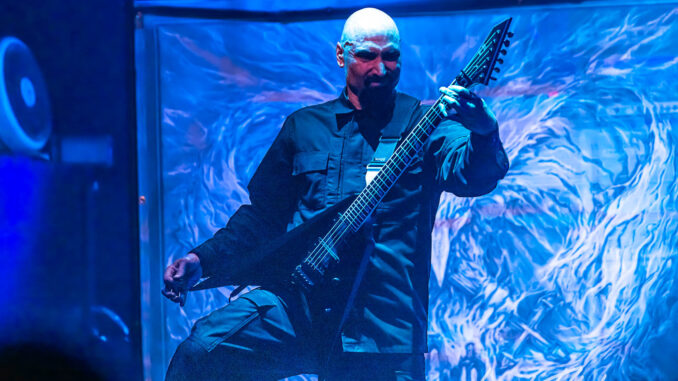 It's a dreary, miserable evening in Vancouver — and what better way to cheer me up is to be skull blasted by one of death metal's pioneers Immolation !!
Tonight's show is at the Rickshaw Theatre and they are touring in support of their 10th album "The last Atonement".   Hard to believe this album was released  in 2017, seems just like yesterday to me but we are all super stoked that the band (based in New York since 1986) is doing western run across Canada as part of their tour.   
The band itself is pretty much the same as the last time they visited Vancouver, that being comprised of Ross Dolan (Vocals, Bass), Robert Vigna (lead guitar), Steve Shalaty (Drums) and new comer Alex Bouks who has Rhythm guitar since 2016.   Immolation is a band that knows who they are, meaning, you wont hear any ballads or whiney metalcore chorus's.   They are 100% death metal, and they don't veer off the map with any of their music, which is why I love this band.
They start with a new one from Atonement with 'Destructive Currents', which is one of 4 off the new album they do tonight.  Dolan who still sporting some of the longest hair in metal (maybe Obituary's John Tardy is longer) approaches the mic and begins the guttural vocal destruction.   His voice has held up through all these years (since 1986 or earlier), which is still pretty impressive live.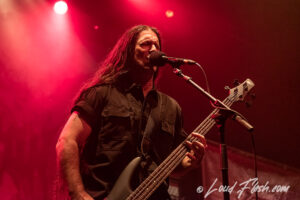 Robert Vigna is one of the most overlooked guitarists in the Death Metal genre.   I too, play guitar and the way he incorporates different sounds and pinch harmonics in these songs to make them next level in terms of creepiness.   In case your wondering which guitarist he is on stage, he is the bald dude that appears to be fighting with his flying V when he plays it.  Its almost like he is doing some sort of pseudo judo or karate with it, just amazing technique he has and very unique playing style which makes him incredibly entertaining to watch.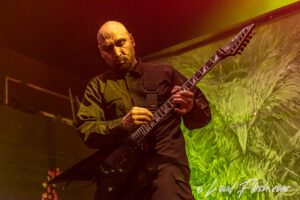 The band is playing nice and tight, and song 2 is my favorite of the night, 'Kingdom of Conspiracy' (from 2013's Kingdom of Conspiracy), which has some nice time changes and just about everthing from Vigna playbook .  They play a 12 song set with some notable others being ' Father, Your not a Father', 'Burn with Jesus' and the last one of the evening 'Immolation'.  With Vigna's playing ability, their older stuff doesn't  at all sound dated to me, and their catalog seems to hold up well.
I make my way to the merch table after the show, and pickup a t-shirt which is my way of supporting the band (very reasonably priced!), make sure you do that when you attend and don't you dare miss these legends when they come to your town!