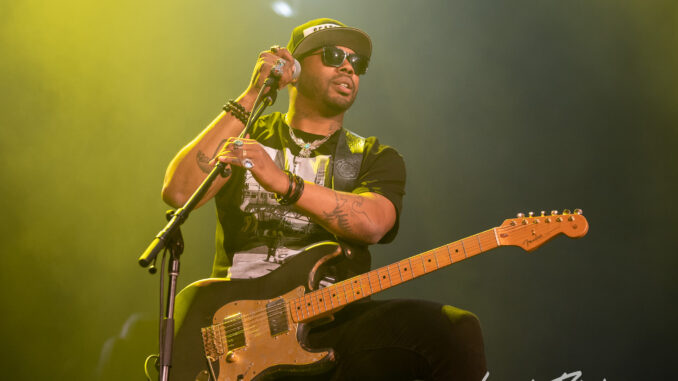 Just who does this Pacific North Westerner think he is by opening for the mighty Shinedown?
Its Ayron Jones from Seattle that's who! He and his band are set to give us a performance that we will not forget at the Abbotsford Centre.   However we only get a taste test of his abilities this night as Pop Evil and Shinedown have yet to play ahead of him.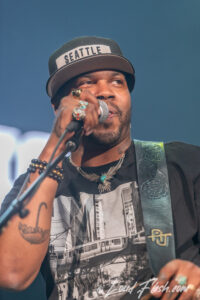 Days prior to this show, I am wondering who this guy is and what kind of music does he play?   Back in 2010 he formed Ayron Jones and Way which was inspired by the likes of Jimi Hendrix, Stevie Ray Vaughan and Prince.  He was discovered by Hip-hopper Sir Mix-a-Lot in Seattle and from there he has created 3 studio albums.  With the latest being "Child of the State". It was noted that Jones once described his sound as "…if Michael Jackson played guitar like Jimi Hendrix in Kurt Cobain's band".
Next thing I do is visit youtube and watch this video of "Take Me Away".   I was blown away and super excited to see what a Ayron Jones show looks like.
We definitely get a Pacific Northwest look at him on the first song with 'Boys From Puget Sound'.   Wearing dark shades and his Seattle hat, he put the hammer down with this heavy blues rocker.   What a great start to the show, as he has a very energetic touring band with him, comprised  of  Matthew Jacquette (guitar), Carter Lou (bass) and Bobbi Jimmi aka 'Big Sexy' (drums).  All of them were smiling and enjoying their time on stage for every one of the 6 songs played tonight.
Song 2 was 'Emily' from the "Audio Paint Job" album from 2017.  Certainly has a Hendrix vibe to it with a slower tempo and some nice solo work near the end of it.  Song 3 'Supercharged'  picks up the momentum further, I also hear some possible Lenny Kravitz style in this one.
With song 4 'Baptized in Muddy Waters" along with Song 5 'Mercy' ,you definitely get that old school blues sound with some modern guitar tones.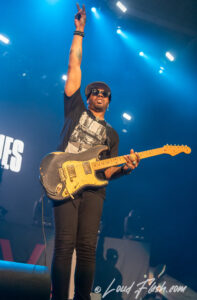 Now the song I was awaiting for is up next with "Take me away" with that catchy riff that kinda has a Rage Against the Machine energy to it with a guitar riff that is begging to go out of control.   Shinedown's Zach Myers joins him on guitar for this one and they rock it hard near the end with the solos.   In the actual recording  there is a solo in that song that is done with a Whammy pedal (similar to the Audioslave song 'Like a Stone'), but he didn't use the Whammy this night.  However, it was an electrifying performance that gave me goosebumps for this talented musician.
We get a even split of songs from both "Audio Paint Job" and "Child of the State".   I can really see Ayron breaking out further in the years to come with dazzling performances such as this one we saw tonight.