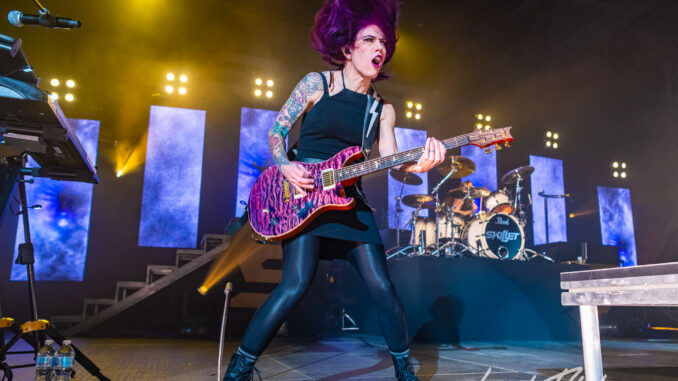 Something I will widely admit.    I haven't seen many Christian hard rock or metal bands in my lifetime — or maybe I have, but just didn't know it?
But when I heard that Skillet were coming to Abbotsford (British Columbia) with Ledger and From Ashes to New — I was curious, as I know they are a world renowned band and I just couldn't pass up the opportunity to at least check them out.   I mean, I do see A LOT of black metal bands, so why not see the other side, right?  What have I been missing?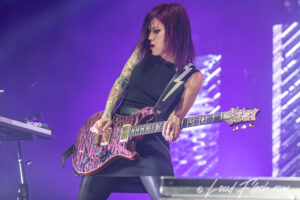 Well it turns out, I have been missing a lot of Skillet over the years that's forsure.   The band has been around for around 24 years (1996) and I am finally going to get the chance to see what all the fuss is about.   The band is made up of John Cooper (lead vocals/bass)0, his wife in the purple hair – Korey Cooper (Rhythm guitar, keyboards), Jen Ledger (Drums) and Seth Morrison on lead guitar.  They are out on tour supporting a new album released in 2019 called "Victorious".  If you wonder what they sound like, think along the vein of a Three Days Grace or Shinedown or Seether.  Hardrock/nu-metal-ish with incredible vocals.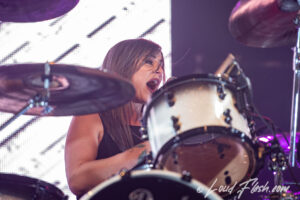 Tonight, we get the quarter round (Stage is at about the blue line) in Abbotsford Arena with approximately 2000+ fans awaiting for them to rock this barn down to the ground.  Its 930pm and the band hits the stage with 'Feel Invincible' from 2016's "Unleashed album.   Wow, they sound really tight and Johns vocals sound really good too.  It's a great show starter that gets the fans hopping right away with a really catchy chorus.  You just cant stop your foot from tapping to that song.  Next one up 'Not Gonna Die' from 2013's "Rise", kinda of has an Evanescence feel to it with some Synthesizer work from Korey.   We also see Seth dig into a shreddy solo near the end of that one too.    Song 3 we hit a song from the new album 'You Aint Ready'.  Here we get a nice photo op as John gets some fog canons mounted to his arms and fires them off like he is the Iceman from the X-men.  LOVE IT.  I don't think I have ever seen those at a show before (see my pics).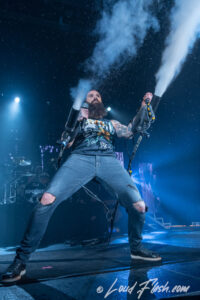 Just a great arena rock vibe I am getting.  No real heavy subjects, just a lot of fun with some positive lyrics.  The whole band likes to move around, especially Korey doing here headbang thing.   John is a charismatic frontman egging the fans on in the stands and stating that "you all sing beautifully!".   We get to song 8 and prior to 'Save Me' we get an absolute killer drum solo from Jen Ledger! OMG, I am so impressed with Jen on drums this night.  She is absolutely fierce bashing those skins!  Its been awhile since I have see someone so vicious on the drumkit, hitting with complete conviction all night long and also doing A LOT of backing vocals as well.  I heard that they found Jen in the UK when she was 18 years old playing in another band in the UK.   What a find!  The band rocks hard but are also incredibly professional looking and play like it.
The twice grammy nominated Skillet get into their other big songs near the 18 song set with 'Comatose', 'Monster' (my personal favorite of the night) and 'Rebirthing'.  They finish theshow with a sensational ending with 'The Resistance', with lots a cool lightening at the start of the song.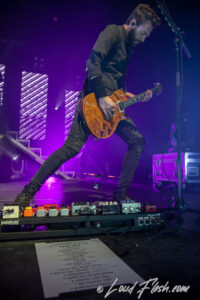 Well……I was blown away.   It was a lot of fun to watch this show and I was very entertained all around.   Could this be a candidate for show of the year for me already?  I highly recommend you go see a Skillet show, you will NOT be disappointed!
Let there be no doubt Skillet, kill-et in Abbotsford!