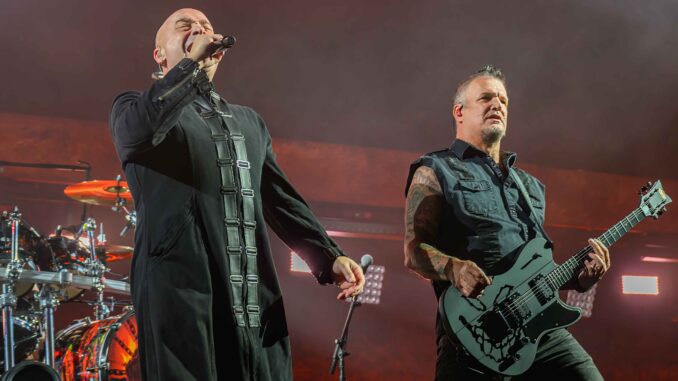 OH waa ah ah ah, ah…wot wot, wot wot….Down with the sickness!
There are many opinions on Nu Metal – the music that combines Heavy metal with other genres like rap, alt rock, grunge and industrial music. However, is Nu-metal making a resurgence  in 2023?   Lately we have seen some successful tours by the likes of Papa Roach, Dope and Static-X doing sold out shows across North America, not to mention other bands that were in that era like Limp Bizkit and other ones reforming like Coal Chamber, Flyleaf and Kittie also making festival appearances.  What comes around, goes around, as the Millennials and Generation Z now get to see some of these bands that shook up the foundations of metal in the 90's and early 2000's.
The ones that survived past Nu metal distanced themselves by finding their own sound or reverting back to a more traditional Heavy metal format.   Machine Head are a perfect example of that as they tried that rap/metal style and moved to traditional metal thereafter, and are still very relevant today.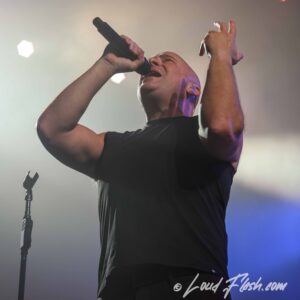 Another band called Disturbed, were lumped in with Nu metal as they started up back in 1994 and continued to close to 2012 then went into hiatus for a few years re-emerging back in 2016.
They have recently released an album in 2022 called Divisive.  It's a solid album from front to back containing a lot of that sound they started with back in 2000 with The Sickness album.  But not so much Nu-metal sounding as they once were but paved their own sound with David Draiman's unique vocal style.
The band has been together solidly since 2004, with no member changes since.  They being, David Draiman on vocals, Dan Donegan on guitar, Mike Wengren on drums and John Moyer on bass guitar.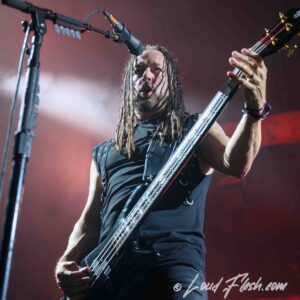 Disturbed are making their triumphant return back to British Columbia with a SOLD OUT Abbotsford Centre (7049 capacity) in Abbotsford BC Canada with special guests Theory of a Deadman.  This is their first appearance since 2016 when they played at the Commodore Ballroom in Vancouver which was also sold out that night (990 capacity).
Tonight they are on the big stage, and while I look around the full arena, it's hard to imagine them playing at the small Commodore Ballroom 7 years ago.   They start off with "Hey You" which is also the first track off the new Divisive album.   The curtain drops and the crowd roars, with the song chugging full steam ahead.   It's an exhilarating song to start off this show with.
If that was not enough, they hit my 2 favorite songs next with the 2nd one being off the Sickness album called "Stupify", which probably is a song that fits right in with the Nu metal sound.  David likes to pace back and forth from one side of the stage to the other.  He is wearing a long stylish coat (its 85F or 29 outside) and they hit "Prayer" next on song 3.  When I saw other playlists from the other cities on this tour, I noticed "Prayer" at song 4.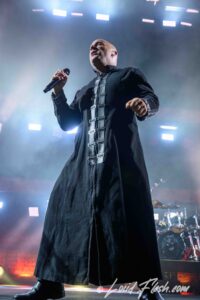 Typical stage design, no large screens, however the lighting was good, as well the sound was very good too.
At song 5 they play another from the new Divisive album called, "Bad Man".  I noticed some mosh pits started to form and the crowd surfing was on full swing.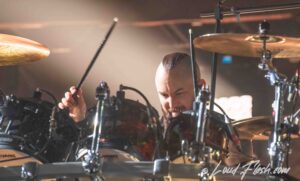 Thereafter, we get a revealing personal moment from David as he opens up and says a few months ago he almost joined the same club as Alice in Chains, Soundgarden and Linkin Park.  Referring to his depression and thinking about suicide.  Heavy stuff for a roaring show like this, but a deep Segway that leads us into slower Song with "A Reason to Fight" form Evolution (2018).
They do hit their 2 most popular covers with Genesis's song of "Land of Confusion" and Simon and Garfunkel classic "The Sound of Silence".  David's voice was outstanding on both of these as with the rest of the night's set.   As with the rest of the band, Dan Donegan doing a solo with bass player Moyer prior to doing "Land of Confusion was really good.   Mike Wengren was a beast behind the kit too, leading the charge.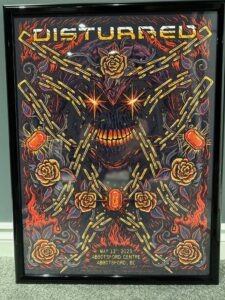 The merch store was quite good for all bands.  I specifically targeted the Disturbed Lithograph poster, because it was specifically made for the Abbotsford show with "Abbotsford Centre" and dated on it.  That's a great keepsake (50$).  Only wish was that it was signed as I would've paid extra.
Abbotsford Centre is really exposed though for shows that are sold out.  Only 1 merch area and the line-up goes halfway around the Arena.  Beer and food lineups are also a disaster for lines.  They really need to improve on that.  I got my poster during the show at the end as there was no one in line by that time.
Another touching moment was prior to "The Light" at song 11, where they brought up one of their VIP's on stage named Daniel Fleet, who suffers from PTSD.  He got the mic and said that Disturbed gets him through it with their music.  Everyone had their phones and lighters up during that song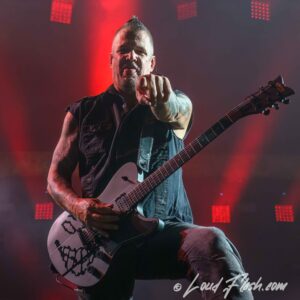 They ended this 15 song set (odd, because other cities got 17), with "Unstoppable", as well as another must play with "Down With the Sickness", then "Inside the Fire" from the Indestructible album.
All in all, it was a well placed and balanced setlist for this show.  I was really happy with the song selection for the most part.  Playing their heavy songs for the first handful, and then, alternating some of the slower ones.  The band was great to watch as they really blew off the roof this night with an impressive and emotional performance.   I left satisfied, and certainly everyone else did too!