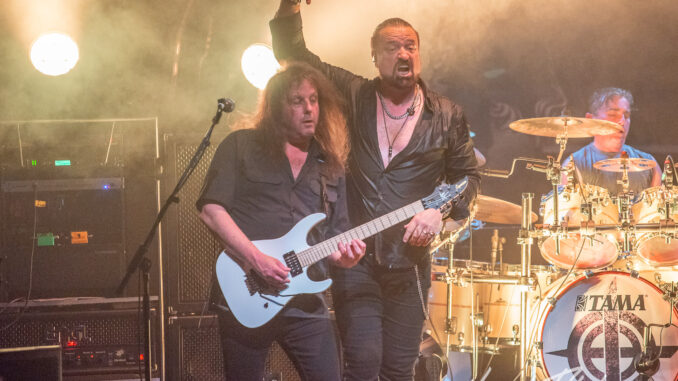 There is nothing like the excitement of seeing a band for the first time and not knowing what to expect.  I've missed a few chances to see Symphony X in the past and FINALLY the stars have lined up and I get to see them tonight with support from Haken at the Rickshaw Theatre in Vancouver BC.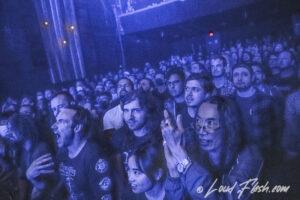 The band formed around 1994 with not a lot of lineup changes to this day.  The band consists of Michael Pinnella (keyboards), Jason Rullo (Drums), Michael Lepond (Bass since 1999), Russell Allen (lead vocals) and of course the super shredder Michael Romeo on guitar.  Nearly all have been in the band since their inception which is incredibly rare after almost 28 years together so they must get along well with each other.  From what I have been told, they are all pretty approachable dudes too.  However they are calling this the 25th Anniversary Tour and like due to the pandemic that railroaded 2 years of anybody touring. 
 The type of metal they play is for the most part can be described as a power-progressive sound with Russell Allens vocal/singing style almost teetering on sounding like 'Dio'-esque.  That is no slag either, he definitely has the vocal ability for just about anything. If someone stuck them in a time machine and put them into the late 80's, that would work too as they definitely have songs that would fit the era.   I heard a fan describe to another fan "who is Michael Romeo?" and he mentioned that he is "the fat Yngwie Malmsteen…".  Being fat myself I didn't know if that was an insult or an incredible complement but I will call it even.  Michael is definitely one of the best in the world when it comes to guitar shred and tonight he is going to prove that.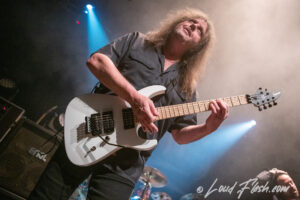 The roadie flickers the flashlight to the lighting guy in the back and the lights go dim with some symphony overture starting the show.   They then start in to 'Nevermore' from their last opus called "Underworld" from 2015, what a frantic beginning to the show.  OMG, Micheal Romeo is absolutely stunning with his guitar work after a dazzling display left me breathless just watching this unfold in front of me.   What an start to a show that just continues on with "Evolution (The Grand Design) which is a pretty heavy song, even by todays standards from the 'V:The New Mythology Suite' from 2000, which is about as far back as they go in their discography tonight.  They didn't hit anything from the 1990's era however.  Song 3 we got "Serpents Kiss" and boy oh boy I never had the urge to ever fist bump a musician after a song, but I did it with Michael after that one.  That was astounding.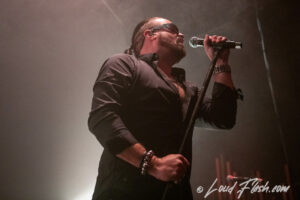 'Sea of Lies' thereafter more crazy Romeo licks as things finally slow down with "Without You" which is more of a ballad that shows off how much of a vocal range the 6 foot 3 beast of a man Russell Allen has after 25+ years, and he doesn't disappoint either.  "When All is Lost" (another from Underworld) a solid 6th song on the set to song to wave the arms and light the lighters too also has some nice keyboard work from Pinnella.  Russell, with his macho demeanor, also gets into a little solo work with his own voice doing some bluesy vocal licks. So we had a little slow down for a couple songs but things get very thrashy and heavy with "Kiss of Fire" (again from Underworld, 4 very good songs this night from that album).
The lights were FAR better than usual at the Rickshaw this night, which makes for better pictures and as well as the sound was above par for such a sonic band.
The 9th song being one of the catchiest songs they ever wrote with "Set the World on Fire (The Lie of Lies) which is quite a show case of brilliant solo work from Romeo which I would have to say is my favorite of the night with the opener of "Nevermore"
 The ended this 10 song gig with an encore 'The Odyssey' from 2002 album, "The Odyssey".   How appropriate as they have had a long and eventful journey as musicians over the past 25+ years themselves.   This was a marvelous show they put on for us tonight, I HIGHLY recommend you spend your hard earned money and witness them live!