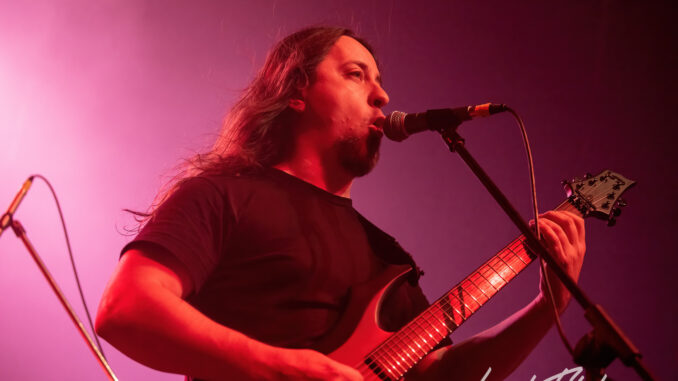 Do you ever ask yourself, how do these guys in Death Metal do it night after night?  I have lots of respect for these bands that come out with the aggression and vocals much like Abysmal Dawn whom we are here to see tonight supporting fellow death metallers Origin.
What sets these Californians in Abysmal Dawn apart from other death metal bands is that not only do they write some solid metal riffs but I can distinguish the vocals from other death metal vocals and say "hey, this is Abysmal Dawn".   I think that is really the key here in death metal, I mean that is where the root of successful death metal lies is in the tone of the vocals in my opinion.
Charles Elliott is lead vocalist and plays guitar, ever try that? It's a difficult task in itself, but I find Charles vocal tone unique which is why this band stands out.  Other than the vocals though, they do provide the crushing music too to make it all come together with other members in Abysmal are Eliseo Garcia on bass (he adds backing vocals), James Coppolino on drums and Vito Petroni on guitar.
The guys are out here at Vancouver's Rickshaw Theatre promoting their latest EP called "Nightmare Frontier".   It's a pretty killer 4 track album too, as they do a couple covers on it from In Flames and Candlemass (Bewitched is a great cover!).  They start off their set with 'A Nightmare Slain' from that EP a song that is filled with highspeed blast beats, a hooky guitar riff and some nice solo work too.   Charles is nailing it really well with this one and looks to me like we are in for a barn burner in the mosh pit.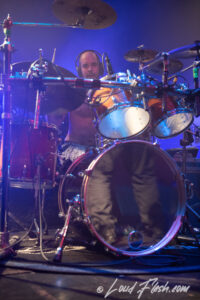 Abysmal concentrate on their 2020 album "Phylogenesis" with 4 songs off that one and being the 2nd song'The Path of the Totalitarian' which has some nice vocal back and forth between Charles and Eliseo.    Heads begin to bang on song 3 with "Inanimate" with its infectious grove that engulfs your brain.
Are they a band with a lot of theatrics? Nope.  But they do their metal well and considering they are in a supporting slot, they don't really need much anyway.  They sounded great this night however.
My personal favorite of this 9 song setlist of the night is song 6, 'My Own Savior' that also has a cool chuggy palm muted riff that grabs my attention.  They ended the night with "The Inevitable Return to Darkness" from 2014's "Obsolesence" album.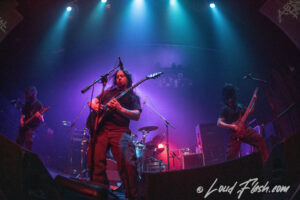 After the show,  I purchased a autographed copy of the  "Nightmare Frontier" album as I loved the cover art and met up with Charles for abit.  He mentioned that they are concentrating on touring this year and no real plans for a new album this year but "when it happens it will happen" he mentions.  I am looking forward to seeing these guys level up in the coming years and another visit to Vancouver in the future!