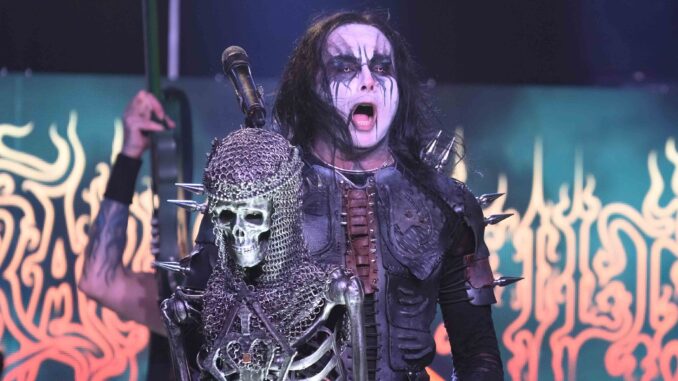 Ever see one of your favorite bands a year ago and give them a second chance because it didn't live up to your standards the first time?
Last year we saw Cradle of Filth (COF for short) in Vancouver, and it was a pretty solid show with a lot of deep cuts but it just seemed to be missing something.  I am not sure if it was the facility or the song selection but likely it was the abysmal crowd they had.  Vancouver had a pretty busy May (much like this year will be) and the attendance was just not there for that show.  They also came on their own with another largely unknown supporting act at the time called Frayle.  They did a lot of fog that night too, and I for one could barely even see the band that night.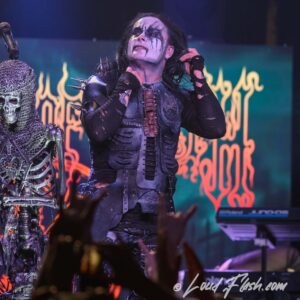 This time legendary Cradle of Filth have made their way back to the Pacific Northwest at the Showbox in Seattle and I really needed to see if this was going to be a different show this time around as they have some major support with ONI, Black Satellite, and co-headliners DevilDriver.   I think this is a really good tour package this time around.
There are no changes in band personnel from the last time we saw them in Vancouver.  They are, Daniel Firth (bass), Zoe Marie Federoff (Keyboard), Donny Burbage (guitar), Marek Smerda (guitar),  Martin Skaroupka (drums) and core leader Dani Filth on vocals.   The band has had LOTS of turnover through the years so it's nice to see nothing has changed as of yet.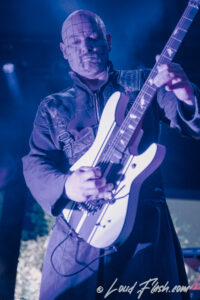 COF have a new Live album coming out April 28 2023 and we are hoping to hear one of the 2 new songs that are being released on that Live album called Trouble And Their Double Lives (Napalm)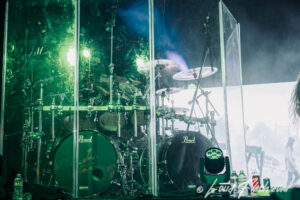 Tonight at the Showbox, the stage is a little different setup with large visual screens all around as well they have that acrylic shield around the drummer.   That shield is used so it doesn't overwhelm other musicians as it isolates the drum sound.   However, it also isolates Martin abit and sometimes he is hard to see with the glare of the lights.
They start the night with "Heaven Torn Asunder", a deep cut from 1996's Dusk and Her Embrace.   It starts off slow and the windmills are churning from 2 of the 3 guitarists, except Marek of course who sports a Cenobite (pinhead?)  type costume with lines across his bald head.  This song pretty much sets the tone for the rest of the night as it is about as extreme as COF gets.   Dani gets a pretty good warm-up with that song.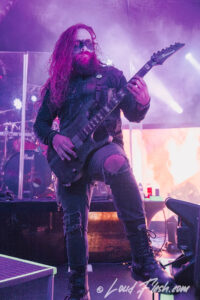 How can they not play the nasty and perhaps angriest song called "Gilded Cunt"?  Of course that is next at song 2 from Nymphetamine (2002).  Song 3 is "Cruelty Brought Thee Orchids" from the 1998's Cruelty and the Beast as Dani is holding his microphone above his head to get those high black metal shrieks out in front of his skeleton mic stand.
Song 4 we get a brand new song with "She is a Fire" from the live album coming out in April.  I REALLY dig this new song, it's got some hooky riffs and is accessible if you are not into their extreme songs.  I enjoy the slow riffs, and the solos are really ripping whom we see both guitarists contribute.  There is another new one from the live album but we don't hear it tonight.
Song 5 – "The Principle of Evil Made Flesh" which is the title track off their first 1994 album.  Love it and sounds great even after 29 years!   Got to hand it to Dani for doing black metal and continues to have the same unique vocal range from that long now.
Song 6 is "Nymphetamine" and this is the point where we hear more of Zoe's vocals shine out.  She has a great voice that matches the recording very closely.   They were nominated for a Grammy award for that song back in 2005.   It is the closest to a ballad  as this band can possibly muster.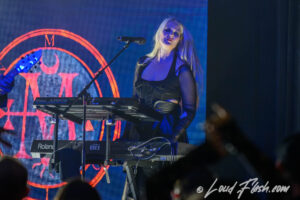 Song 7 we get one from the latest album from 2021's Existence is Futile with arguably the best song of that album "Crawling King Chaos".   That is the only song from that album on the setlist.
The last 3 we get are "Born in a Burial Gown", the classic "Her Ghost in the Fog" and the final one from the self titled EP "From the Cradle to Enslave".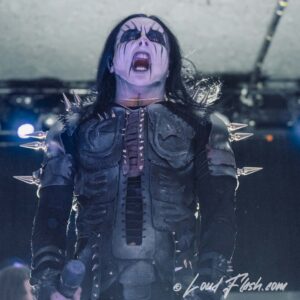 At least tonight we don't get buried in Fog and poor lighting which I saw last year or perhaps didn't see.   I don't mind some ambiance but I also like to see the band!
Yes we only get 10 songs this night, but as opposed to 14 from last years tour, which 5 were from the new album.   I really enjoyed this setlist.   However, we can never get enough and other than the one song from Existence Is Futile, we got the rest from 2004 and back.  There was no material from 2006 to 2017 at all, but it was a good even spread of songs from 1994 to 2004.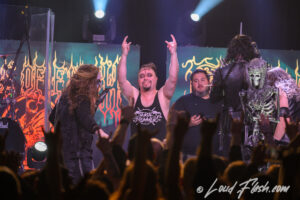 The sound from this show was actually really good too and Dani knew his limitations on certain shrieks and screams but he did really well overall.  Musicianship was perfect and very professional, Marek might show off his guitar a little too much (was he selling it?) but they all nailed these songs top to bottom. 
Was this show better than last year's?  Absolutely!  I am looking forward to re-living this in late April with the new Live album!  If you didn't catch COF last year, this is a great tour to experience.