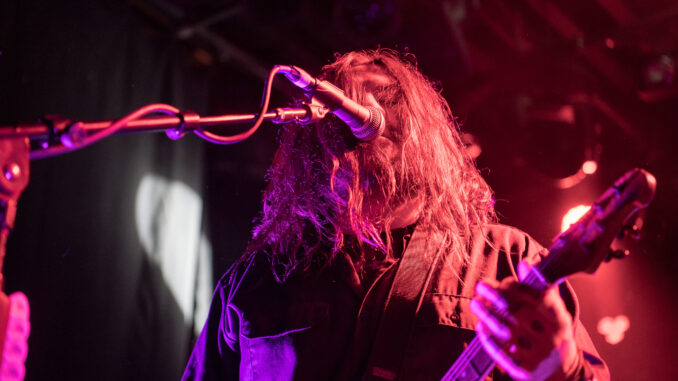 I always find it exciting to go to a concert to see a band that I have not ever seen before….
And that opportunity came when Live Nation brought back Seether to Vancouver for the first time in over 10+ years at the Commodore Ballroom.   A lot of stuff has happened since with musical trends, but that didn't seem to phase the PACKED Commodore Ballroom full of fans of the band.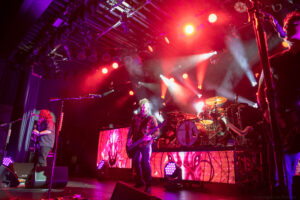 Being that I am taking pictures on this night, I do find this stage setup quite appealing.  Nicely lit up with screens on both ends with the kit on a fairly high riser.   The lights go out and the band begins to take position, with John Humphrey settling in behind his drum kit, then Corey Lowery moving to the right side of the stage with his Dean guitar.  Then Dale Stewart takes dead center position with his bass with lead Vocalist/guitarist Shaun Morgan on the left side of the stage surrounded by four moniters at this feet.   Don't see that very often as most shows the vocalist takes center position, but it's a nice change too!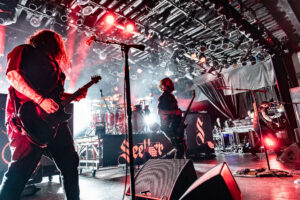 They start off with a new one called  "Stoke the Fire" from their newest album called 'Poison the Parish'.  It's a really heavy song with Shaun headbanging pretty good here and getting the crowd in a frenzy right off the start.    Moving to the next song "Gasoline ", Shaun sticks pretty much by his mic, the other two move about, especially Dale Stewart who likes to egg the crowd on and get things happening.  There is a good lightshow here, lots of lights flashing all over (a nightmare for photographers like me dealing with light), but is quite impressive if you are in the audience and well timed with the music.   They move on to a great footstomper called "Country song" and a 90's grunge influenced 'Fine Again'.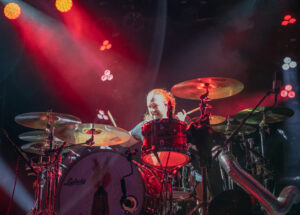 I would like to mention how taken back I was with John Humphrey on drums.  He plays them with absolute authority, and you can feel just about every hit like a punch.  The song that I am most interested to hear is 'Broken'.  This is a duet that was done with Amy Lee (Evanescence lead singer) back in 2004, which tonight Shaun pulls off quite wonderfully on his own with the acoustic guitar
Next to no talking or banter between songs, Shaun pushes through the set with three songs off the new album 'Let you Down' "Betray and Degrade' being the others.  All in all, 15 tracks, ending with the last two songs of the night being "Fake it" and finishing heavy with "Remedy".   They seem to really hit all the high points in their catalogue tonight and got us all up to speed with the new stuff.  Great evening!