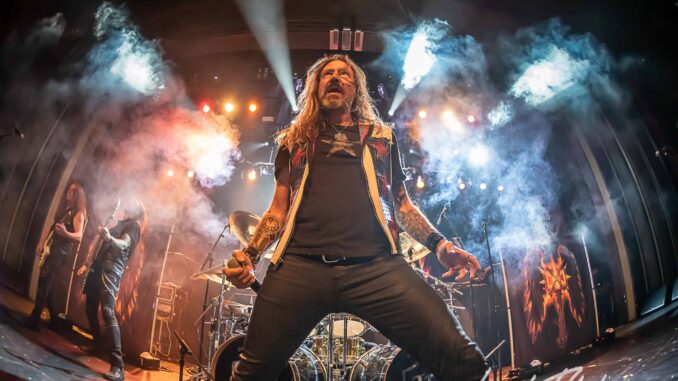 The Scandinavian invasion within Canada continued this month as Hammerfall are in town supporting Sabaton to remind us what true metal is all about here at the Vogue Theatre in Vancouver!
Hammerfall are a power rmetal band  formed back in 1993, originating from Gothenberg Sweden.   Original vocalist Joacim Cans is still with the band, as well as Oscar Dronjak (Blonde haired guitarist, since 93), Fredrik Larsson (Bass, since 94 as well), Pontus Norgren (guitars since 2008) and David Wallin on Drums since 2014.   They have produced 11 albums since then, including one they released in 2019 called "Dominion".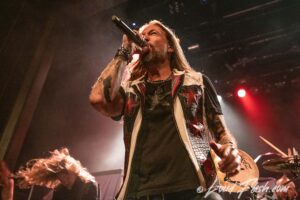 They start off with 'Never Forgive,Never Forget' from the new album and it doesn't stray at all from their  power metal roots.    Song 2, sticking with the new album with a cool metal anthem called 'One Against the World" has a sing along feel to it, I like it!    They are a true metal band through and through, lots of synchronized head banging, sometimes all of them together doing it, which is pretty fun to watch.  Oscar himself is pretty entertaining as well, as he is all over the stage through most of the 11 songs played tonight.   Joacim's vocals are still spot on, even through the older songs such as (see the full setlist in the pictures below), 'Blood Bound', 'Last Man Standing', and 'Let the Hammer Fall'.
By far my favorite Hammerfall song is 'Hearts on Fire'.  I bet if you watch this video on Youtube, it will stick in your head for a week!  So damn catchy and full of metal hooks that ungulf your brain.  I think they know that, as they leave that for the very last song, where you see Oscar tossing his flying V over 15 feet straight up in the air.   All the crazy metal moves I used to see in the 80's and 90's, and I miss it, totally awesome stuff.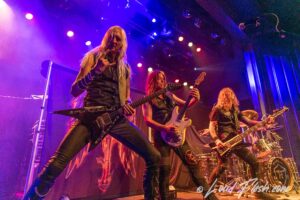 All in all they put on a really solid and powerful metal show, which I think re-educated a lot of people of what old school metal is all about.   I certainly left with a "Hammer High" after this show!