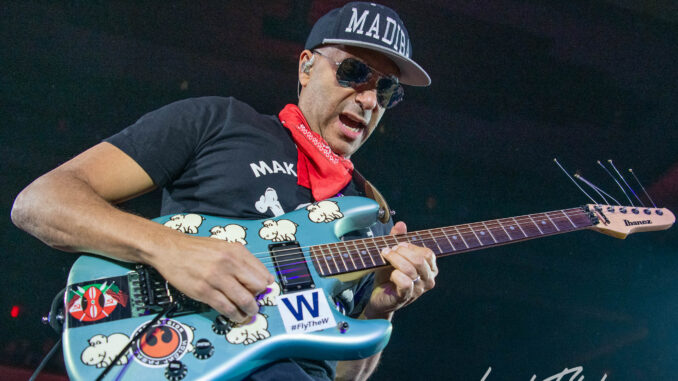 I have been pretty fortunate this year to see some class "A" guitarists in Hard Rock/Metal this year.  Names such as Alexi Laiho, Trey Azagthoth, John 5 and Michael Schenker.   Tonight I get to see another that I have really admired as a guitarist – Tom Morello.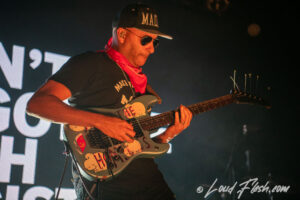 Tom is most known for his guitar work with Rage Against the Machine and there is some hope that we may hear him play some music from that era.  Also he has played with Audioslave (Chris Cornell) and also currently with Prophets of Rage.  Here tonight at the sold-out Commodore Ballroom in Vancouver, we are treated to more of a solo show with a smattering of songs from his past as well as some blazing guitar work.
There is a bass player/keyboardist as well as a drummer.  At the time of writing this, I am unsure what their names are but they did provide some good support.   They basically sat in the shadows on either side of the stage.
Inside sources tell me that Tom will start the show in the middle of the audience, so I make my way to the center of the floor to check this out and see and notice a couple boxes.   The lights go out and Tom creeps in there in a hoodie with some body guards around him.   They hand him the guitar and he gets up on these boxes and the show begins with him shredding on the guitar.  Lucky me, I am the only photographer in front of him, well, except everyone with cell phones.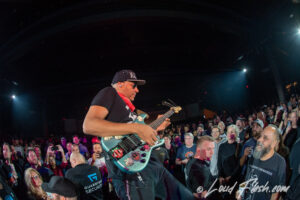 Seems so surreal that I am standing in front of this legendary guitarist, but not only that, the guy is smart as a whip and is a political activist.   He doesn't hide what he thinks either as the visuals contain alot of poetry and lots of commentary in those visuals basically saying things we are pawns to corporate greed, anarchy pro-mandela and anti-Nazism.     I took the time to buy a t-shirt with the slogan "Nazis Lives Don't Matter", which quickly sold out halfway through the show.  Also, his hat "Madiba" means "Father" in South African, mainly I would say for father Nelson Mandela
Tom is a brilliant guitarist however, lots of experimental sounds that add a lot of flair to any song he writes.  I am in total awe at that sounds he creates with that guitar and FX.  One of my favourite parts of this show was him doing that Audioslave song "Like a Stone".  That solo in that song is simply amazing with those synth like FX.  Believe me, I have tried that solo myself and fail, not even close to him.  At one point of the show he had everyone in the Commodore to scream for 45 seconds while he tunes his guitar.  Then for one of his acoustic songs, the opposite, shutup for the entire song (Dedicated to Chris Cornell),  It was amazing, I could hear my camera shutter click it was so quiet!  He also does "Ghost of Tom Joad" (Bruce Springsteen cover) with the acoustic.guitar as well..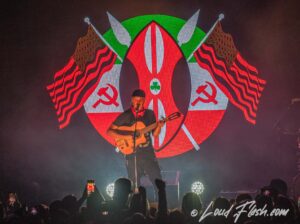 Now, for big part of the show right at the end, he invites like 50 people on stage with him.  Then he rips into what everyone was hoping to hear, "Killing in the name of" by Rage Against the Machine.   He had the fans sing the entire song, "Fuck you, I won't do what you tell me", and believe me, everyone on the stage and floor were raging it up,  This show had just about everything, some dance music even,   All in all, Tom put on a great show, I good sample of what he does on the guitar plus a retrospective look back at some of the songs that made him what he is today.  His mad guitar skills are horrifyingly delicious to watch!.   What I really like about him is that he makes his guitar multi-dimensional sounding with clever hooks and siren like harmonics that left me shell shocked and jaw dropped when the show was over.  So happy to see him live — incredible!