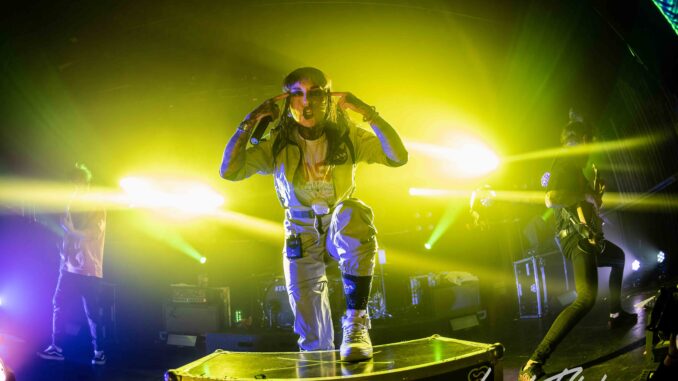 Can you name any metal bands from war torn Ukraine at the moment?……I can – JINJER!
Going to a concert on Halloween is always fun, seeing people in full costume and acting completely out of the norm.  However, its been quite a few years since I have been to one on this 31st,  but this one is going to be well worth it! Rising metal stars – Jinjer –  from the Ukraine are in Vancouver's Rickshaw theatre and they have just freshly released their 4th   album "Macro".   After giving "Macro" a few spins myself, I am totally digging it and I am not alone it seems as the reviews of the album are generally quite outstanding.   Is it any wonder that the show has been sold-out for weeks prior?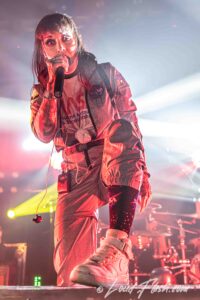 If your not familiar with this band, you should be and they are quickly becoming a force to be reckoned with.  Lead singer is Tatiana Shmailyuk,   Roman Ibramkhalilov on guitar, Eugene Abdukhanov on bass and Vladislav Ulasevich with drums.  They are all very skilled musicians to boot and each play a prominent role in every song it seems.
The band hits the stage with 'Teacher,Teacher' (from 2019 "Micro"), and we are all ready to be given a crash course on how these Ukrainians will serve the metal tonight.  Tatiana is a very charismatic singer (wearing a NASA space outfit) who can go from singing like Gwen Stefani, then to brutal Corpsegrinder death metal vocals in an instant.   So she has a very wide range, and does it superbly.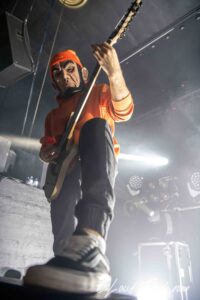 Since its Helloween, Eugene and Roman are in masks (see pics) and continue roaring into 'Sit Stay Roll over', which is a highspeed vicious assault.   The guitar and bass sound nice and full and the drumming by Vladislav is precise and tight.  All masks are off, once into the 3rd song, 'Ape" and believe me, the moshers are going apeshit in the pit by this point.
Oh boy, they don't skimp on the light show either!  Lots of strobes going all over during every song – much like the Revocation show a month or 2 ago that we saw here at the Rickshaw Theatre. Certainly works well with this band as too and must mention the excellent work by Jinjer's lighting team.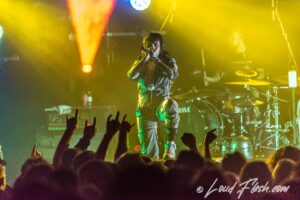 They are not afraid to experiment with their music either, as seen with 'Judgement (& Punshiment) where they have some reggae rhythms and manage to delicately mix that with more crushingly heavy vocals and guitars with some djent style.    Some other notable songs they hit out of the 15 or so this night,'Outlander', 'On the Top' and another amazing one from 2016's "King of the World" which is 'Pisces'. Pisces is one of those clean vocal songs that go extremely heavy chorus's and back again like a rollercoaster.  I have also note the drumming in this song is a real standout for me.
The future for this band is extremely bright.  They are rocketing straight up (like Tatiana's NASA suit) metal's echelon, you need to catch them live.  The band is even MORE powerful sounding that I had expected and there were a lot of happy spooky faces as evidence when we all walked out.   I am not afraid to say that Jinjer killed it this night!