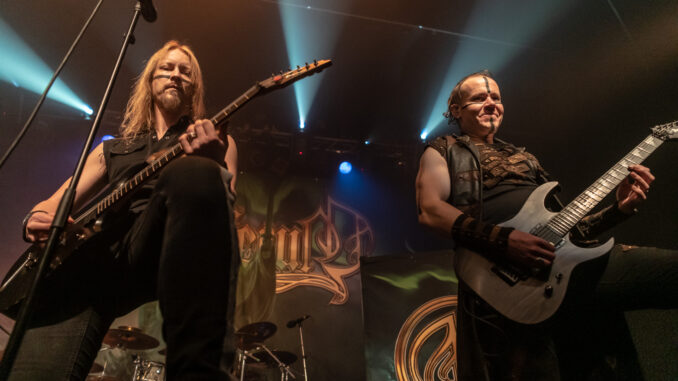 Metal Blade recording artists Ensiferum come to Vancouver's infamous Rickshaw Theatre to share us their brand of melodic folk-metal courtesy of Invisible Orange Productions.
They are presently touring North America supporting their latest 2017 release called "Two Paths".  They have brought along Arsis and Septic Flesh as tour support, so its a pretty talented laden show we are seeing tonight.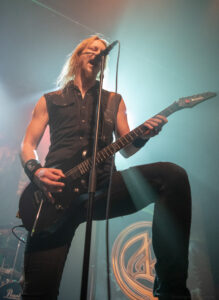 The band who hail from Helsinki Finland, consists of four musicians Petri Lindroos (vocals/guitar), Markus Toivonen (guitar & longest member since 1995), Sami Hinkka (Bass), Janne Parviainen (Drums).  These are the instruments they play for the entire show, you don't see them playing flutes or accordions unlike on their recordings.    You definitely get a more typical metal sound than folk sound but the folk singing and rhythms are still there to make it all legit to their albums.  All members had some black lined face painting (typical of them) and were for the most part dressed the part (that they have for at least a few years now and longer).   Love seeing this, and sure adds to the ambiance.
Starting with "For Those About to Fight for Metal" from the album "Two Paths", they certainly put you in that more metal anthem mindset that gets the crowd fist pumping.  Janne's double bass drumming in this song is a like chugging coal train at 200 miles per hour, the guy is quite remarkable behind the kit.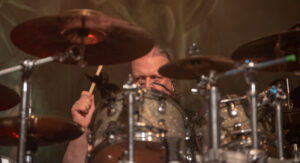 Mostly basing a lot of their songs on Scandinavian history, we get further along with such songs as 'Heathen Horde', 'Warrior with a War' and 'Lai Lai Hei'.  Lai Lai Hei is a cool song with some slower rhythm guitar and soloing to start……then mid-drift picks up speed half way through that got everyone hopping and doing a metal polka.
Lightening and sound were quite good tonight too, nothing to crazy too here which is good if you are like me taking photos.   They like to keep things rather simple and let the music do  the talking.   I was happy to hear "From Afar", one of my favorites from this band, seek this one out if you can, it's a great song .  'Two of Spades' is last of the set with that disco infused bit mid-drift, pure genius.  I don't recall ever hearing disco vibes from the folk metal band before but it just works in this song tonight.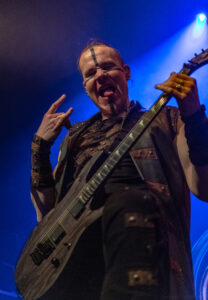 Now for the encore, we get 'Guardians of Fate', 'In My Sword I Trust'.  THEN we get to the to the "TA TA DA TA TA DADA" song as Petri shouts out, 'Iron', which had the crowd really involved with the sing along.   The set then tries to end with Markus holding his guitar above his head and he is riffing with the Guns and Roses song "Sweet Child of Mine".   Sami feeds him beer as this goes along, then the band starts full bore with "Sweet Child of Mine" and ended the show with a lot of happy (ok, drunk) people singing along.
IF these guys ever make it to your city, get the folk off you butt and get some tickets!  They are a blast of fresh air up your metal kilt!