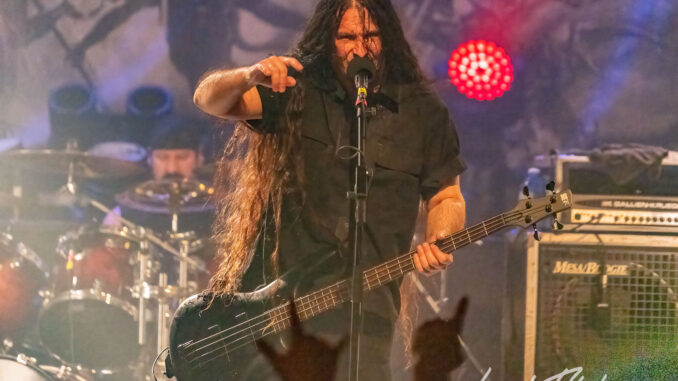 I was wondering the other day, if there was a 'Big 4' show for Death Metal, who would be on this tour?  Cannibal Corpse, Obituary, Deicide, or Morbid Angel?  Perhaps…But I would also add New York's Immolation into that conversation as well.  Immolation being around since the early 1990's having just released another pulverizing album "Acts of God" just this past week.   It's their first since 2017, and it is well worth the wait.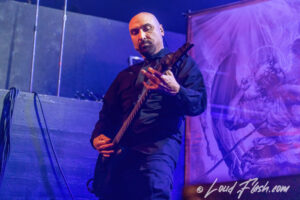 This night Immolation are back to Vancouver's Rickshaw Theatre, for the first time since 2019 (see that review here) and I cant wait to hear some of these new tracks live off the new album! No lineup changes as far as I see here with Ross Dolan (Vocals, Bass), Robert Vigna (lead guitar), Steve Shalaty and Alex Bouks (guitar).
The boys start off with a clean guitar soundtrack 'Abandoned' and then once they crank those Peavey XXX amps up, we are hit with a wall of pure face ripping metal.   The song is absolutely killer as well live, as were the other 7 tracks we hear tonight from this new album "Acts of God" (Apostle, Blooded, Broken Prey, Let the Darkness In, Noose of Thorns and The Age of No Light)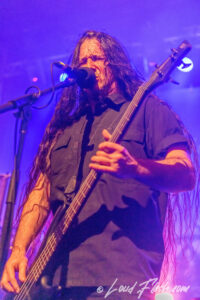 As for the show itself, they are a straight forward death metal band.  Some lights, but nothing fancy and the guys still dress in their team colors of black that we usually see them.  Cant see that ever changing…….Some cool backdrops in front of the guitar cabinets too.
Dolans voice is just as thunderous and menacing as ever.  He is, as we are, happy to be back performing after these 2 long years of a covid19 nightmare we have gone through. Rob Vigna is so fun to watch as he still does that robot war with his guitar.   He totally has me mesmerized with his pinch harmonic style and Alex (blond dude on guitar) just plays along making it look easy.
it's a 16 song set, hitting mostly from the past 2 albums (combined 10) and some older stuff sprinkled in, mostly near the end of the show.  But they appeared and sounded like a welled oiled machine and  killed It tonight.   After this performance, how can you not consider them at the top of the death metal genre?   I think you need to pickup "Acts of God" and hear what I am talking about!