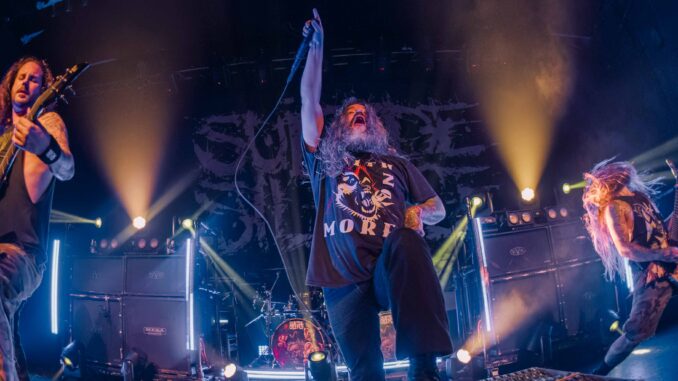 November is shaping up to be Deathcore month and these vets of the genre start it.
If your a fan of Deathcore, like I am, then this month is a doozy with the lots of heavy hitters coming around like White Chapel, Signs of the Swarm and To the Grave.   Deathcore's renaissance in 2022 continues on, including this nearly sold out show at the Rickshaw Theatre that MRG Live presented with Peeling Flesh, I am (who are more death metal), Chelsea Grin and headliners Suicide Silence.
Since we last saw Suicide back in 2021, they did have a personnel change with the drum position as long time member Alex Lopez left the band in 2022. He has been replaced by Ernie Iniquez.  Other than that, it's the same dudes with Chris Garza (guitar), Mark Heylmun (guitar), Dan Kenny (bass) and Herman "Eddie" Hermida on lead screams.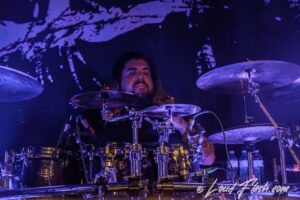 Eddie has unfinished business here in Vancouver.   I recall the last time he was here, he really wanted a mosh pit and a slamming audience, and believe me; he got his wish this time around as the started with an oldie "Unanswered" from the 2007's The Cleansing album.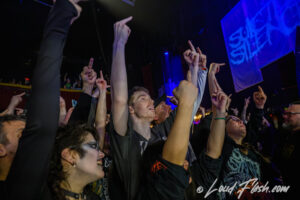 "You Only Live Once" then thereafter song 3 is a song I love to listen to on a bad day, "Fuck Everything", where Eddie encourages the audience to raise those middle fingers.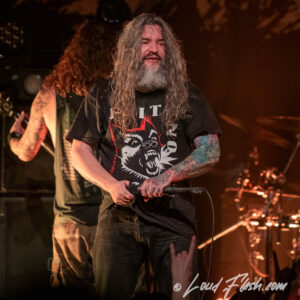 The lights and sound are absolutely killer for this show.  Whomever was doing sound had it dialed in perfectly for all the bands tonight as the guitars sounded sizzling and  crunchie.  The lights were crazy good too.
A must-play song was at song 5 with "Wake Up".  There is no way they leave alive if they don't play that one.  Watching this band with all heads down windmilling is quite a sight to behold.  I think they are one of the best headbanging bands around.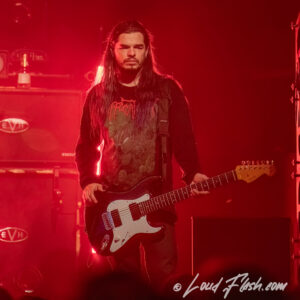 As you might know, they did release a new album in 2023 called Remember…You Must Die and they finally get to this material with "You Must Die".  This song is pretty bad ass live, as I noticed people really got into it midway.  Proud of the metal heads however, especially "ON A TUESssssDAY", as Mark Heylmun kept saying throughout the evening.
With Eddie's between song banter, he mentions this was the first time back to Vancouver since 2014, but then back steps a little, and mentions the Rickshaw since 2014.  Correct me if I am wrong, but Suicide have never played the Rickshaw in the past and the last show was at the Vogue Theatre in 2021.  I think Eddie was mixed up with his previous band All Shall Perish as he did play the Rickshaw in 2011.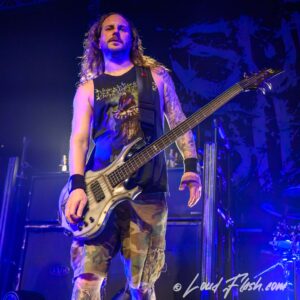 Song 8 was "Disengage", and that Eddie orchestrates the audience and splits the floor for a Wall of Death where it's "1-2-3 GO!" and the moshpit becomes a collision course.   I can tell you in 2021 that was not happening with strict covid rules for crowd control that night.  IF you recall, you were seated at the Vogue Theatre and the bouncers were strict on crowd movements.  The guy in the banana costume in the pit was VIP of entertainment with all the bands tonight, too funny.
"Slaves of Substance" was next and thereafter, the 2nd of only 2 songs played from the new album "Fucked for Life" from Remember…You Must Die.   I think that song has potential to be on the setlist for years, it definitely spanked live.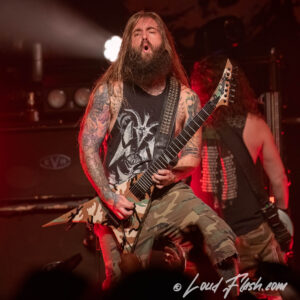 Lastly, these guys from California don't announce "Last song" or thankfully don't play the encore games. The last song of the night in the 11 song set is a Suicide classic, with "No Pity for a Coward".  At the last part of the song, Mike Greenwood of Angelmaker and Joe Pelleter of Peeling Flesh made a surprise appearance and provided some vocals to end the night.
What a spectacular show this was.  I really couldn't get enough of the tasty tones and chuggy riffs coming from this band and Eddie was a beast on the mic all night.   I will easily say it was plenty better than the last appearance in 2021, when it was the first show in Vancouver after the lockdown rules were "relaxed" for concerts.  These guys ripped the roof the Rickshaw this night, what amazing night .   I am sure Eddie felt redeemed in Vancouver…