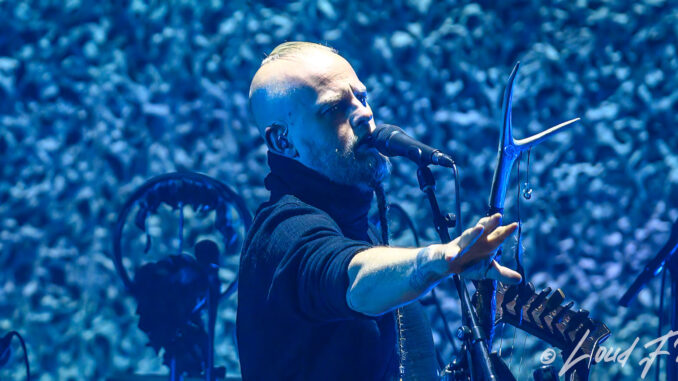 Ever go to a music venue and think "Wow I wish my favorite band played here"?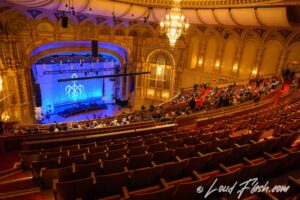 It's no often I get to visit the Orpheum which is one of Vancouver's premiere venues for music and the arts. The Theatre was built in 1927, and is an exquisite palace compared to most of the other venues I have ever had the pleasure of visiting. It seats about 2780 people and has exceptional sightlines and a huge stage. The staff is as friendly as could be, and the place is absolutely spotless. What more could you ask for?
Wardruna playing at it.
Wardruna is a dark Nordic folk band based out of Bergen, Norway and what better venue in Vancouver could they have chosen. This is the 2nd time that they have played in Vancouver. The last time was at the Vogue Theatre in September of 2018 when they did their first North America tour. From what I see, the theatre has approximately 1800 or so in the audience tonight, not quite a sellout.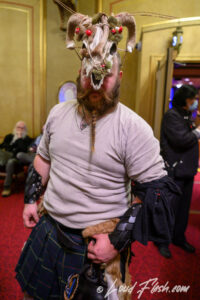 One thing you will notice is that Wardruna attracts a lot of metalheads to their shows. Basically I think because the band was founded by 2 former members whom are Gaahl and Einar Selvik of the EXTREME black metal band (also based out of Norway) called Gorgoroth. Gaal left the group in 2015 but Selvik remains, and is the lead vocalist along with Lindy Fay Hella (vocals, flute), Arne Sandvoll on backing vocals and percussion, HC Dalgaard on drums, Eilif Gundersen on horns and flutes and John Stenersen on the moraharpa. A moraharpa is an ancient fiddle in case you didn't know! But they play lots of other different horns and percussion on this stage this night.
I am thinking the 'metal' crowd attended the shows and listened to the albums and really found out how amazing this band is. Furthermore, they have continued to support them all these years. They come in Viking or Scandinavian dress costumes, some very traditional too but also they very respectful of the environment of this show tonight. Did you know that Wardruna are playing Wacken (Germany's massive metal festival) in 2023?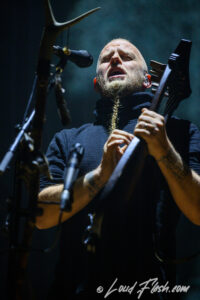 Wardruna music is very dark but also very beautiful, as they take to the stage with the first song called "Kvitravn" off the new album called Kvitravn which was released in 2021. It's an alluring yet dark brooding song with the heavy drum beats. All players are in their own spot on stage and basically don't move much off that spot for the entire show with the exception of Einar and Lindy, but even they don't get mobile too much around the stage either.
Song 2 they do a 2nd one off of Kvitravn with "Skugge" which I read that Einar remarked that "…is a song about shadows, echoes and the balance between seeking answers and wisdom…". They are all singing in this one and it is thunderous with the drums, you feel crowd getting into it later in the song as it picks up tempo. But this is the type of music you can play to meditate and be at one with the world; it can be very soothing and calming.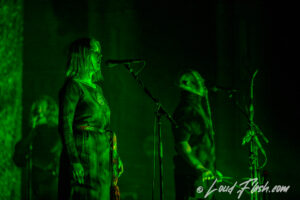 Song 4 we get "Bjarkan" and the stage goes green for pretty much the entire song which is poetry about the birch tree and growth of life. Here they use a mouth harp which provides an almost organic feel that juxtaposes well with the green ambiance.
The audience is extremely captivated and dead quiet for much of the performances this night as you would expect. One of my favorite songs of the evening is "Tyr" from Runaljod – Ragnarok (2016). During this one, they use 2 gigantic bronze lur horns to create haunting harmonies along with the pounding skin drums that just echo richly throughout the theatre.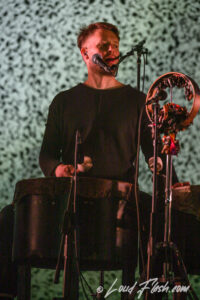 Song 7 you really get a feel for Einar's voice on Voluspa, where he is pretty much solo with the moraharpa (that ancient fiddle). His voice is so clear and dynamic this entire evening, it's no wonder he got a loud applause after this one.
They do some instrumentals like song 8 with "UruR" with some slight singing that. The use of lighting in some of the songs that produce huge shadows of the players is something to behold.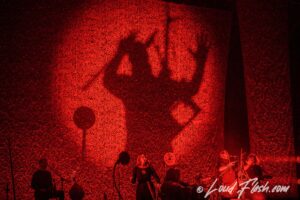 Not much talking if any between songs, until after Song 13 "Odal" where Einar speaks of "…this is not a form of escapism or my country is better than your country bullshit…. we all just need to do a lot more singing when we get back home". Then introduces "Helvegen" which is basically a song about dying and the glory of reputation never dies.
This somewhat enchanting if not spiritual concert ends at song 15 with one encore called "Ormagardskvedi". This one is another solo with Einar at vocals, who to me, can sing as well as any opera singer. The rest of Wardruna as musicians, was flawless. It was a phenomenal performance in a magnificent sounding facility . Wardruna are proof that you don't have to play high gain guitars and screaming vocals to be heavy. Give some of their albums a listen and you will be hooked! Skál!