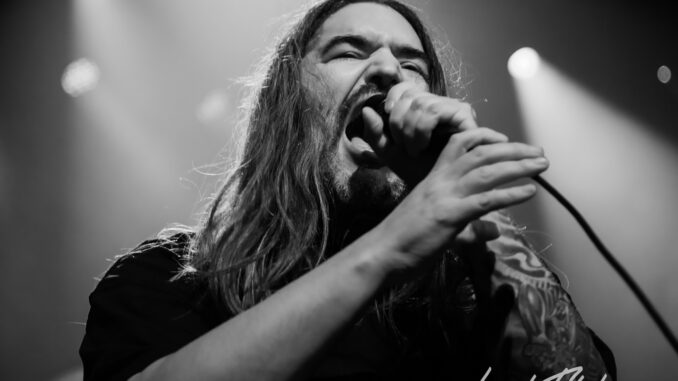 It's time to re-awaken the Vancouver concert scene and tonight we are all about to be put to a virtual slap fest and 'Wake Up' after an disastrous year and a half with some extreme metal!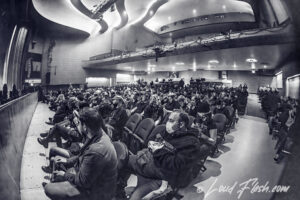 California Deathcore heavy weights, Suicide Silence are back to Vancouver's Vogue theatre to do just that.  And that they did, on the only Canadian stop on the 2021 tour with the Jinjer tour.
Vancouver was still on Covid19 restrictions on this night and it was painfully obvious to the band and its fans.    No mosh pit for a Suicide Silence show is like, well, having a mosh pit at a Celine Dion show.  It was just so odd seeing people in chairs and restricted from going to the front guard rail, with exception of the VIP's whom were allowed.
The band has weathered the Covid storm  and still have kept it together with Hernan "Eddie" Hermida  (vocals) , Dan Kenny (bass), Alex Lopez  (drums), Mark Heylmun (lead guitar) and founding member Chris Garza (rhythm guitar).   All members made it across the border unlike the band that was supposed to play prior to them – All Hail the Yeti – whom unfortunately, didn't make it across.  SO we are excited Suicide made this special effort to Vancouver, and pummel us with their chest pounding metal!
The show starts off with 'You only live once' with lyrics that begin like this "Push your care, push your burdens aside, erase everything inside, and leave just one thing on your mind. You only live once so just go fucking nuts!".  An appropriate song to reboot this Vancouver metal crowd tonight, we sure needed to go nuts thats forsure.   Eddie tries a few times during the show to coax the bouncers to let the metalheads do just that, but the security just could not give in, even for just one song no matter how much he pleaded.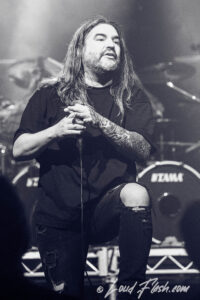 They pound through some favorites like 'Fuck Everything' and my personal favorite 'Wake Up'.   The band was precise and the palm muting guitar from Garza and Heylmun was grinding this night.   Eddie certainly is a commanding metal vocalist that goes from vicious high notes to absolute face melting guttural death metal.  Drummer Lopez is razor precise on the skins with thundering blast beats galore that stop on a dime.
After 'Hold me up, Hold me down' they snuck in a brand new song (I missed the title so if you know let us know!) which was apparently just recorded weeks ago and sounded crushing!  This sounds to me like we could be expecting another thunderous opus from them in the 2022 timeframe. Oddly enough, they didn't play any songs from 2020's "Become the Hunter" album.  But that is ok, as they ended the show with a raucous climax with 'No Pity for a Coward', which leaves your brain engulfed with its killer breakdowns wanting more.
In the end, we finally got the medicine we wanted, some pure fucking face melting metal — the cure we needed!