You gotta wonder what was in the water back in the 80's or early 90's in the state of Florida.  Some of the most brutal death metal bands were spawned there at that time with bands like Death, Obituary, Morbid Angel and who we cover tonight Deicide.
What makes Deicide a little more different is their apparent affection with Satanic or anti-christian themes in their songs.   I was actually wondering if I would've seen some religious protests at Vancouver's Rickshaw Theatre tonight but was disappointed.  It would've made for some great pictures!   Deicide are here as part of the annual Modified Ghost festival as a marquee headliner after a 10 year absence from a Vancouver stage.   They last played the Rickshaw in 2012 — on the March of Death tour.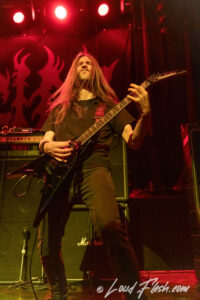 The band is comprised of new guitarist Taylor Nordberg (long haired dude), Kevin Quirion on guitar, Steve Asheim (since 1987) and the man with the deepest guttural vocals Glen Benton who also plays bass.  Glen is the driving force behind Deicide, some would say controversial in a number of ways either in his beliefs or managing the band.   But one thing is clear, Deicide is still around, and a force to be reckoned with after 12 albums.   The last opus being 2018's "Overtures of Blasphemy".
It's a really late start for the show this night at 11:15pm.  Most shows at the Rickshaw end well before then but there was plenty of support acts to get through this night.  So the audience is definitely warmed up and ready as they kick in with 'Once upon the Cross' from the same named album from 1995.  In fact, the first 5 songs (Once, When Satan Rules the World, They are Children of the Underworld, Behind the Light though Shall Rise and Kill the Christian) are all from Once Upon the Cross.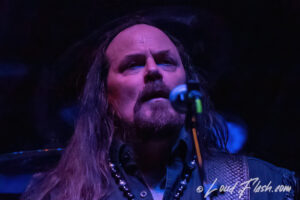 The lights, well, they are appropriately red for most of the night.  Some songs they switched it up but for photography, it's a nightmare.  But this is not a Celine Dion show, so what do I expect?  Red is the color of hell and Glen and company have this down.   Not sure if you noticed, but Glen still has that upside down cross scar branded on his forehead for a reason.  Speaking of which, 'Scars of the Crucifix' was played at song 6.  Mr Benton is pretty expressive when he sings; shaking his head several times like he is being exorcized before he delivers those punishing vocal blows.
Not a lot of in-between song chit chat with the audience with these guys.   But who really cares for it sometimes anyway, they are a straightforward face melting.   Glen's vocals were thunderous and at times so much so that they were a little incoherent but very fitting at the same time.   They hit some other notables like 'Dead by Dawn', 'Oblivious to Evil' and 'Sacrificial Suicide'.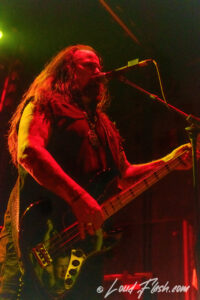 They ended the 15 song set with a must play (and my favorite that traumatizes the neighbors) with 'Homage to Satan'. God forbid they didn't play that one..God forbid that they did likely.  LOL.
I realize Florida is a pretty nice place to play — but let's make it a little quicker than 10 years next time to Vancouver — OK Glen?