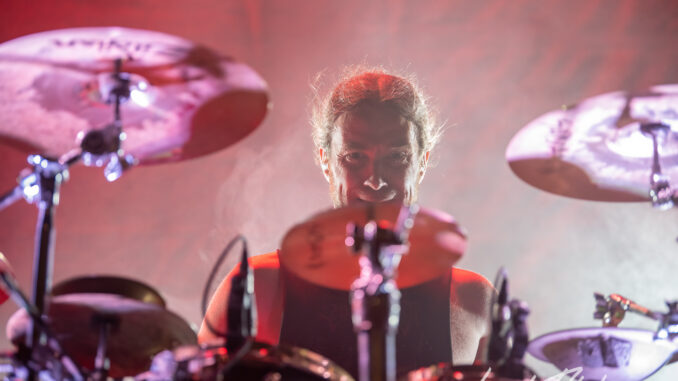 Does winning awards make a huge difference in a Heavy Metal band?  How accurate are they?
I mean look at that one year that Jethro Tull won over Metallica back in 1989 for Best Hard Rock/Metal category. Seriously?   This old folksy prog rock band beating Metallica was one of the biggest upsets in Grammy history.  Metalheads around the world wrote off the Grammies and most award shows thereafter.  So back in 2012 the Canadian version of the Grammies called the Juno Awards finally started recognizing the Metal/Hard rock genre and eventually separated them both in 2016 with a metal category on its own..   For the most part (maybe 2017 was off), the Junos have been getting it accurate to most critics.   Winners like Kataklysm, VoiVod, Devin Townsend and last year with Victoria's Unleash the Archers.  What about 2022 this past weekend? Well, how about Vancouver's technical death metallers, Archspire winning the Juno for 2022 for the "Bleed the Future" album!   This was a pretty sweet win as they were in tough against fellow BC'ers Spirit box who also had a great 2022 with that album 'Eternal Blue'.  Both these band's albums were high on the critics lists for best Metal/Hard Rock albums for 2022.  Needless to say, British Columbia has some of the most competent metal artists in the world.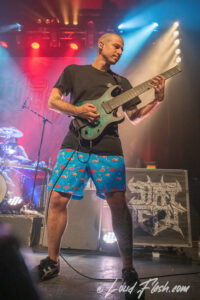 So the boys in Archspire this night are ecstatic with their win, PLUS they are playing in their hometown of Vancouver at the Rickshaw Theatre (presented by Modified Ghost).  Not to mention this is also the last night of the "Tech Trek V" tour and they have lots of friends and family attending. These Juno winners consist of Dean Lamb – guitar, Tobi Morelli – guitar, Spencer Prewett – drums, Jared Smith – bass and Oli Peters on lead growl.
Archspire are not you typical Death metal band. These guys are pretty light hearted for the most part and don't take themselves too seriously.   I mean take a look at what they are wearing tonight, Bermuda shorts (and its 10c and rainy) as they enter the stage.  Are they trying to bring back the Anthrax clothing style from the 80's?
They start off with 'Remote Tumour Seeker' from 2017 Juno nominated album called "Relentless Mutation".   A song that is basically ballistic with single note guitar shredding, sonic blast beat drumming and Oli's loquacious vocal style.  Song 2, "Bleed the Future" is the ballad of the night, with a slow part for about 20 seconds.   If you recall old school death metal with slow trudging riffs and drawn out vocals, like Bolt Thrower or something of that ilk, this is the complete opposite.  Total high speed craziness in guitar, bass, vocals, and drums with some head smashing riffs in-between.
We also get some comedic value during the show too, with Oli holding up an applause prompter above the head of the guitarist who is doing a solo at the moment.   The weirdest part of the show has to be with Oli and his yellow binder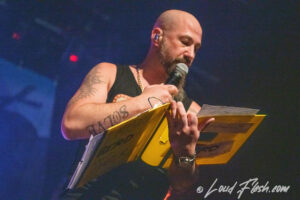 labeled "Important Bird Papers" .  Here is trying to educate us between a few songs on the natural habitat of the Yellow Warbler   Got to admit, never seen that before and now forsure this show will be etched in my mind forever.   Kinda of a genius idea to make this band an unforgettable experience is to pass long your bird expertise.  Oli stated at the show, that what he wants us to remember is that "this guy just wanted to talk about birds".  Mission accomplished!
But other than that, no crazy expensive light show tonight or other special FX but these guys are more dazzling with the outright speed of the songs.
 It's pretty intense watching all guitarists and bassist sync finger tapping like we saw in a lot of these songs.  Notably, from song 7 of the night with 'Rapid Elemental Dissolve', the lone song from 2011's "All Shall Align".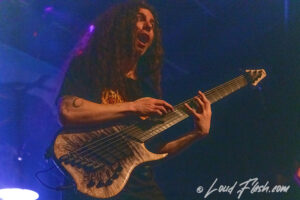 It was a pretty fast gig that showcased what this Juno winning band is about however.  They ended the night with my favorite 'Drone Corpse Aviator' from 'Bleed the Future (they played 4 songs off this album).  The guys were all smiles for all 9 songs played this night.  Could we have liked a few more?  Sure, but I think they just were just excited to end the tour, and winning a Juno at the end with a show in their hometown is icing on the cake.  How much better can that get?   We can't wait to see how they will out due themselves for the next album!