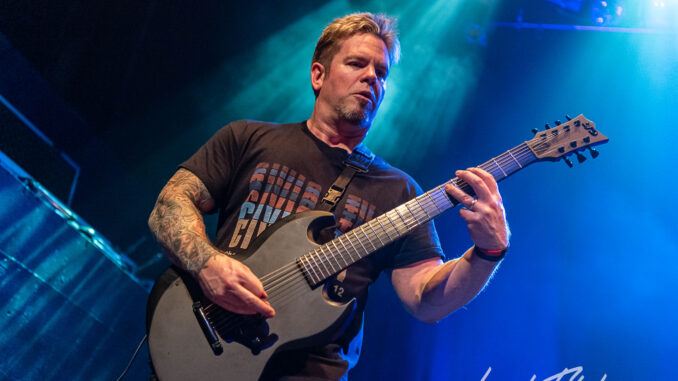 I am excited to be part of history when legendary Relapse Records recording artists Pig Destroyer finally do their FIRST SHOW EVER in Vancouver Canada!
Formed in 1997, The Virginians took a full 22 years to finally bring their crossover/grindcore to the Rickshaw Theatre.   We didn't need to ask the reason why they took so long to make it to Vancouver however.  J. R. Hayes (lead vocalist) explains the absence mid set by eloquently saying "This is our first time here because we are assholes".  But we are a forgiving bunch here in Vancouver and are ecstatic to finally see them perform live in front of a hungry crowd.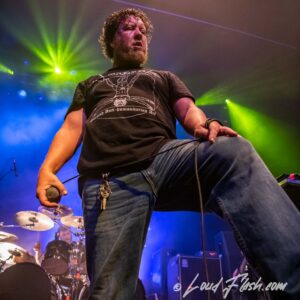 Another piece of history we see with this band is a new bassist – Travis Stone.   This was his first show with the band and did a very admirable job on his first gig.  Other members of the band are Adam Jarvis (Drums), Blake Harrison (sound FX), and Scott Hull on guitar.  Both J.R. and Scott are the main founders of the band from 97'.
Tonight they are supporting their latest critically acclaimed album "Head Cage" from 2018 (Relapse).   Starting off with "Dark Train", a song that feels like you are getting bludgeoned with a hammer, non-stop, with the Adam's cymbal crashes.
Blake is stomping around on stage (when not fiddling on the FX board), egging the crowd on, kind of like a twisted cheerleader for the band the entire set.  He makes all kinds of sneers and jumping about, he does add some entertainment with his animations that is certain.
Next we get 'Loathsome', this song had me head-bobbing, it kicks in after a minute with some great guitar chugs from Scott.    Unlike JR who paces the stage just about non-stop, giving it all he has vocal-wise.  Scott pretty much stays on his wing of the stage for the night, throwing fast riffs and nice slabs for crunchy chords on his guitar.  Concentrating on songs like 'Eve' (6th song), a real speed demon of a song where I think as a guitarist,  would really need to pay attention.    Travis is holding his own on bass, keeping up with the rest of the band, he doesn't move around a lot, but does a lot of head banging.  Not a lot of flash and ritzy stage FX or even a back drop for that matter, just some mow your face off vocals and chainsaw riffs, that is all we are looking for from these guys.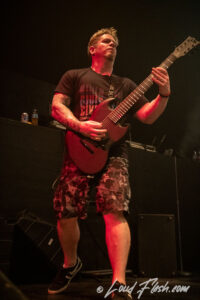 My fav song of the night is 'Army of Cops', from the new "Head Cage", that hooky riff at the start, then at the 2 min mark it has some doom laden guitar chops that gets the audience headbanging. It might be one of their more accessible 'metal' songs.
I don't have the exact count of songs but could be in the 22-24 range (see setlist in pictures).  JR is sweating and giving his all in every song.   Near the end, they did 2 sets of encores, which I wonder if they lost track, but all for the better for us as we got a really good show and for them not being here so long, we certainly got caught up!   You need to see Pig Destroyer if they come to you city, and 'Head Cage' is an amazing album too, check them out!