The mad scientist of Hard rock/metal, Devin Townsend, at Vancouver's Commodore Ballroom in support of Avatar.
Tonight it is a one man show with just Devin with his acoustic guitar and singing songs that contain his past and future as an artist.   Earlier this year he released "Empath", which is receiving high praise from critics alike, however it is not entirely an acoustic album.
He strolls onstage with a Hawaiian style t-shirt, all smiles as the New Westminster BC born Townsend is on his home turf and looking pretty relaxed.  He clutches his acoustic and kicks into "Let it Roll" from 2002's "Synchestra" album and thereafter 'Deadhead' from "Accelerated Evolution".  As expected the crowd here in Vancouver is all behind their homeboy and give lots of great applause as well as lots of laughter at his in-between song banter.  At one point in the show, he cranks up the "Baby shark" song to egg on all the parents in the crowd.  Very amusing.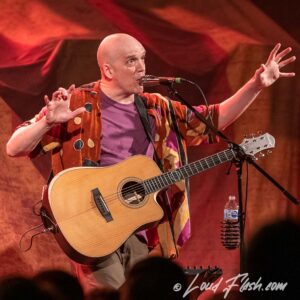 Song 4 is very interesting to me.  He usually never touches songs from his Strapping Young Lad days…..this one being 'Love?" from 2005 Alien.  This was fun to listen to because this song in particular has some great screams in it and I wonder if Devin will belt them out.  He does!  That sure sends tingles down my back as remember those great Strapping Young Lad shows.  We also get on from the new album from "empath" called 'Why'.  This song, if you listen to it on the album, sounds like it belongs in a movie or a musical.  It's a catchy song however!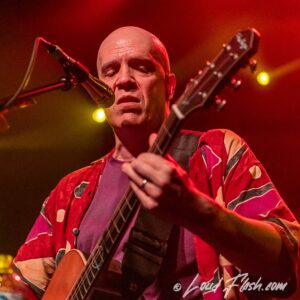 Devin continues with lots of jokes and chatter between songs, he even comes realize that he is there to do songs and has the crowd say "shutup Devin!" in unison.  Another surprise was 'Solar Winds' from "Zildtoid the Omniscient" (2014).  Ziltoid is science fiction themed album about coffee, aliens and blowing up the earth.
No matter what Devin show I have seen over the years (Strapping, Devin Townsend Project or Devin Townsend), the entertainment value is extremely high.  He is not afraid to experiment (as seen in Empath, that's forsure) and is seen as an innovator with all types of music.  Pick up "Empath" and you will get something completely different.  Next year he announced that he will form a band to tour with Empath, we can't wait!