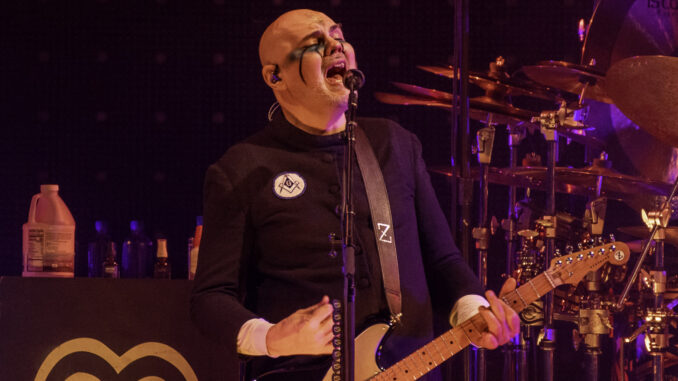 In the early 90's when grunge was in full swing, I could not help myself but not love this 'alternative' band called The Smashing Pumpkins.
But I always ask myself what makes this band from Chicago so unique at the time?  To me, it all comes down to the voice of the vocalist.  Lead singer Billy Corgan just has that perfect angst abrasive type singing that stuck out to most grunge rock that was playing at that time.  I mean, when you look back, what made those bands a success (and still relevant) was the vocalists.  Kurt Cobain (Nirvana), Eddie Vedder (Pearl Jam),Chris Cornell (Sound Garden) were the face of those bands and the driving forces behind them.  Billy Corgan was no exception, along with strong song writing ,catchy chorus's and a heavy guitar sound, The Smashing Pumpkins really stood out at the time.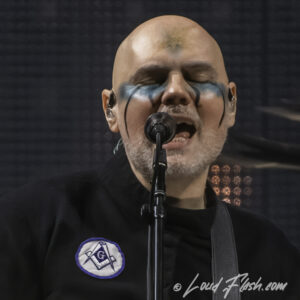 Tonight (Courtesy of Live Nation) The Smashing Pumpkins play at Seattle's Climate Pledge Arena with Jane's Addiction to remind all the generation X'ers what a great time that was for music in the 90's.   When I look around the near capacity crowd (Climate holds 17459) the look in their 40's and 50's and were ready to be time tripped back when their teen lives were filled with malaise and plaid.  They have a history of producing class "A" alternative rock,, with 11 albums in the Discography and another soon will be birthed in 2023 called Atum.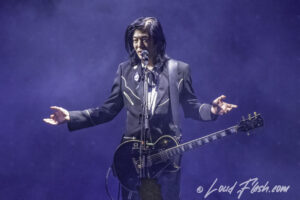 So who is in this band after all these years?  Billy on vocals, who is and has been the lead writer and creative mastermind of this band since 1988.  You will recognize James Tha on guitar, who still has the long hair, Jimmy Chamberlin on drums too, who both are also 'originals' from the bands beginnings. We also see   Jeff Schroeder (guitar), Jack Bates (Bass) and Katie Cole (backing vocals, keyboards) round out the rest of the musicians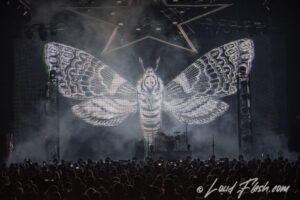 The lights go out and we get a huge white butterfly projected on the massive backdrop along with some music that I suspect is coming off the new album Atum.  They casually stroll out and begin with "Empires" which is indeed off Atum. It's actually a pretty heavy droning guitar sound too..I am digging it!   Lots of lights shooting all over the place, with really cool imagery projected behind the band.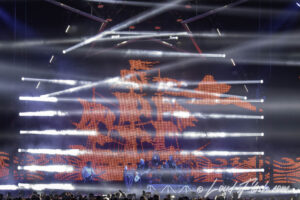 After that phenomenal start, the momentum continues with a drum beat that everyone recognizes.  Billy howls out "The world is a vampire" at song 2 and the crowd is ecstatic.  Surprised they play that one so soon in the set, but it works to get that crowd pumped for what's yet to come.
They don't unplug the guitars yet either with what I think is one of the defining songs of the grunge era with "Today",   Only thing that is missing is that ice cream truck and hat that Billy wore in that famous music video.   Speaking of style, Billy is wearing some gnarly designed eye makeup and a long jacket that makes him look more like a classy unmasked Darth Vader rather than an pissed off rocker.  But Darth Vader might like the "burn my eyes out before I get out" or "tear my heart out before I get out" lyrics.   Got to admit, that song was a real time trip for me to listen to, and they did it perfect this night.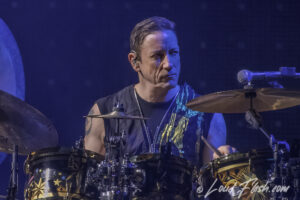 Also notable, Song 7 we get "Solara".  At this point I am really impressed with the sound in Climate Pledge arena, they did a great job of this for concert settings.   Within Solara we get an old fashioned drum solo from Jimmy Chamberlin, I really enjoyed that as we rarely see that these days.  Think the last time I saw one was with God Smack.  Some cool guitar jamming from Billy and James on this one too.
However the 55 year old Billy Corgan was battling voice issues and at Song 10 "Tonight, Tonight" he got some audience participation to help him out.  It was just Billy and James on the acoustic guitars on this one as Billy did a long pause as the crowd cheered as he finished the last "tonight" in the lyrics.  That was a must play song and a highlight for me.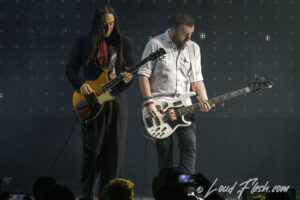 Another observation with this band as a whole, they don't move around a lot or get the crowd involved..  They stay to their perspective areas for the entire set.  Not a bad thing but maybe age has crept up on them and they just don't need to be running around posing the audience like some bands would.  They are likely saving their energy and intent on getting the music correct for the fans.
Songs 11 to 14 (14 songs in total), played exclusively to what the target audience that came to see them with "Cherub Rock", "zero", "1979" and show ender "Silverfuck" which are all off their critically acclaimed albums Siamese Dreams (1993)  and Melon Collie and the Infinite Sadness (1995).  They played 8 off those 2 albums, which I was extremely happy with and others I talked to that night agreed.
Overall it was an outstanding show for us that love to hear these "older" songs, but I was also taken back by the first song of the set too, which had them continue with the high gain guitar sound.  Spectacular lighting, sound, and musicianship all contributed to this rather entertaining evening   Will we see more of that one new upcoming album Atum?  I am interested to listen to it and see what they have come up when Atum is released….