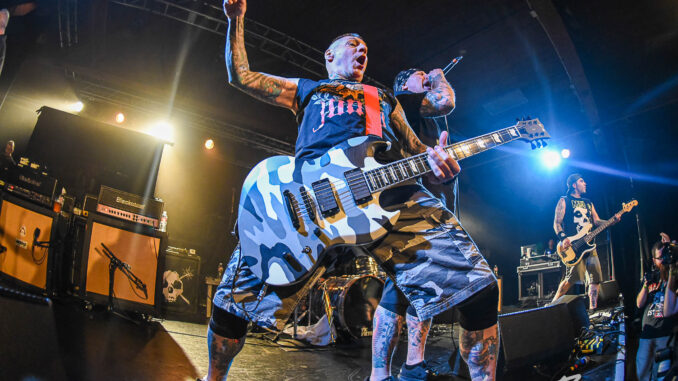 New York Hardcore legends Agnostic Front caught in the act at Seattle's Shobox Sodo. They are supporting Hatebreed along with fellow supporting acts Skeletal Remains, Obituary and Prong.
I for one am VERY excited to see these guys.   For one reason or another in all my years, I have not seen Agnostic Front once!  They have been around for 35+ years and I FINALLY get to witness them bounce about on stage and stir up the crowd.   I would put myself out on a limb here and say they are one of the originators (if not thee originals) of hardcore/metal crossover style.   What I mean there is elements of heavier guitar playing incorporated with the hardcore punk vocals and lyric content.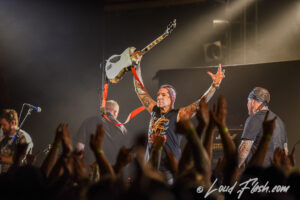 Out of the 5 members of the band, 2 of the main founders Vinnie Stigma (Rhythm guitar, since 1980) and Roger Miret (vocals, since 1982) are still in the band.  The other 3 members are Mike Gallo on bass (since 2000), Craig Silverman on Lead guitar (since 2014) and Pokey Mo on Drums (since 2009).  So the band has been quite stable with the members lately which is cool.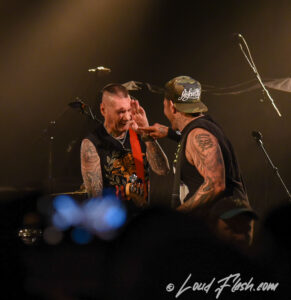 They start off with a oldie back from 1986, 'The Eliminator', a real high energy barn burner with hardcore roots.  Vinne is bouncing around like he is 18 years old, the guy has tonnes of energy and continues this pace throughout the show with his hardcore poses.  Loving it!   Roger too!  I see him bouncing around and taking some jumps as well all over stage.   In fact, the entire band looks rather energetic, and the audience is totally into it, thrashing around and moshing about.   Roger then roars into "Dead to Me", next with that incredibly distinctive voice he has.  Can you imagine anyone else singing in Agnostic Front?  I sure couldn't.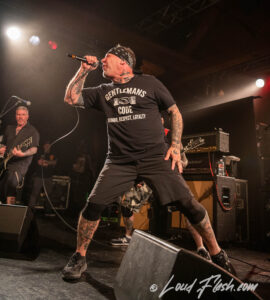 Song 4 with "For my Family" is a great sing along anthem that gets the crowd singing along with them.  This is such a catchy song that has a lot of positive family content in it……why does hardcore sometimes get a bad rap when a song like this gets written?   A dad who carries his daughter on this shoulders in the show is invited on stage, with Roger exclaiming "this is our future!".  No argument there as he puts on an amazing display of true New York hardcore.
One thing I did notice is that they didn't play anything from their latest album, albeit 2015, "The American Dream Died", although I was really quite delighted to hear 3 songs from 2007's "Warriors" Album.  Highlight for me was "Gotta go" from 1998s "Something's Gotta Give", another hardcore anthem that whips up the moshpit.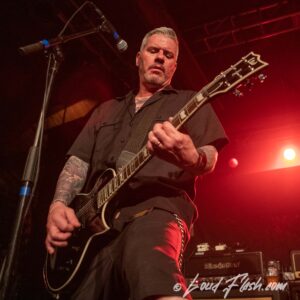 They do 14 songs from their catalog tonight ending with 'Addiction' (from the Warriors album).  These guys have A LOT of life in them yet, being around for so long and still put on a VERY energetic show.  I am certain this show, will be a highlight for me for 2019.  IF they are coming to your town, you GOTTA GOTTA GOTTA GO!