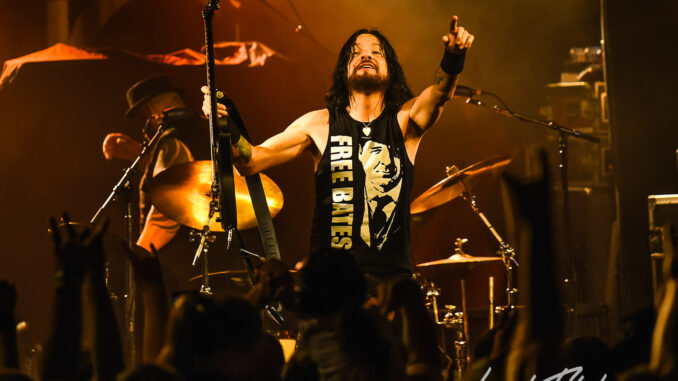 Time travelled and proven — Prong headed back to Seattle in support of the 25th Anniversary Hatebreed show at the Showbox Sodo!  They accompany Hatebreed with a stacked supporting lineup with Skeletal Remains, Agnostic Front and Obituary.
Being of my favorite bands of all time, we expect another crushing show for Prong. Tommy Victor brings his unique style and sound (based in New York) along with bass player Jason Christopher and Aaron Rossi.  Their latest album is 2017's "Zero Days", however, we don't get any tracks from that album, as they concentrate on early 90's era of the catalog, such as 1994's "Cleansing" where they do 4 tracks off that.  It's amazing that 30+ years later that these songs still sound very relevant against today's modern metal and has aged quite well.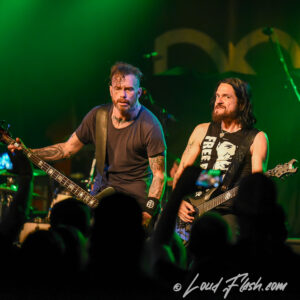 Starting off with "Unconditional", we see the band in quite a playful mood with Tommy jumping about and Jason wandering about the stage and taunting fans.  I don't recall them like this at the last Prong show I witnessed,  so they must be well rested, could be because they are only doing a 7 song set that is keeping them fresh?  Next they move to 'Lost and Found' from the 'Beg to Differ' album, then into "Cut Rate" when we see Tommy rocking it out on the stage floor.  Now that's Rock'n'roll!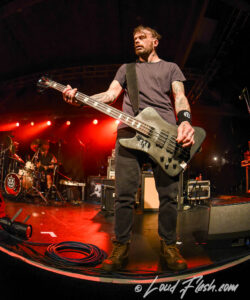 Tonight we get a nice tight set of 7 songs from Prong, but they are some of their best, with the last 2 of them being Whose Fist Is This Anyway? And everyone's favorite Snap Your Fingers, Snap Your Neck.    You can never go wrong with a Prong show, Tommy is an great front man and I am excited to see what he does on the next album!