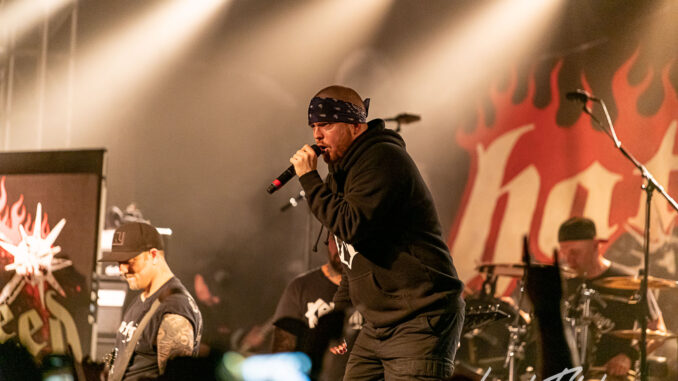 When we found that Hatebreed was coming to Seattle to celebrate their 25th Anniversary with Skeletal Remains, Prong, Obituary and Agnostic Front, we knew Loud flash.com had to be there to witness the destruction!   Hatebreed was formed in 1994 in Bridgeport, Connecticut and have been playing a blend of metal that is mainly rooted with hardcore/punk influences.
They have 8 albums in their catalog, 'The Concrete Confessional' from 2016, is their latest…..
This show was at the Shobox Sodo and a large crowd is on hand to be pulverized by a band that is lead by the hollowing hardcore warcry from none other than Jamey Jasta.   They start off with "Take it to the threshold', a song that is really a pep talk from coach Jasta to build you up and a be strong for what about is to happen for the rest of the show.  How appropriate!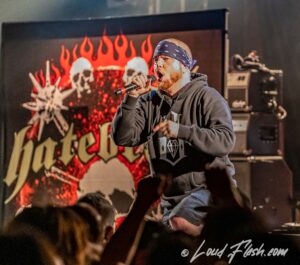 This is why I am such a huge Hatebreed fan, as my interpretation of a lot of their songs are like you have been beaten down in life but now is the time to rise and come out of the situation stronger.   I find a lot of his writing very inspirational and I think that is why they have a healthy fan base around the world.  Lets face it, Hardcore punk is all about the lyrics, and less about the guitar (in most cases).  So in saying this, I think this is how this band has succeeded for 25 years, with the right combination of writing skills and extreme heaviness of guitar.
By the four song 'Perseverance' – Jamey screams  "Perseverance, Against all opposition, crushing all limitations, pure strength through solitude, discipline and determination" and stomps the stage like a caged tiger.  Let me fast forward to near the end of the set with Jamey singing 'Live with This', "Live with this, if you don't die for something you will die for nothing".   Is it any wonder that even Dee Snider is coming to him for his writing skills?  Major Props to you Jamey, dude, you've definitely got the chops.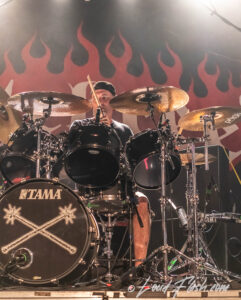 The rest of the band is absolutely crushing with the musicianship.  With Matt Byrne smashing the hell out of his drums, he moves from hardcore styles to modern metal beats in a flash.  Thumping along him on bass is the gruffy Chris Beattie, who has been the band since day 1 with Jamey.   The raging slabs of riffage are coming from baseball hat wearing duo of Frank Novinec and on lead, Wayne Lozinak.   Both are sporting Gibson Les Pauls loaded with EMG pickups that provide the rage and ferociously sound that roars through their Marshall amps.  You especially hear that on 'Seven Enemies' and 'Everyone bleeds now'.  Amazing tone these two axemen generate to slay their audience.
You don't get much flash and fire at a Hatebreed show, they don't need that.  No lasers, or crazy pyro.  The sound was great, and that's all we needed so they can get their point across.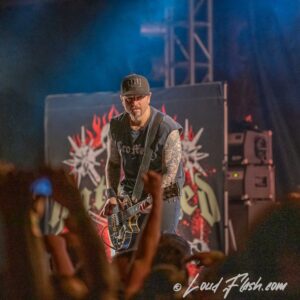 The 18th song of the evening and show ender is "I will be Heard".  This is arguably the anthem that got them noticed widespread attention with a Grammy nomination in 2004 for Best Metal Performance (Motorhead won that by the way for a Metallica cover of 'Whiplash, how odd).  Now Hatebreed are the veterans and Jamey quips that their needs to be others out there to take the gauntlet of metal/hardcore and continue for the years to come.  It's really something to see a band with a 'take no shit' attitude and yet inspire others.  They are about as die hard as they come.