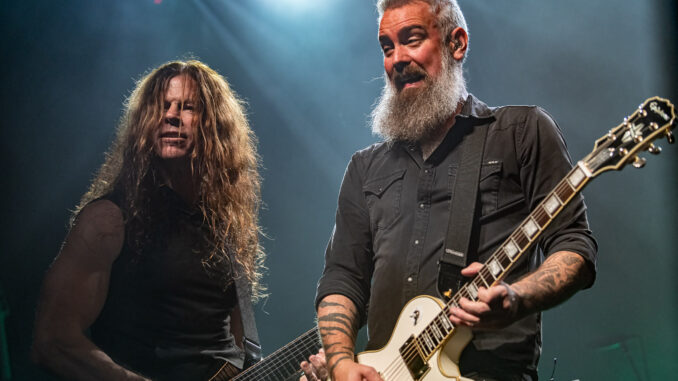 Arguably one of the originators of the Gothenberg sound — In Flames — has made their way to Vancouver and are about to sizzle the Rickshaw Theatre to the ground.  They are in town to show off a new album released in 2019 called "I, the Mask".
The band has been around since the early mid 90's and many of In Flames fans consider the first 5 albums their golden years with "Lunar Strain", "The Jester Race", "Whoracle", "Colony" and "Clayman".   From there, you start to sense the slow direction change from the more thrasher to a more "alternative" sounding direction with In Flames.   Thus possibly alienating a good portion of the original fan base and playing a smaller venues like the Rickshaw (which holds about 600 people) as opposed to them selling out venues such as the Commodore (about 1000 people).  Whichever the reason, the Rickshaw is near capacity this night, and the hardcore fans are still there to cheer the band on.  But this is not your Dad's In Flames.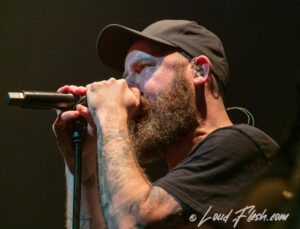 The band has had some lineup changes.   Still with lead vocalist Anders Fridén who admitted to all that he was feeling sick this night but the rest of the guys are "ready to play 110%".  Those other guys are the other guitarist  Björn Gelotte (another longtime vet from 1995), new bass player Bryce Paul (since 2017), new drummer Tanner Wayne (since 2018) but notably missing tonight is another vet, Nicalas Engelin.  Nicalas has missed much of the touring lately due to personal reasons.   However as a bonus on this tour, we get none other than former Megadeth guitarist, Chris Broderick filling in on Rhythm guitar for Nicalas's absence.
The Show starts off with one of my favorites from the "Reroute to Remain" (2002) album 'Cloud Connected' which I will say right now is my performance song of the night.  We see Bjorn and Chris on opposite sides  of stage, with Anders wearing his signature black hat. I love Cloud Connected as a show starter, it got people singing right away which is pretty cool since I would say 90% of most bands open with something off their newest album.  They continue with 'Only for the Weak' from Clayman then continue with another heavy hitter with "Take this Life (Come Clarity, 2006).  So they are definitely getting my attention at this point with these 3 songs right off the bat.   Ander's voice is not so bad, but does begin to slowly trail off after this song but he did tell us to sing along too, so we helped!
Not the usual laser light fest I recall seeing from these guys in the past which looks scaled down from previous shows.  They didn't bother with the razzle dazzle this time around.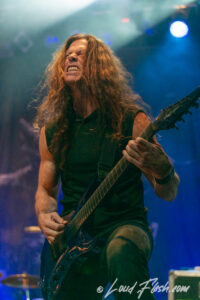 So how is Chris Broderick blending in with this band so far?  At this point I am not sure if he is strictly a fill-in for this tour, but it sure is odd seeing him out of the limelight that is certain.  I saw maybe he had one or 2 solos this night, the rest he was in the dark shadows in the corner while Bjorn gets the spotlight.  Which is fair, but sure is weird to see Chris who is an amazingly talented player, playing mostly in the shadows.
The new songs don't kick in until song 5 with "Call my name", which is a pretty thrashy song that could fit in with those earlier albums.   They hit a total of 5 off the new album, but the old guard like me did get 'Behind Space' at song 6 (from Lunar Strain 1994), 'The Hive' at song 11 (Whoracle 1997), song 13 with 'Colony' (Colony 1999).
We got a total of 16 songs this night, with the appropriate song ender called "The End" (Battles 2016).  All in all, I think it was a strong show, the band itself did an excellent job of doing what they needed to accomplish. Anders struggled at times, but he definitely did the best he could considering the circumstances.  Check them out, it was great hearing a few of their golden oldies but also be sure to give their new album a spin "I, the Mask".