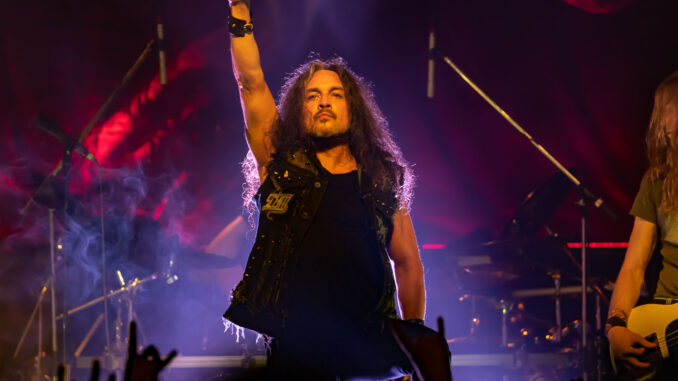 "We are Death Angel and we play Thrash fucking Metal!" screams Mark Odegueda at the end of the show….
Thrash metal veterans Death Angel made their way to Vancouver's Rickshaw Theatre — brought to us by the good people from The Invisible Orange.
These Californians are back to Vancouver in support of their latest album — 2019 release — 'Humanicide'.  They have also just received some heavy accolades from the Grammy awards commitee, nominated for a grammy award for Best Metal Performance for that album's title song  'Humanicide' .  That album is getting solid reviews globally and the boys are in town to turn it up and play it live.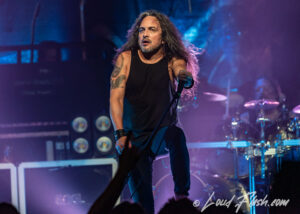 The band has not seen any changes, since 2009 with core members Mark Osegueda on vocals, Rob Cavestany on lead guitar.  Rob, Mark's cousin, are total metal heads since they were like 8 years old going to concerts.   The rest of the band is Ted Aguilar on guitar, Damien Sisson on bass and Will Carroll on drums.
I have seen this band a couple of times previously in Vancouver and this is their first headline show here since 2010 I believe, so the band is quite happy to be touring with their own agenda.  They start off with the lead track off Humanicide with 'Humanicide' which gets things going rather nicely with a nice dual guitar solo at the start, then tears into that thrash metal riffage and dive bomb whammy bar solos that they are famous for.   Marks voice is still strong after all these years and he is just as metal as he ever was.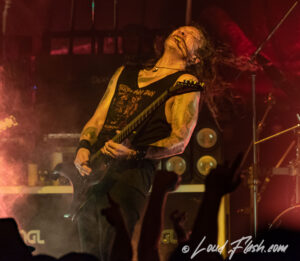 To be honest, I am awaiting one song that I did not hear at those last 2 Death Angel shows 'Voracious Souls''.   What's the big deal with that song, you young puppies say?  Well Voracious souls video was played constantly in the late 80's on Much Music (when it was a music station) on the 'Power Hour' show.  I swear, it was played weekly on that show.  It was a major mind-blowing song for me, with those slow mid tempo riffs, then to speedy fast riffs and insane solos with moshing fans we never saw before.   Being one of the old guards of metal that I am, I have been severely disappointed at their last 2 shows for not hearing it.  I remember that first show like 5 years ago, when I asked Aguilar "Why didn't you play Voracious Souls?".  I recall him saying that due to some technical issues with the sound, and that they had an abbreviated set.  ARRRG!
So song 2 starts.  Its Voracious Souls!
I am in the photo pit supposedly to be taking pictures but singing along, very distracted at this point. But very happy to finally hear this song after close to 35 years later!  This is one of the anthems of thrash metal, especially originating from the hot bed of thrash metal at that time which is the San Francisco Bay area.  Heck, if the power went off after this song, I would still give this band a glowing review!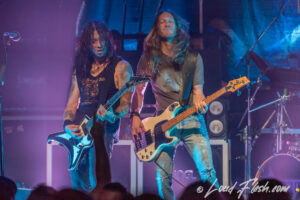 Mark and Rob (lead guitar) both do metal and definitely do all the old metal poses we like to see, and along with Robs scorching solos with his pointy Jackson guitar getting low fret action and Rob flailing the mic stand about, believe me I was watching to see I don't get clubbed in the head with it in the photo pit.  No crazy laser light show, just amps and a Death Angel backdrop is their ambiance.
Most of the 16 songs were concentrated around Humanicide, being 5 of them, however, nothing from "Frolic through the Park" (remember 'Bored'?  Nope, not played).  But we did hear some other old stuff at that very end from the 'Ultra Violence' with 'Kill as One' and speed metal thrasher 'Mistress of Pain' as the show closer.
Hey, I left happy!  It was a great night from one of the kings of thrash metal! Give Humanicide a listen, you can never go wrong with Death Angel!