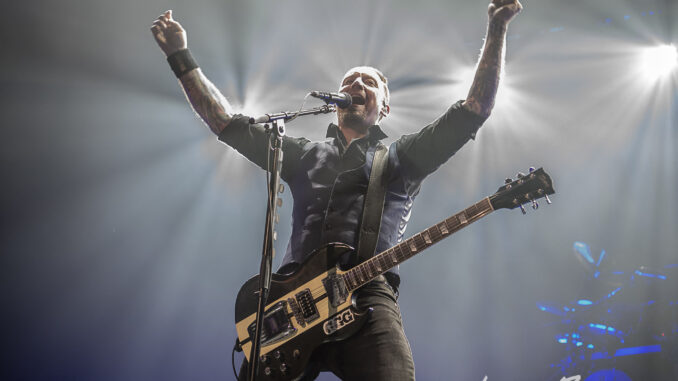 Danish band Volbeat brings their unique Rockabilly metal sound to the Abbotsford Arena in Abbotsford BC.
The super skilled quartet have a new live album just recently released called "Lets Boogie! Live from Telia Parken" (located in Copenhagen), which is where they got their start some 16 years ago. They are currently touring with Stitched Up Heart in support of the Godsmack tour.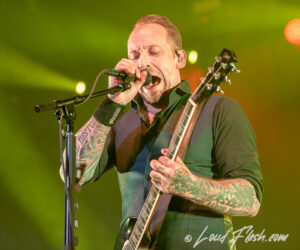 If you have not had the privilege of seeing  or even hearing the band, they do boogie and its and interesting mix of hard rock and metal.    Michael Poulsen (lead vocalist) has a very unique voice, kinda like if you mixed Elvis Presely with Chad Kroeger (Nickelback).  Rob Caggiano on lead guitar (former Anthrax guitarist), Kaspar Boye Larsen (bass) and Jon Larsen on drums.
The curtain falls and they start off with 'The Devil's Bleeding Crown', a real foot stomper of a start to of the show.  This song also features a scorching solo about a couple minutes in from Caggiano.   'Lola Montez' is another well known song of thiers which Is played next.  Here we get a sense of where Michaels voice is showcased, and definitely he is sounding good and in pitch.  The band is solid thus far and by song seven, my personal favorite selection from them, 'The Everlasting' is next.  This song is definitely hitting some slayer-esque single notes and hard edged riffing that we hear in metal. Some very nice shredding soloing again near the end with Caggiano.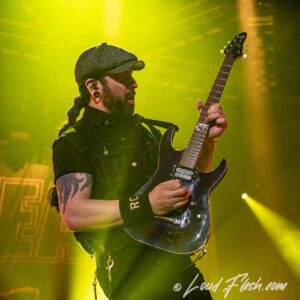 Personally, I think it was a good move for him to move form Anthrax to Volbeat as it really showcases his talent as a lead guitar player.  '16 dollars' is a song that really is the core of this band is about, a lot of that old school rockabilly groove (check this out­).   Playing this type of rock really opens their appeal to a wide audience, there is not a doubt as I look at the age range that really enjoy their music in the crowd.  They definitely have the right mix and uniqueness that make them standout.
Tonight, they played 15 songs and had the fans partying and hopping for the majority of it.  They ended with the last two, being that of 'Seal the Deal'.  Seal the deal has abit of a ska/reggae feel to it and of course some heavy crunching guitar bits and more rockabilly intertwined.   That song pretty much encapsulates what the band is about, not afraid to try new things and genres.
Check out their new live album "Lets Boogie! Live from Telia Parken", it will give you a sense of what we witnessed tonight!  They definitely had everyone charged up and rocking the whole set!