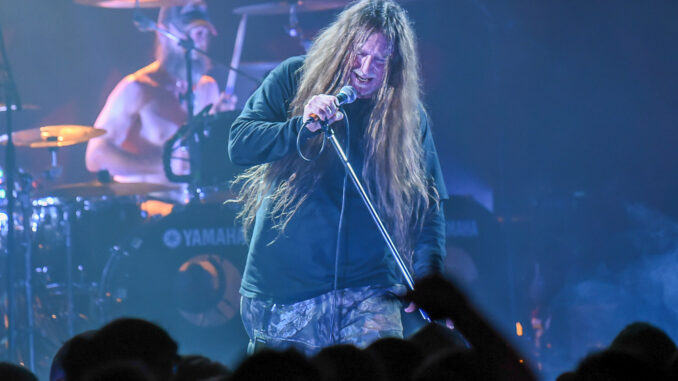 One of the most successful Death metal bands, Obituary, are back to obliterate Seattle's Showbox SoDo with a STACKED lineup with Skeletal Remains, Prong, Agnostic Front and headliners Hatebreed.
The band's current lineup consists of vocalist John Tardy, drummer Donald Tardy, rhythm guitarist Trevor Peres, lead guitarist Kenny Andrews and bassist Terry Butler.
However, a horrible incident a week prior to the show occurred, as Terry Butler's daughter lost her life in a car accident.  (Everyone at Loudflash.com wishes to offer our sincere condolences to Terry and his family).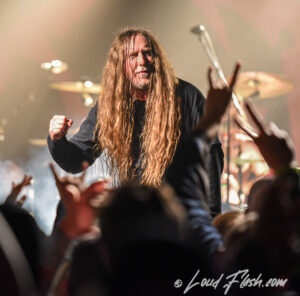 So tonight, Terry was not replaced by another bassist, so we have Trevor Peres dialing in an amp with abit more bass frequency and will handle those lows as best he can with the rhythm guitar.   The first test of this is with the instrumental, 'Redneck Stomp', which we've heard before as a starting song of an Obituary show.  This is a good warm-up for the band and for the fans to what's about to come with '"Threatening Skies" from 1997's "Back from the Dead" album.  Obituary is a pretty guitar driven band as it is, we still miss Terry's bass lines but they appear to sound pretty acceptable this night as they roar to the next song with "By the Light".
Song four, they do a cover of Celtic Frost's "Circle of Tyrants", which actually fits in quite nicely with Obituary's sound.   As for stage setup the fog is rolling in and they prefer a dark stage to add to the ambiance that death metal seems to attract.  Trevor has his head down and with his extraordinary long mane is headbanging along to an older favorite of mine "Don't care" which I would have to say this is my favorite part of tonight's performance.   They managed a 9 song set, with the last 2 songs being "I'm in Pain" and the song that best defines them "Slowly we rot".
They put on a great show despite the circumstances and the audience was very appreciative of the effort. I hear they are getting new material ready, therefore we are all looking forward to the next album in the near future!