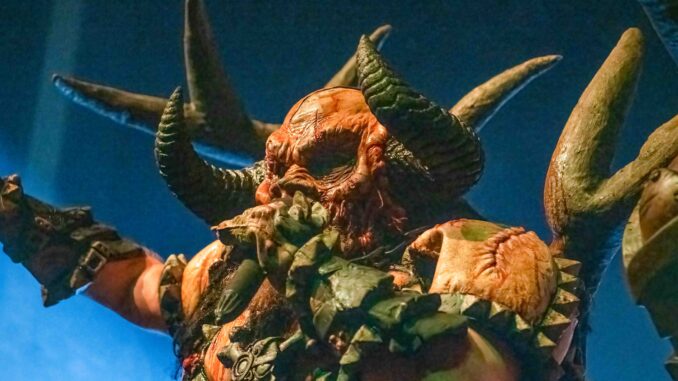 It's been a full year since I have been shot in the back with a sticky substance.
Yes, its fall, and the scumdogs of the universe known as GWAR have made the journey back to Vancouver's Vogue Theatre (last year here) for another night of gore and hilarity.  From 1990, (according to Setlist.fm) I see they have been to Vancouver 20 times, only 6 times outside of the fall timeframe.   Tonight, they also brought with them 2 very talented bands, Nekrogoblikon and Crobot as tour support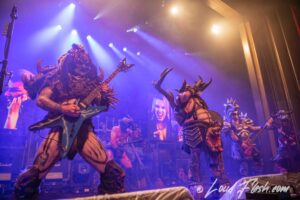 But they wouldn't come here if they were not loved so much by Vancouver, as there is a packed crowd in the Vogue tonight to see this bizarre band from Richmond Virginia.  They released a new album in 2022 called The New Dark Ages and no doubt we will hear a lot of it this night.
If you're a new fan to the band, right now all you have to do is go on Amazon Prime and you can watch This is GWAR to get a snippet of their history.   They play a few minutes of it on a couple large screens prior to the show starting, so you get quick glimpse and chuckle of some of the highlights.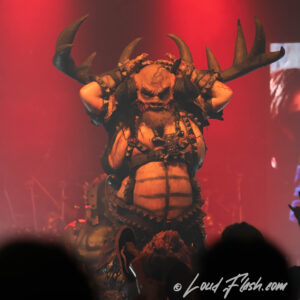 First song is "The Cutter" from The New Dark Ages where we see a character in a GWAR t-shirt get decapitated and the blood spraying begins.   No surprise right?  I mean we are all here to see the gory theatrics that is for sure.  But, I really noticed these last couple albums an uptick in production and heaviness in the music.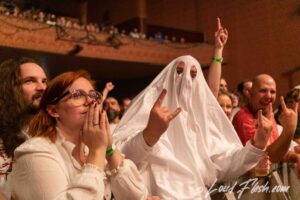 The audience for GWAR is definitely different.  There is a dude in the front row with a white bed sheet over him with 2 eyes cutout like a ghost.  Within minutes he was blood drenched.  But you can basically wear any outfit and it will be widely accepted this night.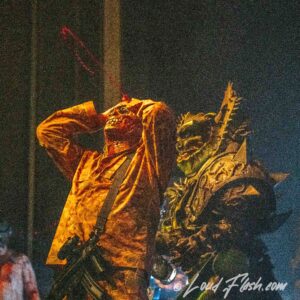 "Bring Back the Bomb" (song 3) has a little scuffle with some combat dude in fatigues that gets his face ripped off and spraying blood off the top of his skeletal face.   Lead singer Blóthar the Berserker (Michael Bishop) still has a pretty killer voice and can pull off the older stuff quite adequately.
They do a run of 4 songs in a row off of The New Dark Ages (Songs 4 to 7, see setlist below).  In fact, the show was heavily weighted on this new album with 8 songs in total on the 17 song set.  A song off the new album at song 5 "Mother Fucking Liar" is a real brain bug with a catchy chorus that seemed to get the crowd really into it. Not that they were not, but out of the new ones, this one seemed to take hold.    Surprised we didn't hear maybe a few more from that last album Blood of the Gods or at least what I thought was a solid song with "Phantom Limb".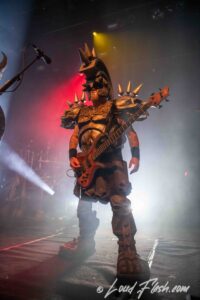 Not sure how I feel about the whole animated Platypus bit that came on in-between the songs on the screen.  I think it was cleverly annoying, but seemed to get the point across in introducing stage characters.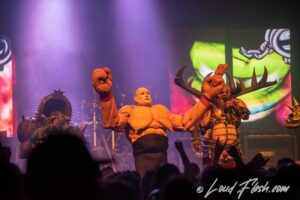 Nothing has mellowed at all in a GWAR show however, you get pretty much the same sort of stage setup as the last tour as well as the main players with the same costumes.  Instead of Biden getting the axe, we see a bare chested Russian President Vladimir Putin at song 8 with "Saddam a Go-Go" this time around fighting about on stage with some long arms that eventually get amputated off.  Or a pregnant Amy Coney Barrett (US Supreme court justice who opposes abortion) gets an abortion by 2 ghouls using a plunger and tearing the baby out of her womb during "Womb With a View".   You gotta love the animated political satire that GWAR exhibit no matter left or right.  No one is safe.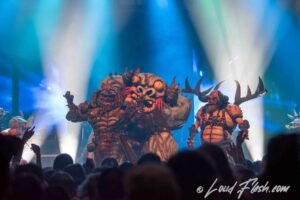 During Song 13 "Berserker Mode", we get a larger super ugly version of Blóthar wandering the stage getting hacked on and spraying its guts out.  Aww, he is so cute with his eye balls hanging out of his sockets.
The gory chaos ends after 15 songs, then there is a two song encore, with the first being the greatest GWAR 'sing along' song of all time "Sick of You". I wish one tour they could build a pit for all the audience to climb into just like the video for that song.  Then next "Fuck This Place", with the strong show ender from these aliens, very appropriate!  All in all, I suggest you go see them on tour!  Attending a GWAR show is always an unforgettable experience and good for a quick blood bath.  Don't worry! It eventually washes off!