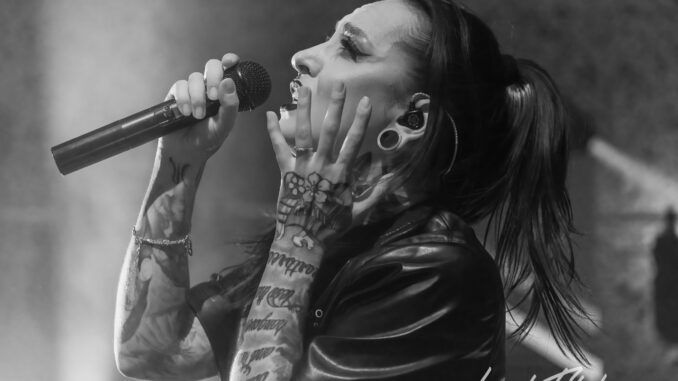 For the past one and a half years we have been living in uncertain times, and going to a concert for the first time since Covid-19 hit was going to be a new experience.  It did not disappoint tonight with Vancouver's first big extreme metal show with Jinjer at the Vogue Theatre.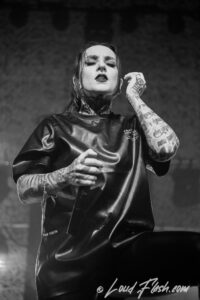 Frankly I really didn't think this show was going to happen.  All the border restrictions and Covid protocols in full effect.  The Vogue can only fill to half capacity (about 550-600 people max) and seating was in place on what usually is a mosh pit. About 50% of fans wore masks, all staff did,  there was no leaving your seat to come to the front for this show, not even the VIP's in the front row were allowed to go to the guard rail.  So it was still a fairly strict environment for a metal show.
But I digress, everyone was still ecstatic that Jinjer did indeed make it over the border.  Being that this is the 2nd stop on the tour, they went out of their way to make this happen.  The last visit we saw Jinjer was in 2019 on Halloween, so its been awhile.
Furthermore Drummer Vlad Ulasevich did not make it as he was diagnosed with Covid19. Most bands probably would've cancelled the tour or at least not go through the extra trouble of going to Canada.  So what they did was use drum tracks to replace him this night and only Tatiana Shmailyuk (vocals). Roman Ibramkhalilov (guitars) and Eugene Abdukhanov (bass) would perform.  I really admire their "show must go on" mentality here, as they pushed forward to a flawless performance.
Leading off from their sensational new album "Wallflowers" they kick it in with 'Call me a Symbol.  Tatiana's voice is one to behold, as she can go from super clean vocals to guttural death vocals all in the same song.   Roman and Eugene moved along quite nicely with electronic Vlad but there is no doubt that having him there would sounded a lot more dangerous.  They hit my personal favorite 'On the Top'. 6 from the 15 song set were played from the Wallflowers album as they leaned on their newer material from the past few years.  If you were hoping for 'Pieces', their big hit, you were out of luck this time around.
This is likely one of the only big metal shows we see in 2021 in Vancouver.  For the first show in such a long time, it was great that these guys made a special effort to come out and remind us what live metal was all about.