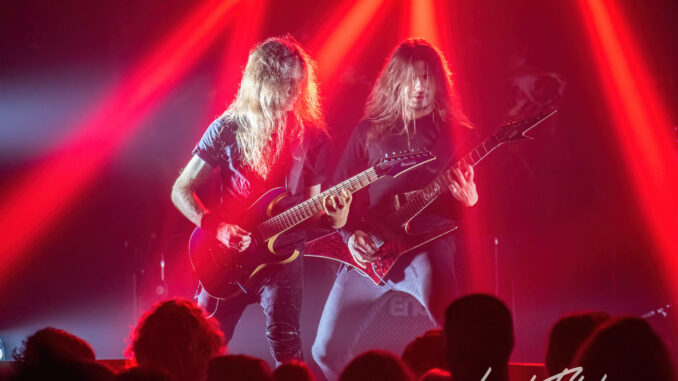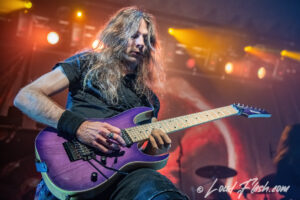 Seeing the last review I wrote was from super shredders DragonForce, its plainfully obvious that I must remain on a high level of technical metal for the rest of the week.   It really doesn't get much more technical that Germany's Obscura (Archspire is coming next month too!).   However, these guys are plenty more extreme metal than DragonForce will ever be with extreme death metal vocals and different lyrical content.   That being said, Obscura is at Vancouver's Rickshaw Theatre tonight presented by Invisible Orange Productions (so thankful for them bringing us the metal!) and we are ready for a meltdown.
I was into Obscura many years ago but somehow they fell off my playlist.   The band has been around for close to 20 years now, and has gone through a significant amount of staff turnover since then.  This time around we see a return of some key members from the past rejoin Obscura with guitarist Christian Münzner on Lead Guitar and Jeroen Paul Thesseling on Bass whom both have played back in Obscura in 2007 and 2008.   I was expecting to see David Diepold, the short haired drummer we saw in the facebook adds but on this tour we get their super sub Gabe Seeber.  Last but not least, the leader of the band is guitarist/Vocalist Steffen Kummerer. They have 6 albums to date, and the latest was released in 2021 with "A Valediction", which is well worth a listen!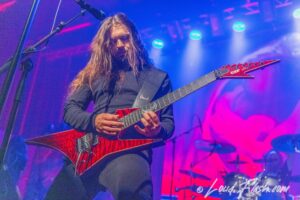 Jeroen enters the stage with this absolutely beautiful 6 string fretless bass and begins with 'Forsaken' off the new album.  Then enters the rest of the band, with playing the main part of the song that  throttles upward with a sweep picking extravaganza.   Gosh, Steffen's signature guitar is something to behold, it looks like a medieval weapon with all those points.   What a beast of a guitar.
Enjoying the light show too that is accompanying them, some nice production right off the start (and the rest of the show).
Next song is 'Solaris' (again off the new album)
It's a song that is basically one big crazy solo with masterful arrangements, O-M-G, exhausting to watch these guys rip through these like there were nothing.   Absolutely face melting work.   They hit  6 songs off the new album that being 'Forsaken', 'Solaris', 'Devoured Usurper',' Orbital Elements' and the 12th song on the set 'When Stars Collide'.   They end with a couple encores 'Septuagint' (dedicated to the late Chuck Schindler of Death) and 'Incarnated' (2009 Cosmogenesis).   Every album was touched with exception of the first album Retribution (2006).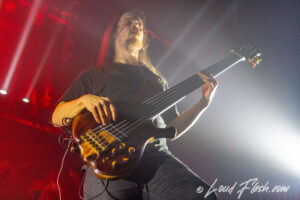 Let me tell you.  This is a must see band to witness LIVE.  In my opinion, the songs (14 this night) are just 10x more intense in a concert environment.  The band was firing on ALL cylinders, and bass and drums were incredibly precise and perfect sounding especially. I have to give Kudos to Steffen, for having these guys back into the band and continuing on with Obscura.    Although the concert season is very early yet, definitely in the running for Best Show of 2022  thus far with this intense performance.