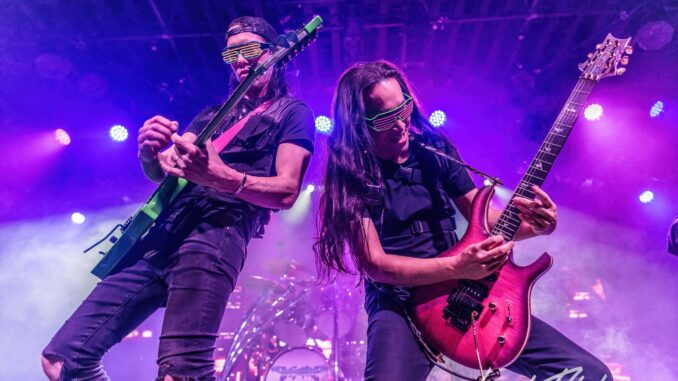 After all these years, the stars have finally lined up and tonight I FINALLY get a chance to see ultra hyper- speed power metallers DragonForce at Vancouver's Commodore Ballroom!  I remember first seeing their videos in the early 2000's as I was completely taken back by the absolutely insane guitar solos.   How can anyone play that fast?  Furthermore, a lot of the time they can mimic guitar tones that sound like 80's video games as they found abit of a niche in the metal genre with that.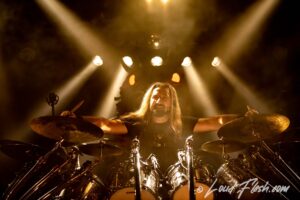 The UK band has been producing music for almost 25 years with their last being in 2019 fittingly called "Extreme Power Metal".  Largely the brainchild of the guitar shredders Herman Li and Sam Totman who are both considered one of the most talent duals in all of metal.  Also in the band is Marc Hudson on vocals, Alicia Vigil on bass and Gee Anzalone behind the massive drum kit.   He sits atop of a riser that looks like a giant dragon with glowing eyes.  Pretty sick!
The band explodes onto the stage (and I mean explodes with those colored ticker tape canons) with 'Highway to Oblivion' (from 2019 Extreme Power Metal).   They are wearing electric flashing sunglasses standing up ontop of giant 80's arcade machines on each side.   Yes, lots of visuals in this show with sparks flying, lights all over, fog and a big screen behind the drum riser.  So yes, it's a real full blown metal show with lots of entertainment value here.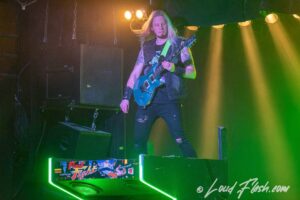 The big blond Marc Hudson can definitely hold his weight with the vocals and certainly is a charismatic front man in his own right.   But that's not all, he can play guitar too, and stands high on one of the arcade machines and plays a couple video game songs from Castlevania and Final Fantasy VII.
  Thereafter, things get even nuttier when guitarists Grant Truedell and Andrew Kingsley from Canada's Unleash the Archers join the stage with them and they do what Herman calls 'Farm Simulator'.   Then Sam appears in a hillbilly outfit with a banjo playing Randy Lynn Rag (Earl Scruggs) and they all go nuts soloing through it.  That was brilliant!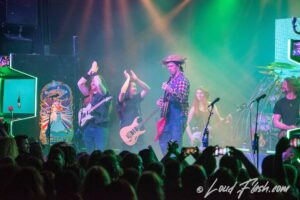 Song 10 slows down abit with the ballad 'Remembrance Day' while Marc pays homage to all the military service people that keep us all safe.  No mention of the Ukraine/Russian war that was raging this night.  Maybe he didn't want to take a political stand on either country.  But it was an appropriate time to perform as we can all identify to what we see in the media lately.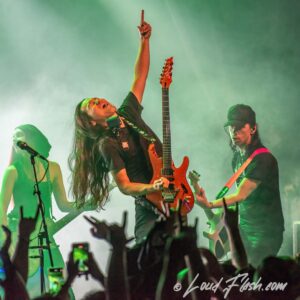 After 'Valley of the Damned' the 11th song on the set, we hit overtime or the 'encore'.   They go with a cover of Celine Dion's "My heart Will Go on" from the Titanic Soundtrack.  Well, this version would certainly melt icebergs, with more crazy finger tapping madness from Herman and Sam.  Just watching these two guys play is making me exhausted.  Perhaps as a guitar player myself, I am pretty intimated by this point!
For the last song of the night Marc says "Who came to the show just to see these song or if this is the only song you know we play?".  A lot of hands went up!   I think jokingly.  Not a doubt it's their most well known song which he is referring to is the blistering'Through the Fire and Flames'. It would've be a mistake not to see them play that one!.  Overall for I think 40$, this was A LOT of value to see these guys rip up the Commodore Ballroom.   Go see them!