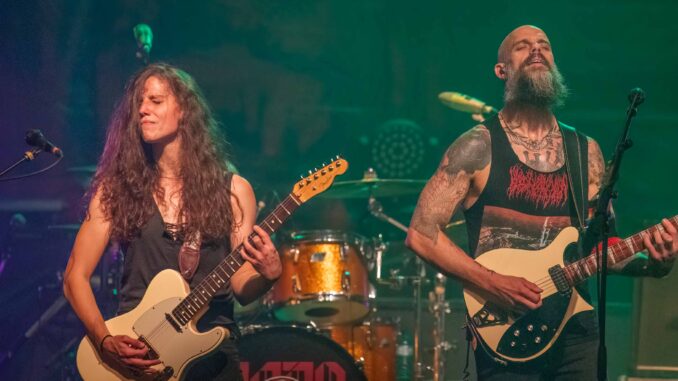 This is one of those bands that should be supported for helping younger bands thrive.
I love to see when an bigger more popular band takes out other unknown bands for tour support.    I have seen it at least a couple times so far this year notably Nita Strauss who likes to practice this by adding a local band to her show.   Another that we see tonight has gone about it a different way with taking some of their favorite up and coming bands on for a handful of dates, and then repeating with another set of bands thereafter the entire tour.
Tonight at the Rickshaw Theatre in Vancouver, Baroness is doing this with Canadian support with KEN Mode from Winnipeg and Vile Creatures from Hamilton.   This is great exposure for these bands that just can't seem to get a break lately in the music industry.
The Savannah Georgia based Baroness has been around since 2003 and have released 6 full length albums with the latest being released in 2023 simply called Stone. If I had to define the type of music they play, I would call it an alternative/Sludge metal sound.   They have 4 members in the band with only one founding member remaining by the name of John Baizley on guitar and vocals.   The others are Nick Jost on bass, Sebastian Thomson on drums and Gina Gleason on lead guitar.
They start off the night at the nearly sold out Rickshaw with "Last Word" from Stone.   It's a song characterized with some heavy, chuggy riffs and Baizley haunting vocals.  Gina does the solo on that song and she nails it quite handily.   She has been with this band since 2017 and is a formidable guitar player that has sat in with the likes of the Smashing Pumpkins, Carlos Santana and Cirque Du Soleil in Las Vegas.
They are not a glitzy costumed band by any stretch of the imagination, wearing street clothes that you and I would wear to this show.   They are a full on rock band, with no large video screens or laser lights bouncing around, as noticed on the 2nd song "A Horse Called Golgotha".
They like full control of the guitar FX they use too as each has a good sized pedal board in front of them.  Many bands have gotten away from that or use techs to control the FX as the next song "March of the Sea" incorporates chorus and delay pedals for them to tap at the start.
Another hard driving one with "Beneath the Rose" was next from Stone at song 4.  Loved the old school guitar solos at the end, duet style, which they played to perfection.  They do that on quite a few of their songs tonight.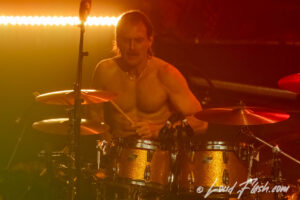 This band is fun to watch especially with songs like "War, Wisdom and Rhyme", "Shine" and "Anodyne" which they exude abundance of energy like jumping around and Gina's exuberant headbanging throughout each song.   Much of that mirrors back  to the enthusiastic audience, and that makes it entertaining to watch.
After "Anodyne" which was the last of the 4 songs they played from Stone, they moved on to the older albums with songs like mesmeric "Chlorine & Wine", "Seasons" and the alternative sounding rocker "If I have to Wake Up (Would you Stop the Rain)".  On that one, bassist Jost plays the old school melodies on the keyboard which is located on the front right side of the stage.   "Shock Me" and "Isak" were the last 2 songs of the set and then they left the stage for a few minutes.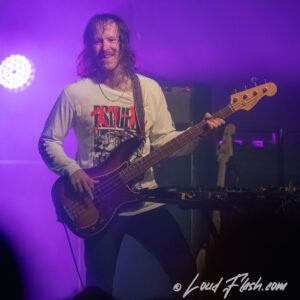 Back for the encore with the more metal sounding "The Sweetest Curse" that features some more dual guitar solos with Gina and John.   That song definitely had fans going crazy but "Take My Bones Away" was the last one and that certainly had the audience at the front hopping and dancing.
It is surely a tour that I would not suggest you miss if you are a Baroness fan, as they hit all 6 albums with at least from 1-3 songs of each in the 14 songs they played. You know for the most part, this was a pretty damn heavy set, much heavier than I had expected.  Baroness definitely slaps in a live show environment, as the musicianship all around was solid.  Doesn't get much better than this.