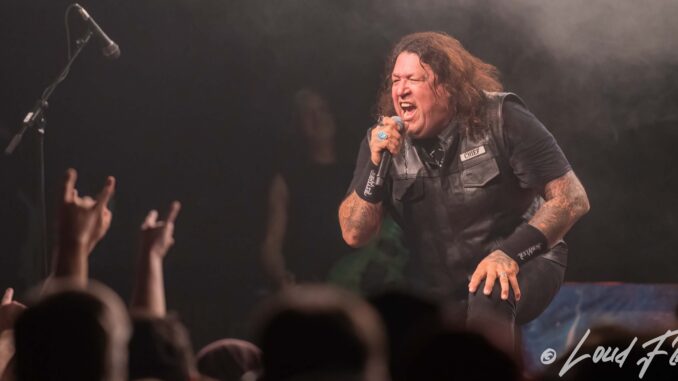 Can someone tell me what was in the water in Southern California in the 80's that made so many talented metal bands?
Such a whopping contingent of talented metal bands came out during that era from that area in California.  Metal Juggernauts like Slayer, Metallica, Exodus, Death Angel, Vio-lence, Faith No More, Possessed, Heathen , Lááz Rokit and of course the band we will see tonight – Testament.   Were they all really that good? Or did we just get spoon fed by record labels that dived in there and developed all these talented bands when they saw the scene explode?   The mid 80's is when metal really blossomed and tonight we see the Bay Strikes Back tour with Death Angel, Exodus and Testament all touring together and selling out the Commodore Ballroom in Vancouver.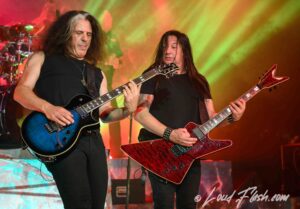 Testament is doing the headlining on this tour, and they continue to be a force to be reckoned after all these years.   I remember when I first heard them as a teenager washing dishes at a café and "Over the Wall" came on the radio (92.1 CITI FM in Winnipeg – Howard Mandshein show).  It was the heaviest song I ever heard, and after work I bought that 1987 opus called The Legacy.  They actually released a amazing album year after year with The New Order (1988), Practice What you Preach (1989) and Souls of Black (1990).  Unreal, you never see year after year releases like that anymore.  Furthermore, they were also masterfully well put together albums with great song arrangements.  Interesting factoid here, is that the lead Singer Steve 'Zetro' Souza left Testament in 1986, to join Exodus, and he still with that band tonight.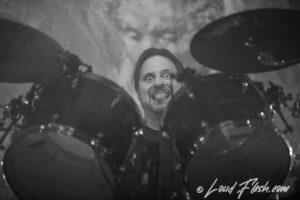 Times have changed however, the band got a little older, and they don't do albums that quick anymore.   The latest Titans of Creation was released smack in the middle of the pandemic in 2020.  The band still retains the core lineup of Chuck Billy on vocals,  Eric Peterson (guitar), Alex Skolnick (guitar), Steve Di Giorgio (bass) and some guy named Dave Lombardo on drums.  Wait, Dave Lombardo?  Yes, that's the former Slayer drummer you heard on the classic Reign in Blood (1986) and 10 other Slayer albums.  Not to mention all the other bands he has been in, as there is too many to list.  With him onboard, Testament could be a considered a metal super group.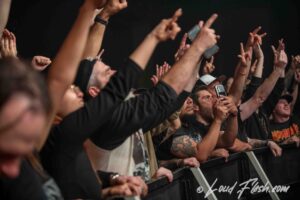 "Rise Up" is the first they start with this night, it's a great song to resuscitate the crowd that is still panting after seeing Exodus just prior.  That was a pretty hard act to follow but the crowd got back into to the swing of it in just a few minutes with song 2 "The New Order".  There are step boxes that the guys can stand on at the front which is nice for us short people in the back that can't see.   Alex and Eric like to get up on those and do their solos on it, sometimes both will be on the same one.  It's kind of nice to see that as a lot of shows it's just one player on each side, and they barely move to the other side of the stage.  It just makes me smile when it looks like they all get along and are having a good time being rockstars.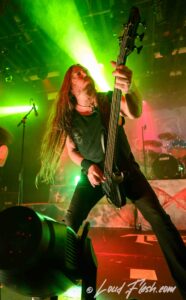 The do hit 3 songs from the new album which they evenly split out throughout the set with song 4 "Children of the Next Level" song 6 "WWIII" and song 9 "Night of the Witch".  My favorite out of the 3 was "WWIII", it's a song with a lot of nugga nugga, nugga palm muted guitar and some nice finger tap work by Skolnick.
The stage setup had the drums on a riser and also couple of risers on either side for Chuck or Di Giorgio to get up on while Skolnick and Peterson take the spotlight up front.   Besides that, you're typical new album backdrop and some fancy lighting and fog.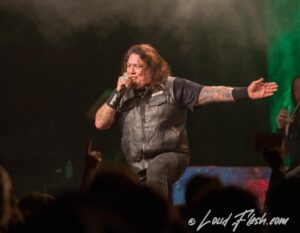 Chucks voice is still keeping up and can handle the old stuff still as song 11's "Formation of Damnation" was on point as that song demands that low end.  He used to use a small modified mic stand to carry around but I didn't see that tonight.
We get a pretty good spread of songs over their 12 album discography, hitting 9 of those albums, none from Low, Demonic, or Souls of Black.  Considering I saw the setlist prior to the show beginning, we got a song switch at song 12, with "First Strike is Deadly" off The Legacy.  According to the setlist, we were to get my favorite "Over the Wall" but at least it was a Legacy song so I didn't mind that!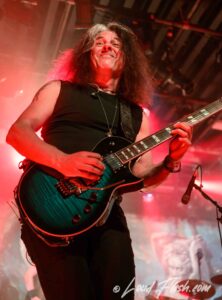 Song 13 is more vintage Testament with "Into the Pit" from 1988's The New Order and a nice parting gift from these Berkeley California natives with "Alone in the Dark", again from the Legacy album.  Reason I say that is that they haven't played that one in Vancouver in over 25+ years. Overall, this was a well rounded show of songs from past and present.  We were all thrashed out after this one, definitely one of the best tours going this year headlined by one of the best.