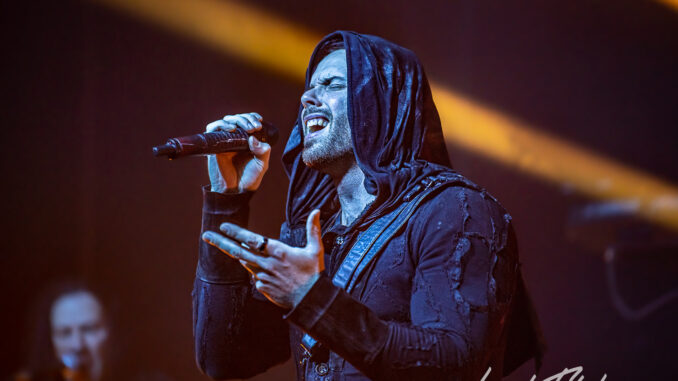 Symphonic metal veterans Kamelot, makes their triumphant return to a full crowd of loyal fans at Vancouver's Venue Nightclub
This group (which features an international lineup) — is one that I have missed over the years for one reason or another but, this band has been around since 1991 and has remained relevant over the years despite some lineup changes.   There has been a lineup change this past April with the recruitment of a new drummer,  with Alex Landenburg.  However the core still remain intact with the eldest of the crew Thomas Youngblood (Guitar), Tommy Karevik (vocals), Oliver Palotai (Keyboards), Sean Tibbetts (Bass) as well as Lauren Hart doing some light vocal duty. The band released a new album last year called "The Shadow Theory" (2018), but is that the album we will hear most of tonight?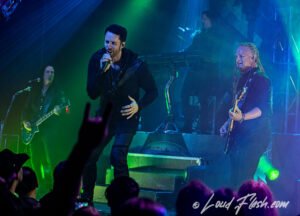 Lots of highly anticipated fans (nearly at the 550 capacity of the Venue Nightclub) are eager for their heroes to hit the stage and they do so in style with the first track off the new album 'The Phantom Devine'.    With very intimate feeling of the Venue, Kamelot hits the stage almost in introductory style, where each gives a semi-greeting to their adoring fans.   A hooded Tommy Karevik with mic in hand,  which somewhat resembles an fashion ensemble that Nergal from Behemoth would be seen in.  Sean Tibbets is madly flailing his long dreadlocks and Thomas Youngblood is busy watching his riffs and overlooking the crowd at the same time.
There is lots of intense lighting which would be a precursor to what we see throughout this show.   They then rage into 'Rule the World' (Ghost Opera, 2007), a hard driving guitar and synth driven song with a sick little solo at the 3 minute mark.   This is not a moshpit kind of band and as I don't see evidence of that sort of raucous fan behavior tonight.
By Song 6 Veil of Elysium (from 2015's Haven) we get a little more of a glimpse of Lauren Hart adding some side vocals along with some fog and more crazy strobe lights that make this a very visually entertaining gig.   They slow it down with 'End of Innocence' (from Haven), with some nice piano work from the German keyboard player Oliver and the spot light on Tommy.   Thereafter we get a nice little surprise with Oliver and new drummer doing some delightful solo work.   This is more of a showcase of Alex's talent on the drumkit,as he does a complete smash fest on the skins for a good few minutes.   Don't see this in smaller shows too often, unlike back in the 80's where we saw them all the time with the likes of Iron Maiden, Quiet Riot or Van Halen.   The fun doesn't stop there either, as they go into 'Sacrimony' (from 2012's Silverthorn) and a guest vocalist appearance which none other is Battle beast's Noora Louhimo performing a duet with Tommy.   Battle Beast is supporting Kamelot on their North American tour this time around with Sonata Arctica.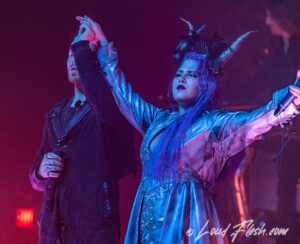 So back to my answer my initial question, they actually play 4 songs from 2015's "Haven" and 3 from the new album "The Shadow Theory".   I don't see that very often at all, but as well as they do a total of 8 of the 13 songs from albums that Tommy has had vocal duty on.  Not dissing this setlist, just find it different where they don't lean on the new album as much, which is not a bad thing!   The last 2 encore songs 'March of Mephisto' and 'Liar Liar' rounded out the night with some more appearances of Lauren Hart.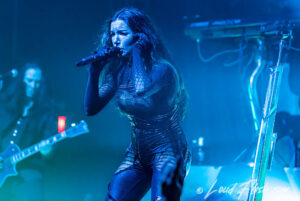 The band puts on a very strong performance, very clean sounding and polished.   All in all the fans left very pumped from what they saw and I am sure the next time they come, they will be in a larger venue!