t's a beautiful sunny fall day today and what better than to go to a concert and see Dutch metal veterans Delain to top it all off to make it an epic Saturday!  So here I am, with cameras in tow, to take on another big show at Vancouver's Venue Nightclub.
This talented troupe, Delain, has been notably around since 2005 (maybe even 2002), and they are world renown for their symphonic/sorta gothic/power metal.   Another thing to note here is that the band was started by the keyboard player Martijn Westerholt so you can expect some keyboard heavy songs.  That's not a bad thing, as it adds a dimension that most other bands are weak on or keep in the background.   Now pair that with a very charismatic lead vocalist in Charlotte Wessels whom has a very strong stage presence and very powerful vocals. Not to mention along with Timo Somers on guitar and bassist Otto Schimmelpenninck van der Oije (can you imagine that name on a soccer jersey?).  They also have Joey De Boer on drums, but WAIT, that's not him on drums!   Apparently Joey has had some issues getting on to the tour and this gig was filled by Jan Rechberger.  Later in the show the sticks are handed to Joey, we see Joey and he plays for the last 2 songs of the set.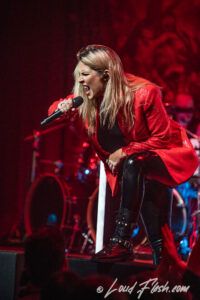 So the stage is set, I see 3 lit up microphone stands which is really cool, don't see those at metal shows, ever, and a big Delain backdrop to greet us.   The band comes on stage and start with a new electrifying song called "Burning Bridges" which is off the upcoming album that is getting ready to be released near the end of the year.   The song starts with drums and guitar that begs you to headbang along with,  then synths kick in, and Charlottes clean vocals take over from there, but it certainly does have some growly parts.   So I really digged that!  Lots of edge that song!  Song 2 is fittingly called 'Sucker Punch' because I was feeling like that after the knockout on song 1 I received!  Sucker Punch is a great sing along "owww woohhh wooooh owwh" the crowd is chanting, love the roaring start to this show so far.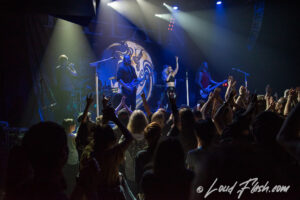 The momentum continues on from there with another recent release at song 4 with "Masters of Destiny" off the 'Hunters Moon' release from this past February.   No moshing or slamming from this crowd, just some hardcore Delain-a-maniacs just taking it all in and enjoying themselves   Other songs like April rain (which I think is my fav this night), 'Stardust', 'Pristine' and a strong show ender 'We are the Others.  All in all, 12 songs were performed and Charlottes voice control is pretty outstanding from start to finish.
IS there any wonder where the best metal in the world originates?  I mean Europe has the best metal coming to Vancouver as of late (Demons & Wizards, Amon Amarth, Amorphis, Battle Beast), and its not stopping anytime soon, with Sabatan coming next week.    I am calling this month 'Rocktober'  – we are in our glory all this month with the metal shows and Loud Flash will be there!  Go see Delain and watch for their new album coming soon!