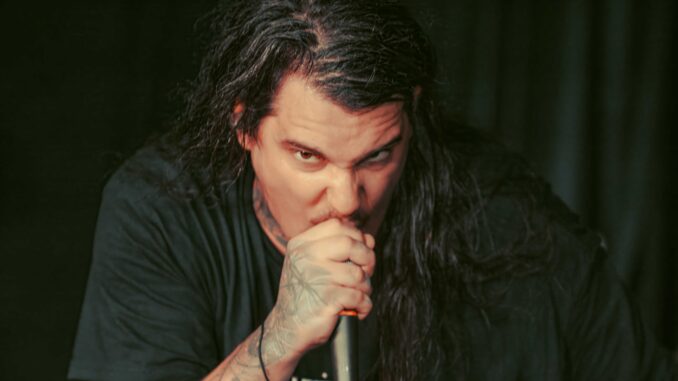 Distant make their first ever Vancouver appearance and spread the word about their latest album Heritage.
I've been listening to a lot of metal over the years, it is always moving in different directions.  The genre of Metalcore has its extreme brother called 'Deathcore' which is nothing new, it has been around since the early 2000's with the likes of Despised Icon, Suicide Silence, Job for a Cowboy or Carnifex can be given credit for being some of the early risers in the genre.
But in the last few years, we have been noticing a fresh, incoming renaissance in Deathcore.   Lorna Shore has levelled up last year with its latest opus Pain Remains and re-opened the popularity for a slough of others like Ingested, Shadow of Intent and Slaughter to Prevail.  Some bands can start to sound the same after awhile so more deathcore bands are starting to differentiate themselves by incorporating a more industrial sound or adding synthesizers or trap styles.   I can tell you, I am really digging a lot Deathcore these days, and I have been watching for this date tonight on the calendar for sometime.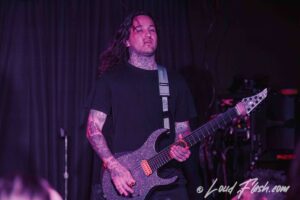 Tonight we witness some of the best Deathcore out there, with Distant headlining, along with support from Cabal and co-headliners Left to Suffer at the Cobalt in Vancouver Canada.  Justice for the Damned had border issues, so local Vancouver based band, Misyrion, are back to fill their slot tonight.
I actually questioned if the 300 person capacity Cobalt was large enough for such a stacked bill of some of the most extreme deathcore on the planet. I talked to the Malthe Stroyer (bassist from Cabal) and he said they are all enjoying the smaller venues on this tour so it doesn't appear to be a big issue.  After watching both Cabal and Left to Suffer, whom both put on head crushing sets, how easy is it for Distant to follow?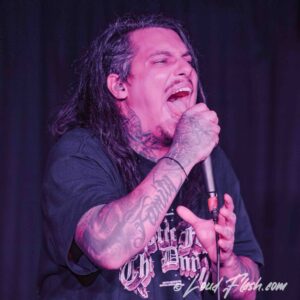 Distant are a Netherlands based band, with numerous EP's and  3 full length albums, with the latest being their most acclaimed offering yet with Heritage, that was released in 2023 with Century Media.
Tonight we see a 4 piece band, with Alan Grnja on vocals, Nouri Yetgin (guitar), Jan Mato (Drums) and Luca Roman on bass.     This is not the ordinary lineup for them as their other guitarist is on hiatus, and Luca Roman is filling in temporarily on this tour for Elmer Mauritis on bass.
The band starts off the set in a the crouched position on the floor, and begin to stand up as they kick into "Hull of Crows" (Dawn of Corruption EP 2020).  Most of the audience was still outside on a cool down from the intense Let them Suffer set.   I was actually caught by surprise on this song, as the band actually has 2 setlists on this tour, one for a headline position and the other when they are supporting Left to Suffer.   This is the supporting setlist we hear on this show which is the same amount of songs of the headline setlist.   I think this is alright by me that they are performing this setlist, as it a pretty even mix of all three albums.   The headline set is heavily weighted towards the new Heritage album.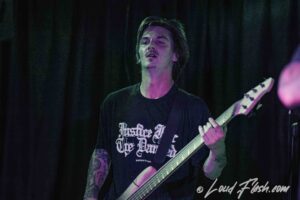 Song 2 "The Eternal Lament" and later into song 3 with "Oedipism" (from 2021's Aeons of Oblivion)  I am impressed with Alan's vocal abilities as I am quite content that he does do whatever you hear on the albums, is what you hear live.  Being a deathcore vocalist is a lot of torture on the throat, and he handles it with ease in a live situation.   He hits the lows and tremendous highs in his vocal phrasing the entire evening.  Unfortunately I have seen some deathcore bands in the past year that have cool deep growly, then shreiky death witch vocals but live, it's just not the case.
Alan can flip vocally back and forth supremely this night as he we heard in song 4 with "Born of Blood" from Heritage.   Another characteristic of any Deathcore album, is not only the vocals are in the forefront, but also the drums.   Jan does a masterful performance on the kit throughout the night with the blast beats as you'd think they would be using double bass drums, but no, just the one does the job.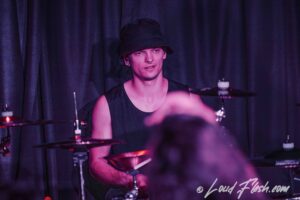 The sound and lighting were as good as they could be in a small venue such as the Cobalt.   One issue at this venue, on this small stage of the Cobalt,  is the monitor placement on the ceiling where the side guitarists can be obstructed from view, from the shoulders down.  We did see the odd ninja mosher in the pit but there was also a lot of conventional moshing and slamming too.   Nothing got too out of hand, but ninja moshing or Crowd killing to me, is an abhorrent activity in the pit.
If you wonder how the industrial sounds happen in a Distant show, it is with backing tracks containing some vocal and guitar fill.  Do I like that part?  Well, it has its place with some of these grandiose sounding songs and it's far more economical than having extra musicians.
"Heritage" came in on song 6.  No Will Ramos (Lorna Shore) duet tonight as he guests on that song on the album, but Alan can easily pull that song off without his help anyway.   One thing you finally see is a ripping solo on that song from Nouri's sparkling 7 string near the end.   This guy can definitely rip it up, will we see more shredding from him on the next album?
The boys finish the 10 song set with "Hellmouth" from 2021's Aeons of Oblivion and the last appropriately being "Endgame" from 2019's Tyrannotiophia.    It surely was a night of deathcore devastation at the Cobalt, I didn't see any disappointed faces at the venue tonight.  Distant definitely came in with brute force deathcore to pulverize us one song after another.  Doesn't get much better than this!