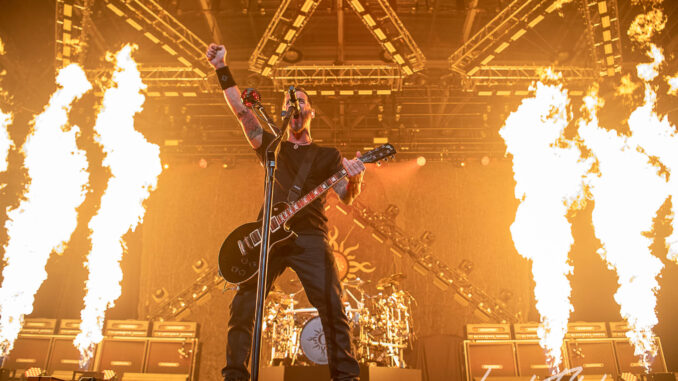 Hard Rock veterans Godsmack visit the Abbotsford Arena in Abbotsford BC to promote their latest album from 2018 called 'When Legends Rise".
What an appropriate title, these guys are legends in their own right, and are here to remind the 6000 or so fans what a real rock show is all about.  For me, its been at least 20 years since I have witnessed a Godsmack show last (with Metallica in Winnipeg), so I am very interested to see where the band stands today on their own as a headliner.  They are also are receiving  some strong tour support from Stitched Up Heart and Volbeat who played before them tonight.
Just to get you up to speed on the band itself, hardly anything has changed!  Sully Erna is still lead vocals, Robbie Merrill (Bass), Tom Rombola on Lead Guitar and Shannon Larkin (Drums).   Shannon is the newbie here since 2002, so the core group is still intact after 23+ years!  That's pretty amazing to see considering a lot of bands never make it that distance age wise.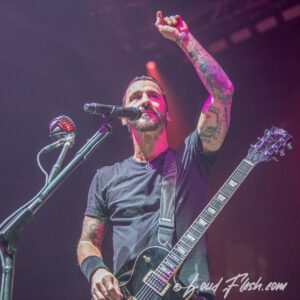 Tonight, we see quite the stage setup also.  I counted like 7 or more semi trucks, so the stage is quite large with lots of moving lightening and stage pieces.   It's a fairly large production and the fans will be treated to an amazing show.
They open with the Lead Track "When Legends Rise", a hard rocker with a catchy if not hook laden chorus.  The stage and lightening are spectacular and the sound is WHOAH OH OHOH too (ok abit of a joke as they do that in the first song), but really, the sound system is sounding great with lots of great tight bass.  Whoever was handling sound this night was perfect.  'Something Different' next from the 1000HP album, Sully's voice is as good as ever here.  Lots of great pyrotechnics kicking in for this song as well, in fact thereafter there is LOTS of pyrotechnics happening at various points in the show, really cool stuff!   I have really missed that part in a rock show lately, since I cover a lot of smaller venues. It's great to see Godsmack not short changing their fans with such a spectacle.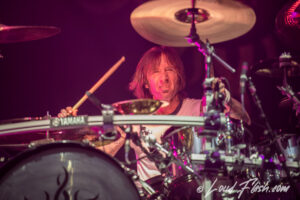 Shannon Larkin on Drums is such a skin pounder.  He has such a aggressive drum style and its so entertaining to watch.   They play the hit "Voodoo' and thereafter his drum set moves to the front of the stage and another drum set with Sully behind that kit facing one another.   Its an incredible performance to watch, playing all sorts of riffs from ACDC and Metallica.  With Sully and Shannon tossing their sticks 10 feet above themselves, and catching them at various points in the songs.  They put on quite a show.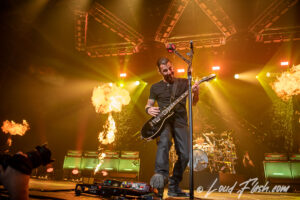 They play all the songs you want to hear, 'Keep Away', 'Awake', 'Voodoo' 'I Stand Alone' 'Cryin' like a bitch' and a few more from  their newest album that being 'Bulletproof', 'Say My Name', 'Unforgettable'.  Fourteen songs in total (about 90 or so minutes), it was an amazing show tonight; I was totally blown away with the firepower that this band produces musically.  Their catalog is quite strong now in 2019, and they play what their fans expect to hear.  Lots of happy people left this show tonight, all god-smacked.