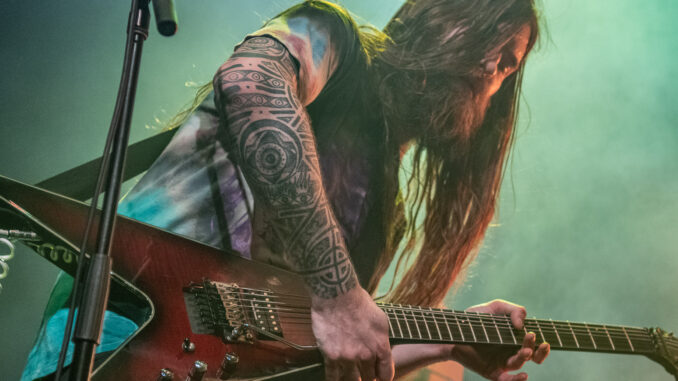 Every once in awhile I chose a random show to go to, and sometimes it's a hit or a miss. Surprise Vancouver!  You missed a great band this night.
Telekinetic Yeti made a headlining visit to Vancouver,  thanks to Invisible Orange promotions to bringing us this wonderful show at the Rickshaw Theatre.
But who are these guys? They are a 2 piece band from Iowa consisting of Alex Baumann who is on guitar and vocals, and Rockwel Heim on drums.  I think their website says it best on the description of their music, as "…sonic brutality melded with psychedelic doom…".  They are currently on a North American tour promoting their new album Primordial (2022 TEE PEE Records).
OK, sounds like my kind of LOUD music!
So I am watching these 2 do their pre-show setup. Guitarist Alex in his trippy tie dyed T-shirt is putting together his pedal board and tuning his 7 string guitars (to A or B) while Rockwel is assembling his drumkit as a side view at the front of the stage. They play a couple of chords and away they go with the first song 'Ghost Train' off of Primordial.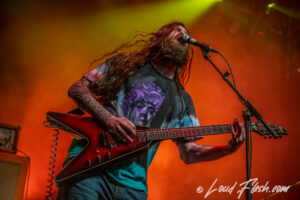 One might wonder how come no bassist?  Well, Alex does mighty fine on his own with pounding the low tones on his 7 string and frankly I don't think they need one.  Their sound is guitar centric with insatiable riffs galore that create some fantastic melancholy textures as heard on song 2 'Abominable' with 2017's premiere album Abominable.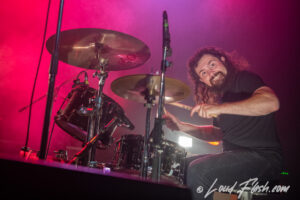 Sure, I guess you could call it 'Stoner Metal' with Song #3 being 'Stoned & Feathered, then song 4 'Ancient Nug', song 6 'Toke Wizard' AND song 7 instrumental 'Stoned Ape Theory'.  But I will tell you they are all well done hypnotic riff driven songs with some amazing atmosphere if you are in the mood for a blunt or 2.
Not a lot in-between song chit chat, or fancy stage setup.  I saw 4 mini work lights they trigger every once in awhile during a song.  I have one of those in my garage! But its all about the music there folks, and these 2 musicians do it supremely.  
They end the night with 8 songs in the set with the last one being 'Cult of Yeti' which is also the last song on Primordial.  I highly recommend you pickup this album, could be a contender for one of the hard rock/metal top albums of 2022.