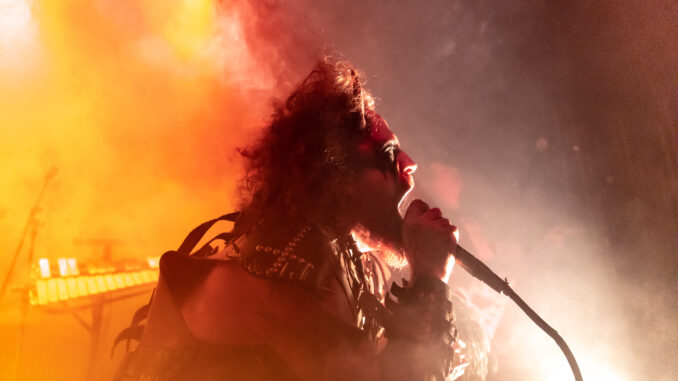 And from the very furthest outer extremities of metal music comes Canadian cult shock rockers — Zimmers Hole!
Should you ever be involved in music trivia and the question is to identify a band out there who have been named after a friend's anus — well you now have a correct answer!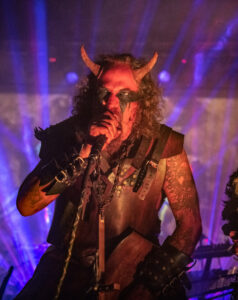 Zimmers Hole returns to the Rickshaw Theatre in Vancouver for the label launch show for Scrape Records.  They haven't played since 2016 and word is that they have a new album on the horizon in 2019 so we hear.   This night, they will be playing their first two albums which are 1997's "Bound by Fire" as well as "Legion of Flames" from 2001.   You heard that right!  Every tongue in cheek song in order, from top to bottom!  It is a 2 set show, first set is an hour, then a 20 minute break that had another Zimmer Hole short video,  and the last part of the music went on for about 90 minutes.
The show starts off with a 10 minute intro video that centers around vocalist Lorde Heathen (Chris Valagao presently in 'West of Hell'). The band rips into its first song from the Bound by Fire "Follow" and continue through the entire album in order thereafter.   Other members in the core group are Jed Simon (guitar, former Strapping Young Lad) Bryan Stroud (Bass, former Strapping Young Lad), Ash Pearson (Drums – former Three Inches of Blood) and Sho Murray (keyboards, samples).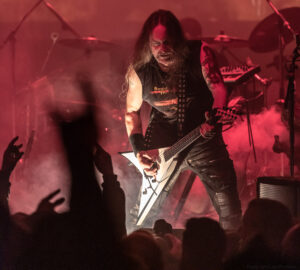 If you have never witnessed Zimmers Hole in person, you are in for a treat. Lorde Heathen is a demon, in all red, with horns, sporting a sword, and has no fear of showing off his enormous…..ahem……."junk".  He is also one amazing vocalist too!   He can do cleans, power metal vocals, amazing siren screams and go guttural death metal.  You get it all from Heathen, with lots of drama, free beer and corpses dragged about the stage.    He even sacrificed a huge teddy bear into the crowd and which was ripped up and shredded into a million pieces by the rabid fans.  Fluff everywhere!
As for the stage setup, all sorts of skulls and what not on sticks as well as….fog…..ALOT of fog.  They had a step out ramp for Lorde Heathen to get closer to the fans……well….he kinda got real close and urinated on them (ok, its fake, like GWAR…relax!).   Also, confetti cannons…..and one of those sizzler type meteor showers like from a Bon-jovi concert, which I myself have never seen at the Rickshaw before.  So there was a feast for the eyes here with high entertainment value!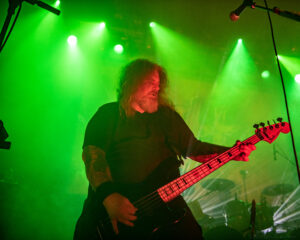 Not to mention around 37 extreme metal songs where played in total.  Ok, well, they did do Joni Mitchell's "This Flight Tonight", with some modified lyrics that are not quite hers.   But it was close enough, and made us all laugh.
The encore consists of two songs from one of my favorite albums of all time "When You Were Shouting at the Devil… We Were in League with Satan". We get the grinding "Fista Corps", and of course Lorde Heathen passes about a corpse to be 'fisted' by the crowd.  Then thereafter, the ultra heavy "What's My Name….Evil!", a song with lots more nugga, nugga, guitar riffage that shakes the foundation of the Rickshaw.
I just don't understand why these guys don't continue Zimmers Hole on a FULLTIME basis. They put on a insanely entertaining show and have a great few albums with some epic songs in their catalog.   I am really looking forward to their next album and seeing them again soon