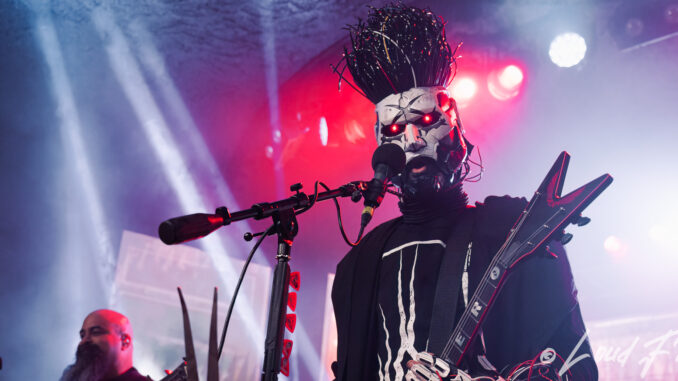 "If you're going to be a fucking rock star go be one. People don't want to see the guy next door on stage; they want to see a being from another planet. You want to see somebody you'd never meet in ordinary life."  – Lemmy Kilmister
Last night Static-X were in Seattle at the Showbox in front of a Sold out audience with supporting acts Fear Factory, Dope and Society 1.
Well, it looks like Static-X have taken Lemmy's advice and built their own mysterious alien or cyborg with lead singer Xer0.    It's quite the ensemble he is wearing on this tour, in fact the head gear was made by Hollywood  prop maker Eddie Yang (a la Iron Man, Spiderman, Terminator).  The cyborg-like mask follows the theme of the "Rise of the Machine" tour which has wires, a molded carbon fiber look and glowing red eyes.   It's really a well done piece of art, and unique looking.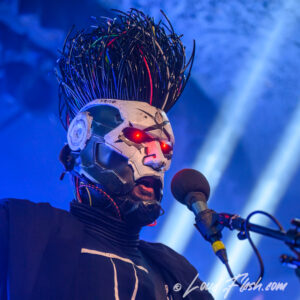 There is no 100% confirmation from the band who exactly is Xer0, but we definitely see the trend with Dope supporting Static X again on this tour.  Cough, cough, ummm, right Edsel Dope?  Not sure what the big deal is here, I mean with every masked band like Slipknot, Ghost, or even Buckethead, we pretty much know who it is.    When you see the pictures in the gallery, they did a lot of work to cover him completely from head to toe, over his hands (Edsel has tats on his hands) and around his neck this time.  I remember seeing pictures that compared Edsel to the version 1 of Xer0 a couple years ago, and there is no mistaking who it is.  Would there be the same interest without the added eye candy of Xer0?  It certainly adds a lot of buzz and sizzle when marketing this tour, and I think it is a genius idea.  But it's also fun, and keeps to the spirit the memory of founding vocalist Wayne Static alive (RIP 2014).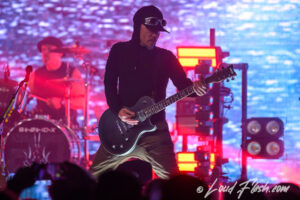 The rest of the band, are the same guys that started back in 1994 from the Nu-metal era of the late 90's.  That being Tony Campos (who is filling in on bass for Fear Factory tonight as well), Koichi Fukuda on guitar and Ken Jay on drums.  They wear regular street clothes and don't do the cosplay.
The stage setup is a visual spectacle with screens surrounding it, and starts off with a large trailer access ladder place in the middle of the stage.  Both sides of the ladder have a 40 inch teleprompter on either side with lyrics for the first song ready to go.  I am presuming that Xer0 doesn't quite have all the lyrics down yet from the Machine (2001) album, but at least we know he sings the lyrics.  Nothing wrong with it, I see it more than you think.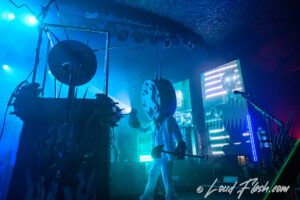 They start off with a mascot walking the stage and Xer0 is on top of that step ladder singing the first song from Machine called "Permanence".   It's a pretty awesome start with the glowing lights in the eyes of Xer0 piercing above on the dark stage, the audience is digging it!  They move on to 3 more from that same album with "This is Not", "Structural Defect" and "Black and White".   They actually tackle 6 songs from that album.   From what I have read, that album was written by Wayne Static entirely and that's some turmoil erupted with royalties to other members.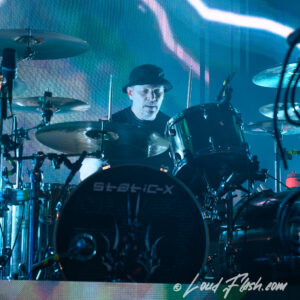 Song 6 is "Wisconsin Death Trip" from the debut album Wisconsin Death Trip (1999, Warner Bros).  Xer0 voice is solid this night, and cuts through impressively close to Wayne.  Again, I have no idea why he (Edsel?) doesn't take credit, he does a fantastic job of it the entire show of 19 songs.   They do 7 off of Death Trip, and musically the band nails them all to perfection.  Some other standouts on that album were "Bled for Days", "Fix", "I'm with Stupid", "Push it" (see setlists below).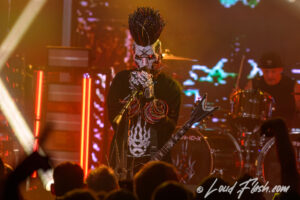 Xer0 doesn't move much off his mark at the center of the stage but Tony and Koichi like to dance around abit.   The light show and visuals that accompanies was also well done as was sound mix was clean and precise.  No issues whatsoever.
They hit just about every album in the discography, even a newer one from Project: Regeneration Vol 1 (2020) called "Terminator Oscillator" (song 10)   However no tracks tonight from Cult of Static (2009).  Project: Regeneration Vol 2 is expected for release 2023.
Song 16 "Terrible Lie" is a cover of a Nine Inch Nails song.  They did that one justice and came off quite well live.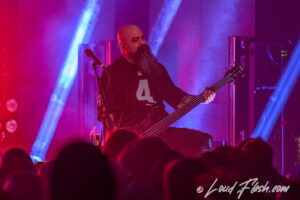 Towards the end, we saw a tribute to Wayne Static with "Cold" and "I'm With Stupid".  I am glad they paid homage to the man that made this possible tonight.  We wonder if he was still around in 2023 where he might have been an influence in the world of alternative metal.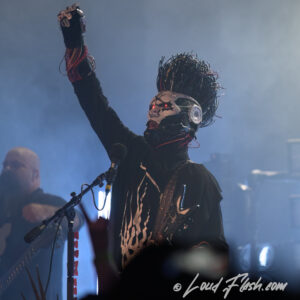 I think what really wow'd me tonight was how well these songs still hold up in 2023.  They are incredibly heavy, groovy and industrial sounding, yet modern.   But with Xer0's voice command, they sounded amazeballs.  This was one badass performance, ending with their hit off Wisconsin Death Trip "Push it".  That song was a epic finisher that had the fans singing and looking very satisfied at the end of this gig.  I will be shocked if they didn't sell out the entire tour, it should as it has everything we love to see at a rock show that seems to be missing these days.   I thoroughly agree with Lemmy though and his Alien comment, Xer0 certainly adds a sense of theatric bazaar to the show.  I am sure Wayne Static would approve.   HIGHLY recommend you go and see this tour!