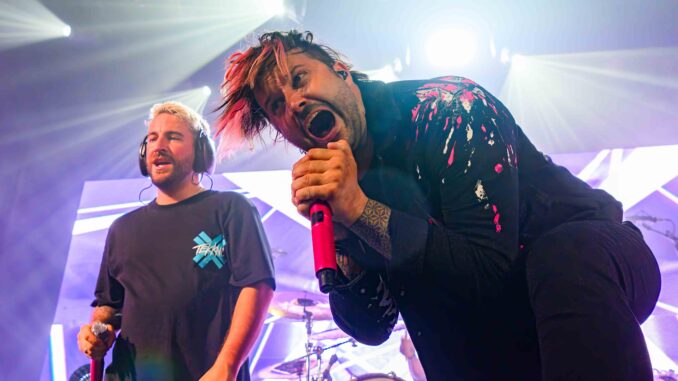 This might be the most entertaining rock tour you will ever attend in 2023, am not kidding!
A couple years ago I got into this band  from Germany called Eskimo Callboy as I watched their video called "Hypa, Hypa" on YouTube.    They have such a fun vibe, with heavy guitars, electronic rave type keyboard work and hooky lyrics that you can sing along with.  Such a fresh combination, as at the time I was indulging into a lot of metal that was all starting to sound rather repetitive.   I had a friend give it a listen and mentioned that "this sounds like a band that just cant make up their mind on what genre they want to be, one minute they are deathcore, next they are pop, which is it?".  I think this is what makes them so special, as they can jump into just about any genre and appeal to a huge audience.  I read that they have been referred to as "Electronicore", which might work, but I surely can't really pin them down and likely they don't want to be.   Metalcore? Comedy rock like Steel Panther? Deathcore? Electronica?  Amazing.
Since 2022, the band smartly changed the name  from "Eskimo Callboy" to "Electric Callboy" to rid the derogatory title that would be offensive to many Inuit and Indigenous peoples of the northern regions such as Greenland or even Canada.  They appear to be reaching for world domination, as this 'Tekkno' tour in North America is completely sold out.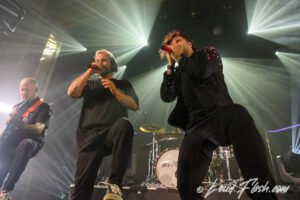 Tonight we get our first appearance of the band in the Pacific Northwest as they are at The Neptune Theatre in Seattle with support from Conquer Divide and Solence.  The question is, are they just as comical and wild as a live show and what sort of energy will the North American audience provide like we see when they play huge festivals in Europe?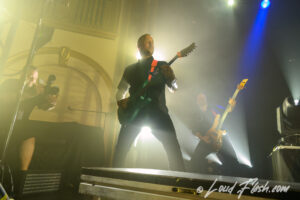 The band is lead by its two talented frontmen with Kevin Ratajczak who does a lot of the screamo / growly vocals and Nico Sallach who masters more of the clean vocals.   Two guitar players with Pascal Schillo (Rhythm guitar) and Daniel Haniß (lead guitar).  Bass player Daniel Klossek as well as David Friedrich on drums.  They have 6 studio albums and some EP's since 2013, with latest epic album called Tekkno which was released late 2022.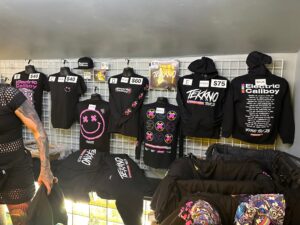 I had a chance to visit the merch table tonight, and they have a great selection of clothes, cds and other memorabilia.  If anything could be improved upon, I had wished they had more signed items.  I was incredibly lucky as a kind VIP (Thanks Tayne!) had an extra poster she gave me, I was so grateful!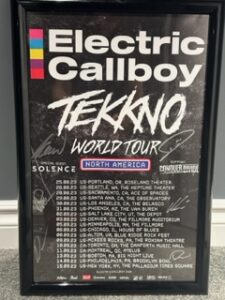 The fans tonight are so ready for this show too, lots are dressed in some of the costumes the band has been wearing in their videos with spandex and wigs galore.  Very much like if you were attending a Steel Panther show.  Many I talked to were extremely excited to see these guys as last year they could not make it to North America  because of singer Nico having Jaw and Ear issues at the time.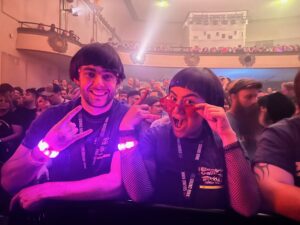 All this excitement certainly percolated with supporting band Conquer Divide (Michigan) and an very spirited performance from Swedish rockers Solence.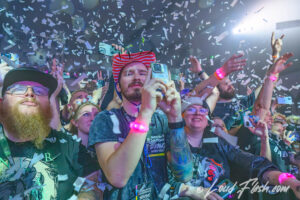 It was Electric Callboy next, and the confetti cannons were loaded.   On the giant screen behind the drumkit a female flight attendant told fans to fasten their seatbelts and be prepared to party!  They came out with a BANG as the party began and they started with "Tekkno Train" from their latest album Tekkno   They do that break down in that song as heavy as anyone "CHUG CHUG CHUG CHUG".
MC Thunder II (Dancing like a Ninja) had the crowd dancing already and watching these two lead singers taking ownership of the Neptune Theatre with their onstage prowess was impressive. Definitely one of my favorites of the night at song 3 with "Spaceman" had me totally distracted from taking photos in the photopit as I was singing along to that ever so catchy brain worm of a chorus "Spaceman, I got a rocket on my back, spaceman I ravin' like a maniac…".  So fun!  Been awhile since I've seen all the photographers totally into a song!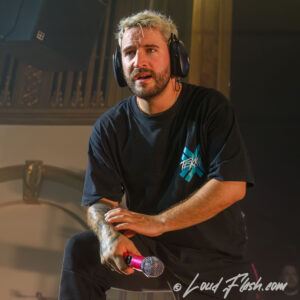 "Everytime We Touch" (Cascada Cover) slows it down and lets everyone breath for abit but that still has some heavy moments in that one.  However, they don't ignore a metalcore song like song 6 with "The Scene" (released in 2017) and that rewinds everyone back to party mode.
If you were in the thick of the dance floor, it was a complete workout with all these songs tonight.  It was 33c (91F) outside, and the place despite being cool at the start, was a complete sweat shack by the time "Castrop X Spandau" was played at song 7, and if you were exhausted by the end of that, then another, "Arrow Of Love" was next!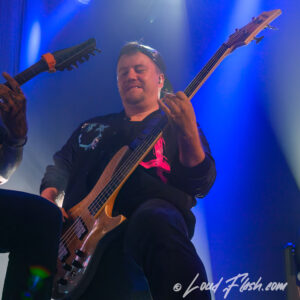 At Song 9 "Best Day", the crowd was commanded to go down on their knees then it was "1-2-3 here we go" and everyone got up and danced.  It was nuts, but thankfully,. thereafter, we got a drum solo from David and that provided some relief.
"Hypa Hypa", was next and that ratcheted the energy to a crescendo.   Everyone was singing the "Doot doot doot, da doot dooot doot" on that one.  I wondered if there was any dance offs on the floor during the manic breakdown on that one.   Utter perfection, and if that wasn't crazy enough, their newest single "Parasite" was next.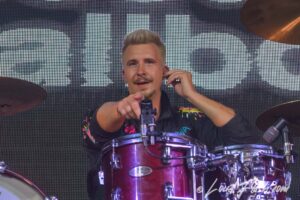 All right, take a breath.  Time for some acoustic fun, as Kevin gets on the keyboard and they do abit of "Let it Go" from the Frozen Soundtrack (2013).   If you were 9 when you saw that movie, you could be singing along as you are now 19 in the moshpit.  They also had Daniel on acoustic guitar and they did the Backstreet Boys cover "I want it That Way".   Nico sang that quite well and the crowd sang loudly along with him.  They know who their audience is, quite brilliant.
Now for the song I was personally waiting for, "Hurrikan", which is juxta positioning total love with a woman and being eaten alive. They had some nice rainbow lights on them for the 1st minute of this song,  which is entirely done in German, then the last minute gets absolutely deathcore nasty, with Satanic and witch imagery on the background.  Didn't we just hear the Frozen soundtrack?  That memory is gone now.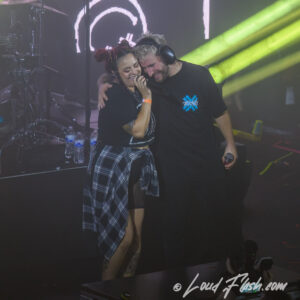 Song 15 "Fuckboi". Was there any doubt they were not playing this song?  With Conquer Divide on tour with them, it was a certainty that Kiarely Castillo was going to duet this and they absolutely crushed it.  Both Kiarely and Nico put on a incredible performance, as good as we hear on the Tekkno album.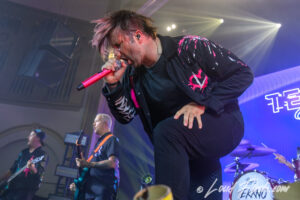 Lots of crazy party like lighting flashing all over on this show.   Sound was really good too.
Song 17 with "Pump it", was another 'exercise' of a jam that gets your headbanging and certainly there was a lot of that, as well as fist pumping from the thirsty crowd. Of course the band was wigged out!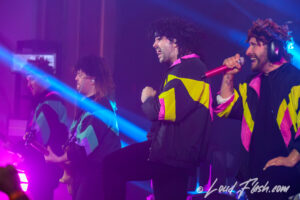 "Mindreader" up next, and they are ending this one on a really heavy note to utterly spank the Neptune theatre.  If the audience wasn't completely blown away and dazzled by this point already, they then sported the obscenely short and nerdy cut wigs for "We Got the Moves".  If you have tickets for this tour, you will NOT be disappointed with the 19 song setlist.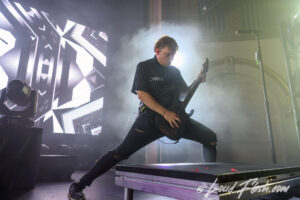 I was really happy and sad at the same time after this show. For one, this band is bigger deal in Europe and after this tour I am betting they will be playing MUCH larger shows in North America.  This will likely be as intimate as we get in the future with Electric Callboy, because with so much talent and incredibly hooky songs, I predict they are going to be major stars once they reach masses.   I have seen a lot of shows this year, and this by far and away was the most energetic, fun show I have seen in MANY years.  Observing everyone being so overjoyed and friendly this night was incredible.  I met so many great people that night, and if that is the sort of fanbase they are trying to build, they are going places.