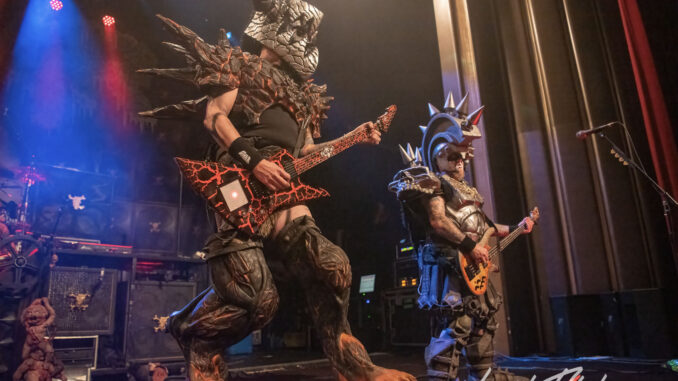 Being that I live in the Vancouver area, and with all the rain we have had these past weeks, I've had a helluva time today looking for a cheap rain poncho.  Luckily the local Walmart had one left.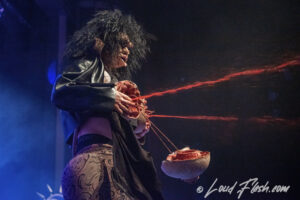 But the poncho was not for rain use…..it was for tonight's adventure in the photo pit taking pictures of the legendary band GWAR. I have seen the band several times in the past, but not with expensive cameras around my neck in a photo pit.  I have to admit, was kind of nervous at the thought as what might happen to my gear.
 It seems like every fall these 'creatures from another planet' arrive to play Vancouver and tonight they are celebrating 30 years of being Scumbags of the Universe at the Vogue Theatre.  When I get there, the first 20 rows of seats are covered in plastic.   Why seats?  Because of the Covid restrictions in BC are still strictly enforcing each fan to be at a seat and not a open standing area.   Feels different, but it is what it is for now.
Going to a GWAR show is one of the most entertaining shows you will ever see.  You may not know one song from their entire 14 album discography but you WILL still have an amazing experience from all the theatrics and chaos that ensues on stage.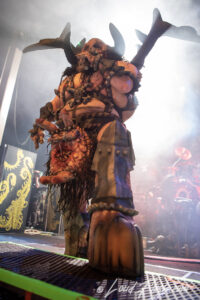 So here I am, along with 5 other photographers mostly in ponchos somewhat wondering at what point will we be we be targets as they start off with 'Salmanizer' from the Scumbags album.   Out pops a teen character that is soon decapitated and the corpse is dancing around with blood squirting at a 30 foot range in the air and pointed toward the crowd.  Believe me, alot of people are in front of that spray are enjoying every second of it while I am on the lookout as to when my turn comes.  My guard is down for a second, and not realizing my hood of the poncho is down, I get the gush to the side of the head!   Luckily my camera gear is wrapped in plastic as I go on unharmed to the next song that I was first introduced to GWAR back in 1990 with "Sick of You".
Vocalist Blothar (Michael Bishop) does a commendable job of singing these older songs, especially with "Black and Huge" where a female character who is swinging penis nunchucks gets her breasts cut off and blood (actually water and food coloring that easily washes out) is spaying out of both of them straight into the crowd.  There is definitely no shortage of urine or semen spraying from all appendages which makes this show such a draw for this PACKED (Sold out) Vogue Theatre.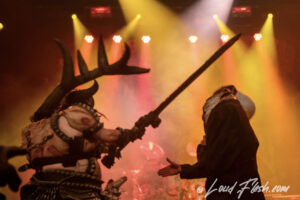 They hit (no pun intended) 15 songs this night, with 10 being from the 'Scumdogs album with a multitude of different characters getting sliced and diced on stage.   Heck, even Joe Biden makes an appearance during "I'll be your Monster" from their latest opus 'The Blood of Gods' (2017). Oh no worries, after his speech he is quickly decapitated and drained all over the audience as you would expect!
They end this debauchery with the appropriate sing along song, "Fuck this place" (Blood of the Gods), and leave the crowd utterly slushy with body fluids.  A lot were squishy from head to toe but my 3 dollar Walmart poncho saved the day!