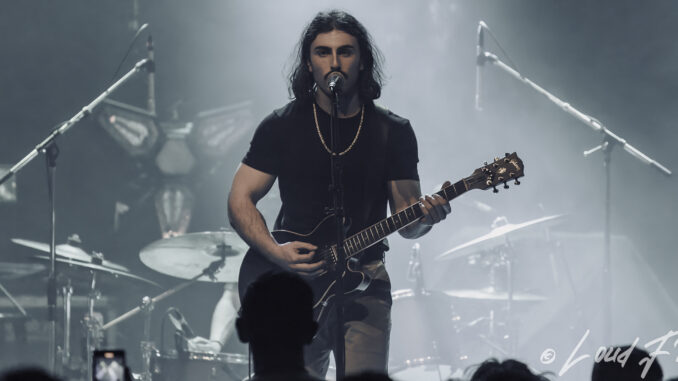 Tonight, we venture to the Vogue Theatre in Vancouver to checkout BRKN LOVE.   They are currently touring across Canada supporting the Blue Stones and this is the last stop on the tour
BRKN LOVE have a couple full length albums, one that was released during the pandemic called BRKN LOVE which was praised by critics and was one of the best debut albums in 2020.  Very recently in early November 2022 they released Black Box, which I am sure they will play some of this evening.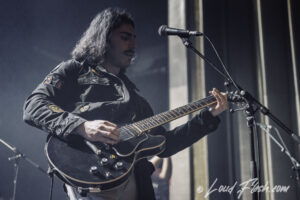 I have been looking forward to seeing this band as they have a couple songs that really caught my ear lately and curious to see how they perform them in a live environment.  They are a 4 piece unit with Toronto born native singer/guitarist Justin Benlolo, while the rest are from New York City, with Kyle Duke on guitar, bassist Nick Katz and on drums Russel Holzman.  
The guys enter the stage and start off with an energetic rocker called "Shot Down" (off BRKN LOVE) which invigorated the near capacity crowd.  I was certainly feeling it too, with my head bobbing as I watch Kyle Duke absolutely thrashing and head banging like mad and Katz hammering the bass.  They didn't let off the gas much either, and hit a couple off the new ones off the Black Box album with "Rubber Room" and the song with the catchy chorus "Like a Drug".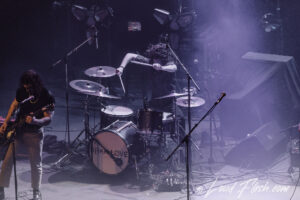 Song 4 has that alternative rock feel with "Papercuts", then we get a drum solo thereafter.  Russell sure hits the skins hard, and man, he definitely rocks it.
Song 5 thereafter is "Flies in the Honey" which is a song about how Pharmaceutical drug companies are overselling drugs we really don't need..   When I listen to this one at home, I definitely will say this song really kills it live. Sure, that song has a grunge-alt rock feel to it, but it definitely had a different vibe to it live.
Song 6 is "Little Black Box" (of course from the Black Box album), where at one point Justin mentions "…we wont be playing here next time, your seeing history here tonight!".  Not sure if this is "talk the talk" but they are definitely "walking the walk" tonight with their performance on stage.  I admire his "think big" ideology, it's very rock'n'roll.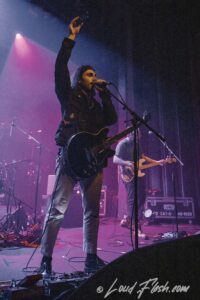 Thereafter we get abit more drum solo and bass solo, which made me wonder if they could've slid in another song or 2 instead?  The other odd thing I observed was that all the players remained onstage and appeared to tweak their guitar pedals or take a knee while Russell was doing his thing.  I would recommend they just exit the stage, and take a water,  while Russell has his time in the limelight. I've seen them play Black Sabbath's "War Pigs" on YouTube and would've been happy to hear that, but my guess was that this crowd is just not that type of crowd the Blue Stones attract.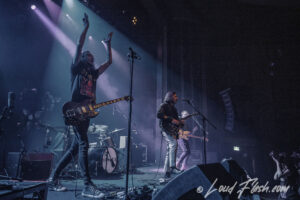 They concluded the 7 song set with "Dead Weight" (off Black Box), which finished the show off strongly.  About 30 seconds before it ended, I headed to the lobby to gauge audience reaction to this, and I saw a lot of "what did we just see" on their faces.   A few guys walked into the lobby and said "Boy, I sure wasn't expecting that!", whereas the other answered back, "…that was awesome, wow!".  Another audience member I overhead remarked that she was "…going to check these guys out and get some of their music".   I think this band tonight took some people by surprise judging by what I witnessed.
I am sure with the last night of this tour, they really wanted to win the crowd over and give it all they had.  They certainly didn't fail in that either, as they played a rousing performance on this night in Vancouver.  I am seeing big things for them in the future..