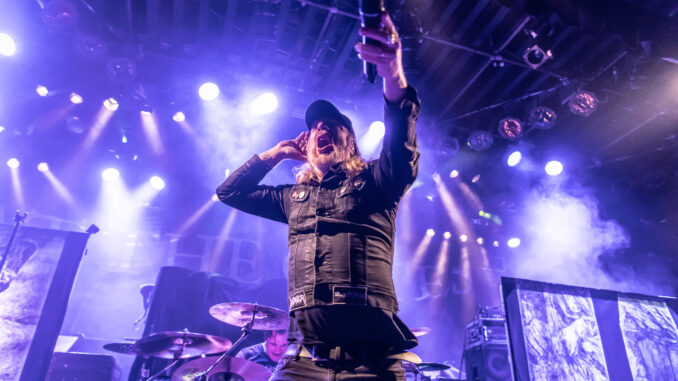 One of Sweden's marquee metal masters At the Gates besiege Vancouver's Commodore Ballroom courtesy of Live Nation in support of Behemoth.
I am so excited to see At the Gates!  This is a band that has eluded me for many years and for one reason or another I could not attend these legends from Gothenberg Sweden.    But tonight, Finally my time has arrived and I get to see one of the most influential bands when it comes to "melodolic" metal.    Bands such as Killswitch Engage, All that Remains and Bullet for my Valentine openly say that At the Gates had a impact to their sound and success.   To me I don't hear alot of that with those bands, maybe a little with the guitar playing but no way can you compare vocalist Tomas Lindberg's searing vocals that are just so damn unique.  You wont hear any cleans at all from Tomas as you do now with today's Meldolic bands, and that's the difference I love.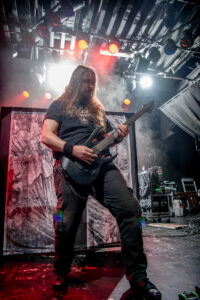 So here they are, as I stand in front of them with camera in hand — I feel more excitement than usual.
They appear on stage with the opening riffs of the new song "Drink from the Night Itself" from the same titled album.  Struggling with the camera settings as I am more focused on watching the band through than snapping pictures of them like I should be concentrating on doing.
I am not disappointed, as with the raucous fans behind the photo pit wall begins to heave and the bouncers begin to flex their muscles.   I realize this as I get my foot stepped on by a fan falling over the pitwall onto my ankle as I am shooting with my camera, OUCH!  But that is the worst I get this night.
At the Gates music is just like the albums, nice and heavy, with that very evident 'Gothenberg sound' created from those Peavey 6505 amps.   Next song "Slaughter of the Soul", then "At War with Reality" …oh that's something different, first three songs are the titles of their last three albums.   That pretty much turns to forshadow the rest of the night as we hear only songs from these three metal masterpieces.   The guitar work from new comer Jonas Stalhammar and veteran  Martin Larsson are absolute ballcrushing.   The back end with Jonas Bjorler on bass guitar and Adrian Erlandsson are a well tuned machine, providing all the low end goodness.  Especially on one of my all time favorites "Heroes and Tombs", where I was headbanging pretty hard  (as I was out of the pit by this time) to that chugging guitar and chest thumping bass.   Tomas with his signature black baseball hat, is the main cheerleader in the band, pacing about the stage working the crowd to a frenzy.   He is a mic stander, grappling it, and heaving into the air, pushing his vocals to maximum roar.   They end the show with the five and a half epic called  'Night Eternal" from At War from Reality.  Which is very fitting as it kinda just slowly winds things down to fitting ending.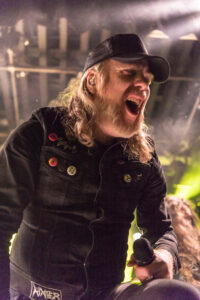 After this night, it is no wonder to me why these new bands consider them their idols.  They absolutely tore it up!  Check out the new album "Drink from the Night Itself", its well worth a listen.  Your neck will hate you for it!