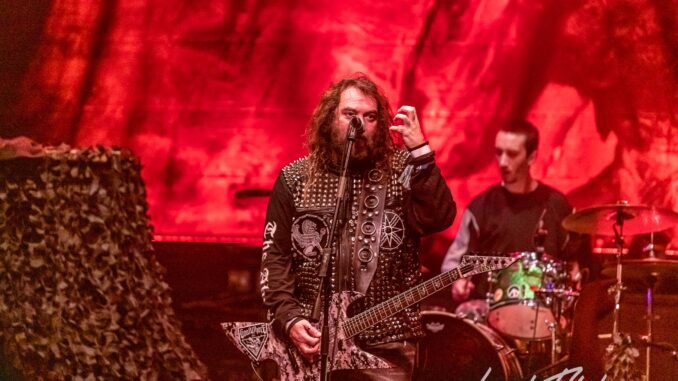 One of metal's hardest working front men, Brazilian-native Max Cavalera makes his way back to Vancouver with his band Soulfly.   With nearly a sold-out crowd at the Rickshaw Theatre, us fans could not be happier to see this legend return!
After all, he has continued Soulfly since 1997, even longer than the band he is super famous for which is Sepultura.   He tours endlessly it seems with Soulfly. if not with them, then his other well known band 'Cavalera Conspiracy', which is equally as important.  Soulfly's latest release 'Ritual' (2018, 11th album to date) is a pretty stellar album and is just as heavy and brutal as most of these younger modern metal bands put out.  What sets them apart from most is how they like incorporate the Brazilian tribal sounds with some thrashy/grove/hate/hardcore and death metal overtones.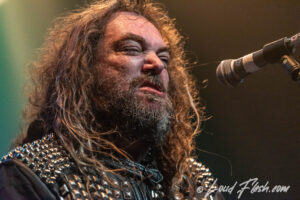 Along with Max doing the lead vocals, the rest of this tribe has his son Zyon Cavalera on the drums, Mike Leon on Bass and Marc Rizzo on guitar.   Rizzo also works with Max in his other projects most notably Cavalera Conspiracy.
The stage is set and a huge backdrop of the Ritual album cover dawns the back wall of the Rickshaw along with military type netting all over the amps.   Max starts off without his guitar in hand and wearing a totally blinged-out studded leather battle vest.  He then pep talks the Vancouver crowd abit  then slings the guitar on, going with 'Eye for an Eye' from the 1998 self titled opus 'Soulfly'.  Song 2 surges ahead into 'Fire', another rager from the Soulfly album.  Both songs have that very that very distinct deep guitar tone and those tribal influences with the drums.   They get into the new album with song 5 with my favorite cut off that one with 'Ritual', which has a catchy chorus to it that sticks in your head.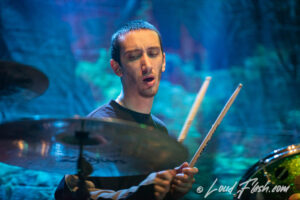 Max's voice is still pretty powerful, it actually seemed to get better as the night went on at least to my ears. We also see him play the Berimbau(single string African tribal instrument), which is pretty cool (see my picture).  I have to hand it to his son has well, Zyon, he can definitely crash that kit and is well deserving in that position.   Mike Leon is also very tight on the bass playing and keeping it true to the albums.
What I really liked about this show was that we see Marc Rizzo take centre stage here and show off some of his guitar mad skills.  I have always been fond of Marc's guitar playing and found him to be DEEPLY underrated when I see those top 100 metal guitarist articles.  His playing is off the hook, with some crazy tap leads and lots of feeling in his solos.   It's nice to see Max step back and let Rizzo take this to the next level with a nice guitar riff montage near the end of the show with some Pantera/Slayer and Van Halen's 'Eruption'.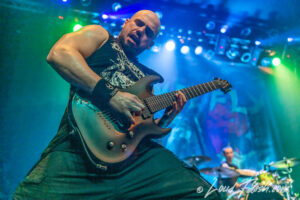 The show ends (15 in total), with one of my favorites, 'Prophecy' off the same titled album from 2004.  A bone crushing song that satisfies the hardiest of Soulfly fans in the moshpit.  One thing we did not hear this time around was any Sepultura songs at all (there was a slight tease but that was it).   Felt odd, but that is ok, maybe it's time to let go and concentrate on Soulfly anyway!
If you haven't been to a Soufly show or ANYTHING Max Cavalera is involved with, I highly recommend you checkout his music from now or the past.  Vancouver is WAY over due for a Cavalera Conspiracy visit, so I have my fingers crossed.  He is definitely considered one of the of the most influential and successful artists in metal and we were happy to see him!