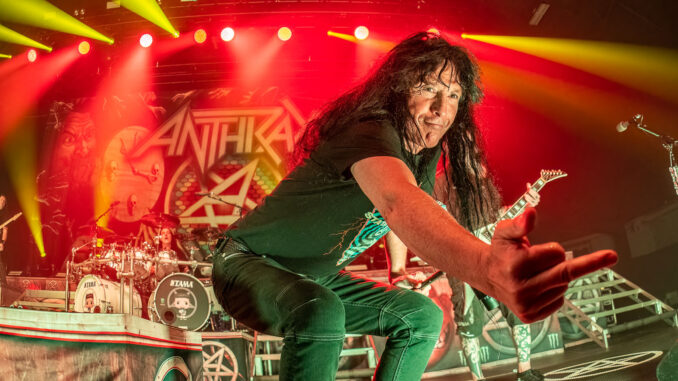 When a 'Big 4' metal band like Anthrax comes to your town, you better be there.  Loudflash.com is at Vancouver's PNE Forum for 40th Anniversary Tour  along with supporting legends Exodus and Black Label Society.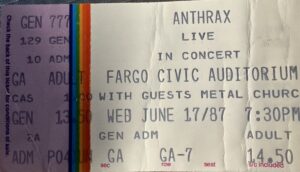 I admit.  I am one of the old guards of metal.   When Anthrax released Among the Living, my friend and I made the trek from Winnipeg to Fargo North Dakota to see our heroes of thrash back in June 17 of 87' to see that show.  I remember distinctly seeing Joey Belladonna (lead singer) prior to the show at the back of the building standing on a apple crate getting some sun while he talked to a few of us fans.  Scott Ian had long hair at the time and seemed obsessed with the word 'NOT' which he had shaved on his chest hairs.   We also saw real 'moshing' at a metal show, which we didn't see much of back in Winnipeg at the time as that was more of a hardcore show activity. But damn, that was a cool time to see them in play when thrash metal was in its infancy.  The entire set was made up of Spreading the Disease and Among the Living songs and that was it!  It was a excellent show (Metal Church supported) that I would never forget.   But also as my friend and I being 18 year old's, going to a metal show in the USA, we were severely frisked at the American side of the border for narcotics.  We made it though!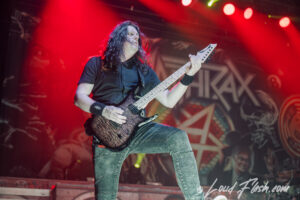 The band is still largely intact too since those days of glory.  With exception of lead guitarist Dan Spitz who has been replaced by Jon Donais.  They still have Joey Belladonna on vocals, Frank Bello on bass, Scott Ian on rhythm guitar and Charlie Benante on Drums.   I have been to every Anthrax show in Vancouver since 2013 (4 of them) and not one had Charlie Benante on drums.  It's always a replacement.  Am I the only one that has noticed this?  I am not sure why the miss in Vancouver (or is it Canada?), with  the absence (like 2013) is that he has some injury or operation to take care of.  I was so hoping to see him this time around but sadly not this time. Maybe we see his next tour in Edmonton with Pantera in 2024? Fingers crossed.  Tonight we get Derek Roddy who is a very experienced drummer with the likes of Nile and Hate Eternal.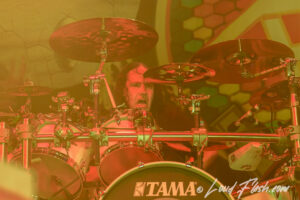 They start off the night with a visual montage of artists talking about Anthrax over the years and with congratulations on their 40th Anniversary.  The curtain drops and the chugging guitars begin as 'Among the Living' starts the show with Joey's voice sounding even better than the last time I saw them in 2018.  This is a fitting start to the show as its a song that really defines the sound and flavor of this band.
"Caught in a Mosh" is next and I sang that whole song along with the band as they still have that energy and sass that got them this far.   That song that juxtaposes life versus that of a moshpit was a definite staple of any teens mixed tape in the 80's.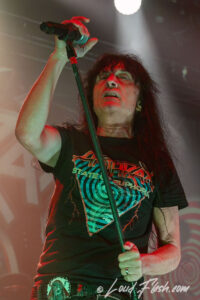 From there we go back a little farther to 1985's Spreading the Disease and "Madhouse".  That video of the band in a Mental Institution was my first taste of this band.  They then go with "Metal Thrashing Mad" from 84's Fistful of Metal, keep the mosh pit churning and heads slammin'.
"Keep it in the Family" from Persistance of Time, is next, then their crowd involvement song which is a cover from the band Trust, called "Antisocial" That got fists pumping in the air.
If they didn't play "I am the Law", the show would've been a fail to me.  Thank goodness they did, as that opening riff is one of the most recognized in all of thrash metal.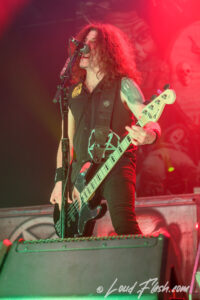 By song 9, we actually get a surprise song that was done in the John Bush (vocalist) era of Anthrax.  "Only" off 1993's Sound of White Noise which in my opinion came off really well live!  We haven't heard that song in Vancouver in 20+ years, maybe 30!   It was refreshing to hear that one and likely my highlight of the night.
"Got the Time" (Joe Jackson cover) followed on song 10.  Derek Roddy seems to be pulling off the drum duties extremely well that's for sure, his 'timing' is spot on (pardon the pun).
As for the stage setup, pretty much your classic Anthrax stage, typical lighting for a show this size but no pyro.   The sound is not the greatest for acoustics in the PNE Forum but closer to the stage, the better.  You don't want to be further back than the soundboard here.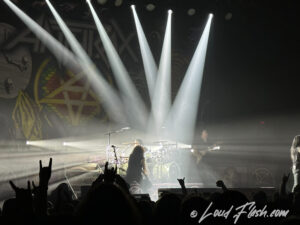 The crowd really got up for "Bring the Noise" as Joey disappears off stage for this one. Scott Ian takes vocals, as the Public Enemy/Anthrax collaboration got this crowd hopping like rap show.   But they didn't quite complete it all as they then moved into the break down part of "Indians" from Among the Living.   Not a fan when bands do that, as I like to hear the whole song.  But it is what it is this night right?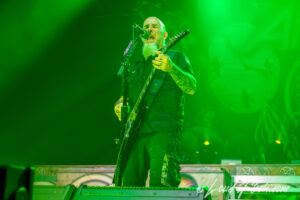 They don't hit every album in the discography however.    Nothing from Stomp 442, Volume 8, We've Come for You All, nor the last album from waaaay back in 2016, For All Kings.  I would've like to see them play 1 song from every album on their 40th.  But tonight, (and the entire tour likely) they go with a essential hits package, and that makes the 3000+ crowd more than happy to see this Big 4 band come back to Vancouver after 5 years.  11 (10 + 1/2 of 2 songs)  on the setlist was little short but we will take what we can right?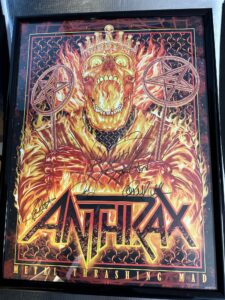 Anthrax are certainly OVERDUE for a new album.  We are fast approaching year 7 of no new Anthrax music.  Will 2023 be the year?  Will we see a 50th Anniversary tour?  We hope so!
Thanks for 40 years Anthrax, we still love you!