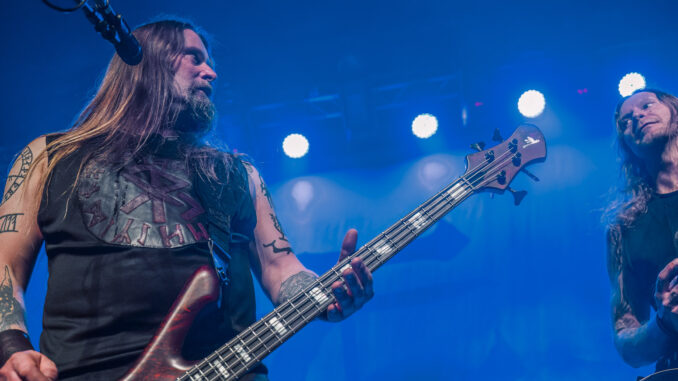 Norway can be blamed for producing some of the best extreme metal in the world.    For a population of 5.5 million, its crazy how they have produced the likes of Dimmu Borgir, Mayhem, Emperor and the band we see tonight – Enslaved.
They have been doing extreme metal since 1994 with their beginnings in the black metal genre but since about 2012 with the album Rittir,  they have incorporated more progressive tone in their sound and have veered in a direction that still has black metal elements mostly rooted in Viking Mythology.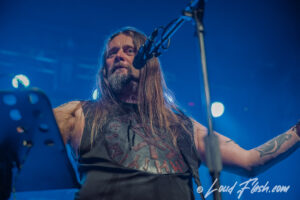 Enslaved are in town with Black Anvil for support along with co-headliner Insomnium at the Rickshaw Theatre in Vancouver Canada.
Tonight we get Enslaved 'Lite' as they will be down a member with rhythm guitarist Ivar Bjornson not on this tour because of family medical issues.   They have had a couple lineup changes since 2018 when they were last in Vancouver.   They bring along  a new keyboard player with Hakon Vinje, and drummer/vocals with Iver Sandoy.  Founding lead vocalist/bassist Grutle Kjellson and Arve Isdal will be front stage.  Will we notice Ivar missing?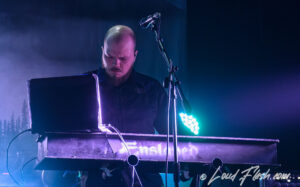 The guys start the night off with one that was released back during the pandemic called "Jettegryta" (or 'The Pothole in English) from the 2020 album Utgard.   Grutle's vocals are just as brutal as on the album as he at the centre of the stage with a vocalizer near him.    Arve is pretty energetic head banging and taking advantage of room left by Ivar's absence.
They do another from Utgard on song 2 with "Homebound".  Her we get to hear some of the clean vocals from drummer Iver and he is sounding really good.   I give a lot of props to drummers that can sing and play this sort of music at the same time, lots of talent.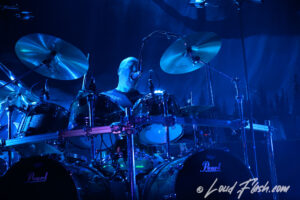 At song 4 with a new one with "Kingdom" off of Heimdal (2023) I start to feel the miss with Ivar missing as the sound just isn't as full as you might here it on the recording but likely most at the show wont detect it that much.   Lots dual guitar at the start of that one, that could only be filled with a backing track, which I am uncertain if they used much off .   With Song 5 ,"Forest Dweller" ,we also here more psychedelic like keyboard work which came across well live.
My favorite performance of the night was "Isa" off the 2004 album of the same name Isa.  Here we get some vocals from both Iver and Hakon as well as Grutle.   Arve is rocking the stage and doesn't stand in one spot for very long.  I was hoping for "In Times" tonight, but nothing made it to the selist from either In Times or Rittir albums on this tour.
Near  end of this 10 song set at song 9 with another new one "Heimdal".   Its almost at 6 and a half minute song that gives us insight to where this band my be headed in future recordings.    From soft passages to lots of keyboard work and heavy guitar, no one is left out on this song and has a role in it.  It came across ok live, not sure but I think that this is another hole that Ivar would've filled in on some of the guitar work.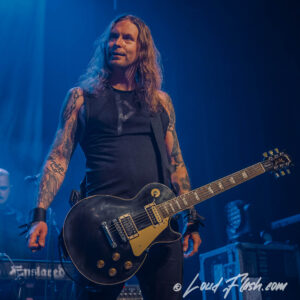 After the 9 songs we didn't hear anything prior to 2004.   That's until song 10, with the last opus "Allfǫðr Oðinn", from their debut album Hordanes Land.  This is old school Viking black metal that Norway is famous for, which to me is a pretty solid ending that may have satisfied the hardcore Enslaved fans from the early 90's.
Although missing a big piece of the band with a guitarist out of action, they still put on a really solid set.    Definitely don't count them out and go see these guys on tour!